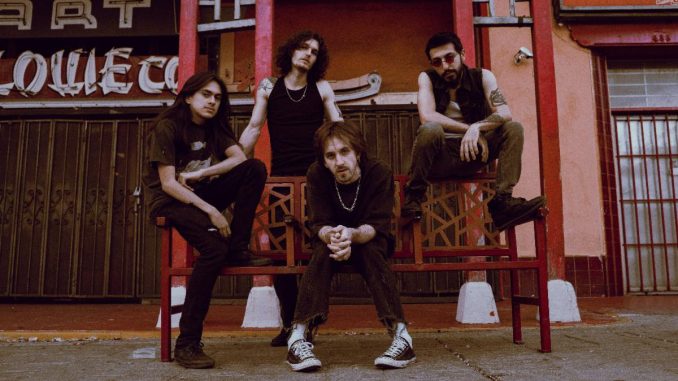 Photo Credit – Matt Akana | Download HERE
Wednesday, May 30, 2023 – The Los Angeles-based grunge trio, Return to Dust, have today announced a reimagined acoustic version of their debut single titled, "Black Road (Unplugged)". Fans can stream "Black Road (Unplugged)" here.
Speaking on today's release, co-vocalist Matty Joseph shares:
"Having played an entirely acoustic show last week, it was a blast reimagining our whole set (and some new material) in that light. Since Graham and I write the breadth of our material on an acoustic guitar, I think this version of Black Road shows the true nature of our songwriting, while expanding the range of Return to Dust's sound."
With nearly two decades of notable experience under his belt, the band's producer, Jim Kaufman, continues:
"Return to Dust's ability to emote using both electric and acoustic versions of their songs is what initially attracted me to the band. They can stand on their own without the bells and whistles of modern production."
Return to Dust, who are heavily inspired by the legendary Alice In Chains, have already cultivated a reputation in the local Los Angeles music scene without having released any music on streaming platforms. The release of "Black Road" marks the band's first ever studio release, produced by none other than Jim Kaufman (Anti-Flag, Danny Worsnop, Night Riots, Helmet). With their remarkable cinematic approach, the rock trio are on track for an unforgettable year of touring and new music. Be sure to stay tuned for more Return to Dust news coming soon.
WHAT THE PRESS ARE SAYING:
"""Black Road" is a killer track. Everything hits hard. The vocals are fierce yet remain melodic. The guitars ring with fire while the monstrous bass line is brazenly defiant. In addition, it was produced by the illustrious Jim Kaufman (Anti-Flag/Helmet). "Black Road" is the perfect vehicle for Return to Dust to showcase their remarkable cinematic approach. This is a band with a stupendous future."
My Amp Music
"Meet Return to Dust, a heavy rock band with songs reminiscent of the grunge era with a modern twist."
Music Scene Media
"Black Road" has also been featured on independent playlists such as Prelude Press' "Music That Doesn't Suck", CHARM Music Magazine's "New Music Friday", NAS 101's "New Artist Spotlight", Get Rocked's "Best New Music", and more.
ABOUT RETURN TO DUST
'How will you fare against the stress of life'
Return to Dust has always felt like a hidden gem, a band that could have fallen straight from the 90's, but stands proudly among the musical landscape of today. This is perhaps a gesture towards the timelessness of grunge's existential yet relatable message, which spoke to and landed them 30+ recordings with decorated producer and mixer Jim Kaufman.
Despite this trajectory, the band had fallen into one of the myriad of "new band" curses, which is meticulously and quietly planning out their debut release. Thankfully, the band committed to their craft long before showing their faces, as singers Graham Stanush (bass) and Matty Joseph (guitar) formed an eternal bond growing up in the cement capital of Texas. The singers carried this passion to the west coast, where they met their then 16 year old guitarist Sebastian Gonzalez.
Now assimilated, Return to Dust has already made its mark, touring up and down the west coast, playing Vegas, Phoenix, every slummy bar in San Gabriel Valley, and personally gaining a stamp of approval from Matt Pinfield on KLOS —- the band is a ticking time bomb to hundreds of eager fans.
Their new single "Black Road" is a four on the floor heavy rock anthem about self-sacrifice, and forging your own path, released on all platforms April 27th. You can watch the "Black Road" video below or here.
Find Return to Dust Online