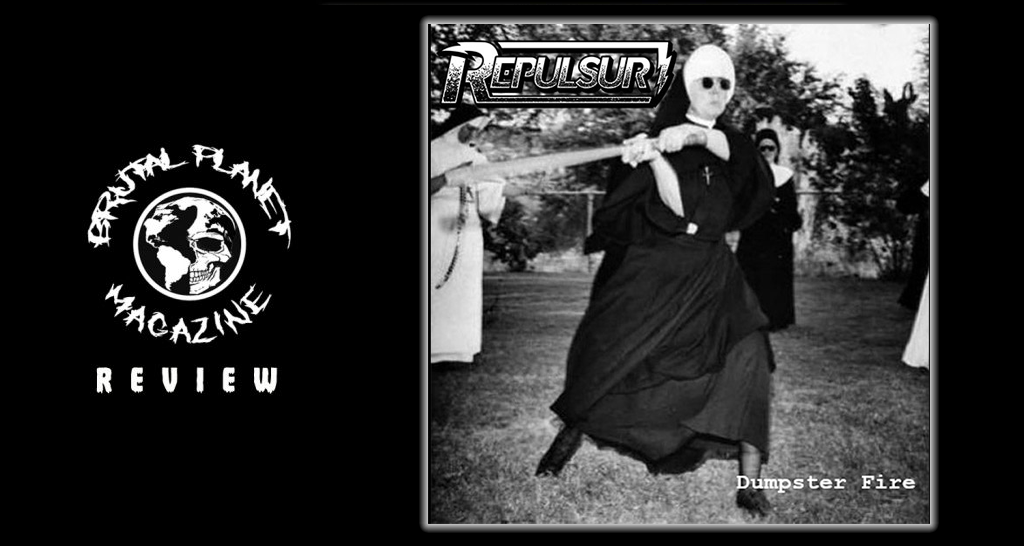 The year is 2020, the world is facing a global pandemic, one that has not been seen in over a century. To put it nicely humanity has become a "Dumpster Fire." With that being said, I give you the soundtrack of the pandemic. It comes from Repulsur and is fittingly called Dumpster Fire. The Dallas band has been bringing glam, sleaze rock mixed with shock to the masses since 2016. Repulsur officially began repulsing listeners in 2017 with their debut, The After School Special. Later that year opened for the Duke of Spook himself, Wednesday 13, solidifying their place in the sleaze rock ranks.
In 2020 they are back with a vengeance and ready to start a fire and watch it burn. Dumpster Fire begins with aptly titled "Prologue of the Lizard Queen." After hearing the introduction to the album, one should be wary. This is not your typical campfire pit for roasting marshmallows but a full-on inferno with burning tires, black smoke and a stench that will burn your nostril hairs.
That is precisely what happens when the opening song, "The Primitives" begins. Guitar riffs reminiscent of early LA Guns are mixed with the voice of Lerin or "Leringitis" as she goes by, who sounds like Joan Jett during the Runaway era mixed with the uncontrolled chaos that is Courtney Love. The combination creates a classic strong accent that is doubled down on with a torn fishnet style that seeps throughout the album.
"Black Snake" strikes next and continues the glam sound with a grittier vocal performance by Lerin. "Hazel Blue" delivers a nasty, unhinged guitar style that merges with a Bowie-like vocal elegance during the verses. Then the chorus begins and completely de-rails any sense of cohesion giving it a crazy and raw punk sound.
At this point, one would think that the guitar riffs will plateau and level off. Not going to happen in this Dumpster Fire. "Horizon" provides more blazing guitar combined with catchy lyrics making it a favorite of mine:
"I burn like the sun
I'll burn up your horizon
The only way I'm going
Is where my middle finger's pointing
Heads up and bow down"
The beat slows down with "The Mountain" and gets a bit more melodic which carries into "Four Leaf Clover" If things were going to get creepy at some point it would now. The song incorporates piano and violin to crescendo the creepiness. It has a vibe that would fit perfectly in a Rob Zombie horror film.
The pace picks back up with Mr. Doctor and Gasoline. Two songs that have the sound of someone who is up to no good which makes them perfect for this album.
While listening to Dumpster Fire, I found myself glancing down through the tracklist. I would stop at the last song naturally and wonder what that song sounded like. I loved the title, "The Sound of Killing Each Other," but never just skipped to it. Then I finally got to it and thought "Am I listening to an Anthrax song?" The rhythm section combined with the guitar reeked of classic Anthrax mixed with Rage Against the Machine. Lyrically the song is a heavy hitter. I think it would be easy to say this is the hardest song on the album.
After listening to Dumpster Fire it became obvious that this is the soundtrack to the pandemic and Repulsur has provided a sure-fire (no pun intended) way to not only make it through but also to thrive. The album will be available on May 20, 2020 via the band's Kickstarter page. You can pledge and reserve your copy here:
Repusur-Dumpster Fire
Repulsur is:
Lerin or "Leringitis" on Vocals
Kitty on guitar
Dave on bass
Rhys on Drums
You can check out "The Learning Curve" from The After school Special here: