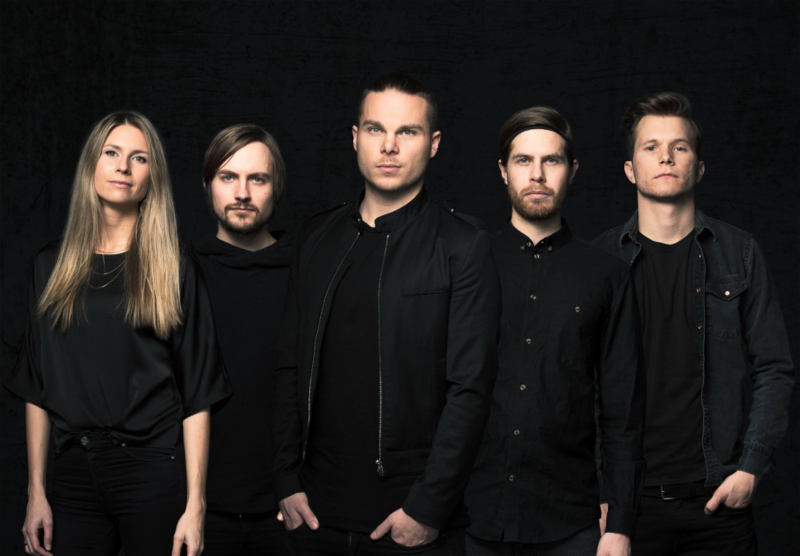 Norwegian progressive metal band Rendezvous Point share the title track of their new album "Universal Chaos" along with an official music video. It's the second single taken from the upcoming studio album which will be released on May 24th, 2019.
Rendezvous Point about making the video for "Universal Chaos":
"Our plan was to shoot both 'Apollo' and 'Universal Chaos' the same weekend. The reason we wanted 'Universal Chaos' as a single was that it was a huge contrast to Apollo, and we wanted to showcase the diversity in our sound with the two singles.
We ended up using the same factory location for both music videos. Universal Chaos was meant to be a pure playthrough video of the band playing, as well as the individual members. Since the factory was so large, we managed to find cool locations for all the different instrument shoots. The band scene ended up looking pretty cool as well, standing in the huge room, looking outward. Luckily it also snowed a little from the outside and in, so it ended up looking pretty epic with the band scene. But our fingers were freezing pretty bad when we did the shots. But it was definitely worth it, knowing how cool it would look."
Rendezvous Point about "Universal Chaos":
" 'Universal Chaos' deals with themes such as battling with your own mind, thoughts and emotions. It shines light on feelings of escape, the digital world, suppressing emotions, losing control over oneself and the battle with inner demons. It also talks about feelings of lust and the fear of the unknown."
"Universal Chaos" Tracklist:
01 Apollo
02 Digital Waste
03 Universal Chaos
04 Pressure
05 The Fall
06 The Takedown
07 Unfaithful
08 Resurrection
09 Undefeated
Rendezvous Point delivers a fierce and hard hitting energy bomb in the realm of progressive metal. With highly educated and skilled musicians, they are able to push the boundaries within the genre, creating a larger than life sounding experience for the listener as well as for themselves. With heavy drums, rumbling bass, raw guitars, large synthesizer sounds and powerful vocals, they explore new areas of the genre, daring to expand upon that which is already there.
After releasing their critically acclaimed debut album "Solar Storm" in 2015, they shaked the progressive metal scene, shocking the audience and reviewers with their tight, solid and heavy live performance.
Rendezvous Point is now ready with their second studio album, taking their music to an even higher level. "Universal Chaos" continues the bands playfulness with advanced rhythms and sonic depth.
The band consists of Geirmund Hansen on vocals, Baard Kolstad on drums (Leprous),Petter Hallaråker on guitar, Nicolay Tangen Svennæs on keyboards (Ihsahn, Bernhoft, Emilie Nicolas) and Gunn-Hilde Erstad on bass.