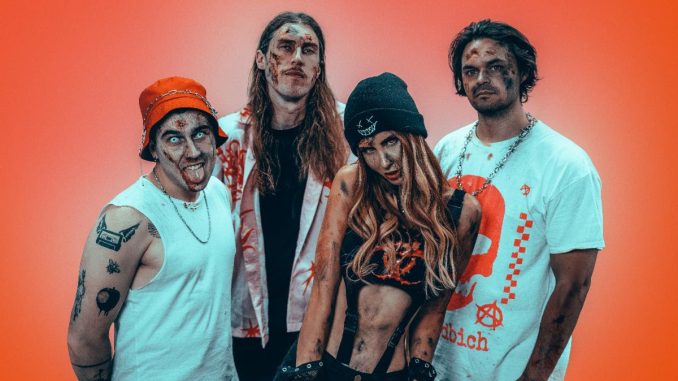 RedHook
Release Scorching New Debut Album
Postcard From A Living Hell
Available Now
Drop New Music Video
'Postcard Xo'
Download press shot here. | Photo Credit: Kim Quint
Friday, April 21, 2023 – Eora/Sydney-based alt-rock shapeshifters RedHook have just unleashed their long-anticipated debut album 'Postcard From A Living Hell' – produced by Stevie Knight (Stand Atlantic, Yours Truly) in collaboration with band member Craig Wilkinson, and mixed by James Paul Wisner (Underoath, Paramore). Fans can stream the album HERE.

'Postcard From A Living Hell' is eleven charismatic, hook-laden tracks forged in RedHook's particle collider of sonic influences, smashing together elements of metalcore, pop-punk, nu-metal, alt-rock, and classic metal with trap, EDM and pop. The LP is stacked with radio singles, including the femme-powered, EDM-inflected breakup anthem 'Imposter' feat. Yours Truly, saxophone-powered pop-punk self-roast 'Soju' feat. Sly Withers, and the self-produced one-two punch of diabolical emo-meets-drum and bass banger 'Low Budget Horror' and incendiary anti-misogyny manifesto 'SAY'.

Focus track 'Postcard Xo' opens the LP, taking us "down that rabbit hole" into a nightmarish hellscape of trauma and self-sabotage. Written as a letter from rock bottom where vocalist Emmy Mack ruminates on struggles with depression and intrusive thoughts of self-harm, the song is also RedHook's boldest and wackiest musical composition to date. Watch the video HERE or at the link below.

Speaking on the 'Postcard Xo' single release, Emmy shares:

"'Postcard Xo' is a pretty dark song, both musically and thematically. It's about finding yourself back in the familiar landscape of rock bottom after a string of preventable fuck-ups, wrestling with feelings of guilt, shame and worthlessness, and wishing the worst for yourself – because that's exactly what you feel like you deserve."

From the sucker-punching hard rock of 'The Critic', to the chaotic rap-fuelled metalcore of 'Psych Vs. Psych', to the darker synth-pop deviance of 'An Intervention' and the heartfelt alt-rock balladry of 'Inarticulate' feat. The Faim, 'Postcard From A Living Hell' is a unique and expansive body of work that showcases the full spectrum of RedHook's colourful musical multiverse. Emmy's superlative bravery in the fan-resonant 'Jabberwocky' is complimented by the savagery of breakbeat rave monster 'Off With Your Head', as the album hits out against injustice and our most persuasive demons while expressing a slew of relatable ordeals that make life feel like a living hell.

Previous singles 'Imposter' feat. Yours Truly, 'Soju' feat. Sly Withers, 'SAY' and 'Jabberwocky' were all added to full rotation on triple j, and have received immense support from the likes of Spotify, Apple Music, Amazon Music, BBC Radio 1 (UK), Kerrang! (UK) triple j Unearthed, NME, Hysteria Magazine, Kill Your Stereo, MANIACS and Wall of Sound.
Postcard From A Living Hell

Track Listing:

Postcard
The Critic
Imposter (Feat. Yours Truly)
Psyche vs Psyche
Low Budget Horror
Intervention
Inarticulate
WHAT THE PRESS ARE SAYING:
"Intense, poignant and raw."
NME (AUS)
"This maximal pop punk vibe sounds enormous in RedHook's hands. Big banger!" – ★★★★★
Dave Ruby Howe – triple j Unearthed (AUS)
"RedHook at their heaviest?! And I am literally obsessed. Tapping into that power and Emmy sounds like a dark goddess. I love those 'I'm angry' attitude moments and that belter of an ending." – ★★★★½
Claire Mooney – triple j (AUS)
"RedHook continue to go from strength to strength."
Kill Your Stereo (AUS)
"RedHook is unapologetically authentic and their fanbase loves them for it."
You Make The Scene (US)
RedHook are set to embark on their biggest national headline tour yet, presented by triple j. The band will be visiting fans across eleven regional and metro cities in May, with support from Bad/Love, Belle Haven and Grenade Jumper. Tickets available HERE.

May 4 | Solbar, Jinibara/Maroochydore QLD

May 5 | The Brightside, Meanjin/Brisbane QLD

May 6 | Burleigh Bazaar, Jellurgal/Burleigh Heads QLD

May 11 | Prince Of Wales Hotel, Goomburrup/Bunbury WA

May 12 | Amplifier, Boorloo/Perth WA

May 13 | Enigma Bar, Tandanya/Adelaide SA

May 19 | UC Hub, Ngunnawal/Canberra ACT

May 20 | The Corner Hotel, Naarm/Melbourne VIC

May 25 | La La La's, Dharawal/Wollongong NSW

May 26 | The Cambridge, Mulubinba/Newcastle NSW

May 27 | Crowbar, Eora/Sydney NSW
Following this, the band will head to the UK and Europe to support luminaires Stand Atlantic across seven dates in June, as well as returning to the iconic Download Festival*, and juggernaut rock extravaganza Rock for People** in Czech Republic.

June 6 | Southampton,UK

June 7 | Brighton, UK

June 8 | Bristol, UK

June 9 | Download Festival, Leicestshire, UK*

June 11 | Rock For People, Hradec Kralové, CZE**

June 14 | Strasbourg, France

June 16 | Eindhoven, Netherlands

June 20 | Boghum, Germany

June 21 | Trier, Germany
In 2022, RedHook completed a 28-date regional Australian tour as main support for metalcore titans In Hearts Wake. They also made their celebrated return to Australia's Good Things Festival, becoming the first band ever to grace the lineup twice, going from Eora/Sydney openers in 2018 to national Stage 5 headliners in 2022. The band also made their critically acclaimed debuts at Australia's Groovin the Moo and UNIFY Gathering festivals, and two of the biggest heavy music festivals on the planet, Germany's Rock am Ring and Rock im Park; a feat few Australian bands can claim.
ABOUT REDHOOK

RedHook are a fiercely independent, shapeshifting alt-rock foursome from Sydney, Australia who've quickly accumulated a global fanbase and tens of millions of streams through their powerful songwriting and captivating live show.

Featuring the core creative duo of Emmy Mack and Craig Wilkinson, two strangers from regional New South Wales whose paths collided after moving to Sydney in 2017, RedHook combine with young gun drummer Alex Powys and seasoned bassist Ned Jankovic to create heartfelt, attitude-filled and relatable alternative rock music that consistently defies classification.

The strength of their debut single 'Minute On Fire' in 2018 was enough to attract the interest of one of the lead promoters of the UK's iconic Download Festival, who swiftly invited RedHook over to play. The band were then snapped up by The Hen House Artist Management (worldwide) and inked booking deals with New World Artists (AUS) and Wasserman (UK/EU), going on to conquer some of Australia's biggest music festival stages (Download, Good Things, Stonefest, BIGSOUND). They also completed their debut international tour (supporting metal titans Three Days Grace across the UK & Europe), launched their own gender diversity-inspired alternative festival in Sydney, 'UsFest', and undertook four complete Australian tours (selling out the Melbourne and Sydney legs of their own debut headline tour).

As RedHook's global fan base grew steadily with each single release and live show, many big things followed. The band were named triple j Unearthed feature artist, Kerrang! Radio feature artist and were invited to host the ABC's iconic rage program. They've consistently featured as one of the top 50 most-played artists on triple j Unearthed every year since 2019.

2021 saw RedHook release their long-awaited debut EP 'Bad Decisions' which has ticked over 13 million Spotify streams and had its two lead singles added to rotation on triple j. The record earned praise from Kerrang! (UK), Rock Sound (UK), Rolling Stone (AUS) and many more, even scooping a 2022 AIR Independent Music Awards nomination for best punk EP or album.

RedHook continued their steady rise across 2022 with their debut performances at Australia's UNIFY Gathering, Groovin' The Moo and boutique festival Rolling Sets, as well as playing one of the world's most iconic rock festivals Rock AM Ring/Rock im Park in Germany alongside the likes of Green Day and Muse, accompanied by a second tour of Europe supporting The Faim.

Their own headline 'Bring Ya Mates' tour was also a huge success with multiple sold out shows around Australia as it emerged from the COVID-19 pandemic. This was followed by a mammoth 28-date, two-month-long regional Australian tour as main support for metalcore titans In Hearts Wake and a triumphant return the Good Things festival stage alongside Bring Me The Horizon and Deftones, where RedHook made history as the first band to grace the lineup twice.

In May 2022, RedHook returned with 'Jabberwocky' their most gut-wrenching single to date, which was immediately added to triple j high rotation and added to the cover of Spotify's popular 'All New Rock' Playlist. Follow-up singles 'SAY' and 'Soju' Ft. Sly Withers have both since been added to full rotation on triple j.

These singles will feature on RedHook's long-anticipated debut album, Postcard From A Living Hell, which is due to arrive on April 21st, 2023. The band will support the release with a monster Australian tour joining international grunge icons The Smashing Pumpkins at the debut of their travelling The World Is A Vampire Festival throughout April, before embarking on their own 11-date Australian headline tour in May.