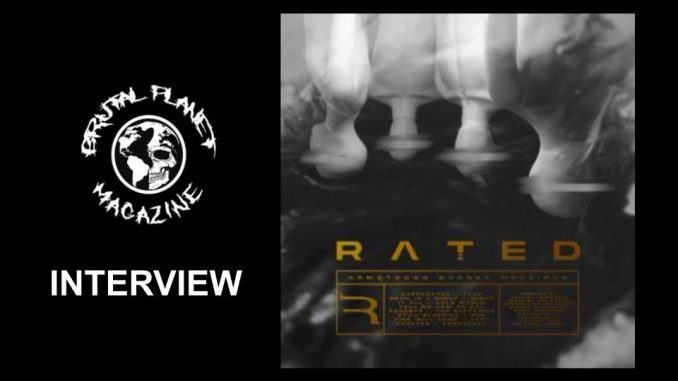 Get ready to dive headfirst into the depths of Grammy-nominated, RIAA Certified Gold-selling, hard rock band, Red (Michael Barnes- vocals, Anthony Armstrong-guitars, Randy Armstrong-bass, Brian Medeiros-drums), as they unleash their eighth full-length album, "Rated R," on September 29, 2023. It has been over three years since the last album, "Declaration," and it was worth the wait! I'm a visual person and love reflecting on album artwork. When I looked into the concept behind it, I read that Anthony explained that it "[represents] the fake, almost plastic versions of humanity we encounter. We tried to make actual mannequins look creepy, like four shadows of four people. It ties into our usual fondness for subliminal imagery." Ok! It has my attention! Now, let's dive into the music…
The album's first track, "Surrogates," was also its first single. It hits hard right out of the gate with its heavy riffs and thought-provoking lyrics. You can immediately recognize the classic Red sound, but they add fresh elements to the production and writing– the best surprise being a killer breakdown. The second track's title, "Your Devil Is a Ghost," also caught my attention. I'm not exactly sure what to make of it lyrically, but Michael Barnes's soul-stirring vocals take their signature sound to new heights and the screaming vocal delivery at the song's end conveys the band's fervor. In the third track, "Minus It All," the drumming really stood out to me. The addition of their new drummer, Brian Medeiros must've really given the band a new energy because I'm only three tracks into this album and it sounds fresh and amazing.
"Cold World" was the album's second single and I got super excited when I saw that Keith Wallen was a co-writer. Whether Keith is writing with Breaking Benjamin, his solo work, or co-writing with his peers, everything the man touches is gold and this hit single is no exception. As with his contribution to Red's song, "Sever," back in 2020, Wallen's influence leaks heavily on "Cold World" and it will be a fan favorite live, I'm sure. Toward the middle of the album is a slower-paced, quasi-ballad called "Tell Me How to Say Goodbye." It starts slow and builds into an epic finale. One of my favorite tracks on the album is "The Suffering." I absolutely love the different tempos and accents as well as Barnes's emotional wails.
"Still Bleeding" features interesting electronic elements and is quite different than any other song on the album. I like it a lot. The eighth track, "Our Time Will Come," was also co-written by Keith Wallen, and while I don't find it as strong as "Cold World," it is still a solid track nonetheless. "Last Forever" is probably my favorite song, lyrically speaking– it's raw, it's real, and it cries out for answers. Musically, it drudges along at a slower, yet really heavy pace. Closing the album is "Emergency." This final track features different tempos and hits really hard! This is an aggressive and riveting album. There has never been a Red album that has disappointed me, but this one is particularly refreshing. Like countless films that share the same label, Red's "Rated R" embodies elements of maturity, intensity, and edginess. But in this instance, this art shouldn't be restricted.