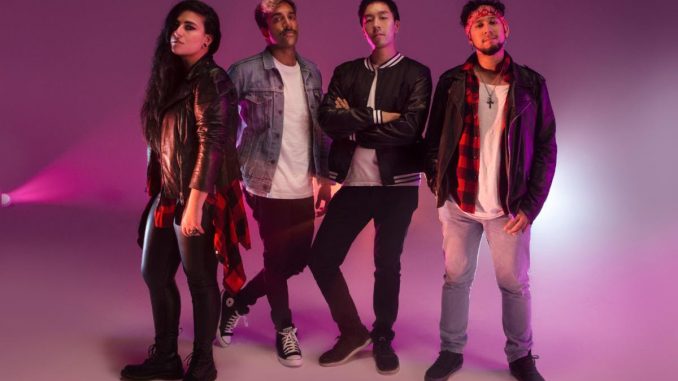 Photo Credit – Jordy Clarke
Wednesday, March 16th, 2022 – Canadian Metalcore powerhouse, Red Handed Denial, have announced the release of their highly anticipated new album, I'd Rather Be Asleep which will drop on Friday, June 3rd, 2022 with pre-orders being available now HERE. Today's announcement is highlighted by the release of the official music video for brand new track "Cloud 9". Listen HERE and watch the video HERE or by clicking the image below.
Speaking on Red Handed Denial's new album announcement and their latest single, vocalist and YouTube sensation, Lauren Babic shares:
"We are so excited to share "Cloud 9" with you, the second single off our new album, I'd Rather Be Asleep. "Cloud 9″ is reminiscent of the classic shreddy RHD sound that our fans are more used to, but it's a testament to how versatile our upcoming album is. We've been waiting so long to spill the beans about the album details and it feels so good to finally tell everyone. It's a very special album and we can't wait for you to hear the rest on June 3rd!"
"Cloud 9" follows previous single, "Father Said" which was released in January. To date, the track has clocked up nearly 500k cross-platform streams and was included on major editorial streaming playlists including All New Metal on Spotify and Breaking Hard Rock, Breaking Metal and New In Rock on Apple Music.


Red Handed DenialI'd Rather Be AsleepTracklisting
Cloud 9Carbon CopyFix MeRoseFather SaidLet The Colours Fade To GreySaint Marked With A CurseWhite WaterSpiral
Red Handed Denial delicately balances heavy subject matter with soaring melodies. The Toronto quartet continue to captivate audiences with this hybrid. After racking up over 5 million-plus streams independently and touring with various heavy hitters, the group draw up the perfect escape plan from a world on the brink as they launch their new era, highlighted by today's release.
Following 2013's Stories of Old, the Wanderer EP yielded "Trespasser," which gathered 953K-plus Spotify streams. They only increased their momentum with Redeemer in 2019. "Empire" racked up over 948K Spotify streams. The group surprised audiences everywhere with a cover of "Telephone" by Beyoncé and Lady Gaga, racking up over 1.1 million Spotify streams.
Along the way, Trivium tapped them as an opener, while they shared stages with everyone from Protest the Hero and The Contortionist to I See Stars, Silent Planet, and A Skylit Drive.
Red Handed Denial Are
Lauren Babic – VocalsTyson Dang – DrumsChris Mifsud – GuitarDominick De Kauwe – Bass
Find Red Handed Denial Online
www.redhandeddenial.com
EPK
Here