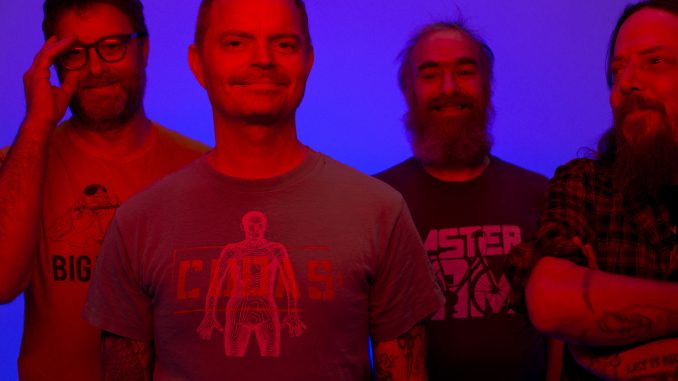 RED FANG RELEASES "FUNERAL COACH," SECOND SINGLE FROM FORTHCOMING ALBUM, ARROWS (JUNE 4, RELAPSE RECORDS)

ALBUM PRE-ORDERS: http://bit.ly/redfangarrows
April 26, 2021, PORTLAND – Red Fang, who triumphantly announced the forthcoming release of Arrows (June 4, Relapse Records), have unveiled a second single from the 13-song album, debuting "Funeral Coach" (https://youtu.be/x9jbbnzC7Q0) this morning.

"I was driving around and I saw a hearse that said, 'funeral coach services' on the back," singer/bass player Aaron Beam says of the inspiration for the song. "So the first thing that popped into my head was a dude with a headset and a clipboard going, 'Alright, dudes—more tears! Five minutes in is when the tears are critical, or no one's gonna believe that anyone cares that this person died.'"

The band kicked off news of Arrows' impending arrival with a new chapter in the band's unparalleled canon of Whitey McConnaughy-directed music videos as the foursome debuted a clip for the title track, "Arrows" (https://youtu.be/lwQPJ1G2n5o). Response for the single has been overwhelmingly positive with Consequence saying the track is "a ripper, retaining the signature Red Fang sound…," Stereogum calling it a "satisfying piece of scuzzed-out riffage" and MetalSucks adding: "Red Fang has never let us down before, and they ain't starting now."

Arrows pre-orders are available now, with the album available in a variety of formats, including standard versions of the LP, CD, cassette and digitally, as well as, a limited-edition liquid filled LP, deluxe CD (exclusive to Europe and Relapse.com), and two collectible bundles: LP with a limited Arrows blacklight poster and a Red Fang x Psycho Las Vegas limited-edition Texas Hold'em themed box set. Dubbed the Fortune Hunter Gamblers Pack, the poker-themed package includes branded casino-quality playing cards, dice, collector's coin, custom boxing, and a card of authenticity (all featuring custom artwork by Ian Colazzo), as well as the LP, and t-shirt. Physical pre-orders are available via Relapse's webstore (http://bit.ly/redfangarrows), while digital downloads and streaming links can be found here: (https://orcd.co/redfangarrows).
Red Fang is Aaron Beam (bass/vocals/guitar/keyboards), Bryan Giles (guitar/vocals), John Sherman (drums) and David Sullivan (guitars). Over the course of their 16-year career the Portland, Oregon-based band has released four studio albums (Red Fang (2009), Murder the Mountains (2011), Whales and Leeches (2013), and Only Ghosts (2016), joined Fred Armisen in an epic battle against invading zombie hordes, were joined by Paul Shaffer during a standout performance on The Late Show with David Letterman, and have created the best music videos in recent history.

# # #