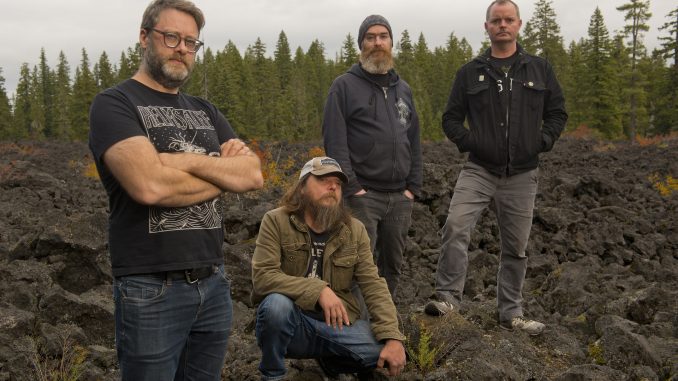 RED FANG EULOGIZED BY HIGH ON FIRE'S MATT PIKE AND YOB

IN "RABBITS IN HIVES" VIDEO

"God, how will the world survive with one less average rock band made up of four, straight white guys?" – Jason Rivera (Gaytheist)

"Floral Arrangements" & Elixir provided by Boneyard Beer
Oct. 25, 2021, PORTLAND – Red Fang have done it again. Celebrating the spooky season, the four band members mark their "demise" the only way they know how, via one of the year's cleverest music videos. Watch "Rabbit in Hives" now: https://youtu.be/FNMNytLQqR4.

"When I showed up at the funeral shoot I had no idea that all of these rock luminaries from the Pacific Northwest would be lavishing such heartfelt praise on the corpse of our band. It was an honor to say the least. It's nice to know that when our number is up we will be missed!" said Bryan Giles of the Ansel Wallenfang directed clip. Wallenfang also directed the band's "Why" video, documenting the sad story of pizza parlor mascot Arnie Von Party.

Portland's heavy music community comes out in force in the five-minute clip. Guests include members of High on Fire, Yob, Ils, Gaytheist, Lord Dying, and Danger Ehren. Bend, Ore.'s Boneyard Beer provide the magical, re-animating brew that insures Red Fang's future into the new year.

Arrows, the Portland-based band's first album in five years and fifth album overall, arrived in June. Revolver, who featured the band on their Summer cover and hosted a joint interview between Fred Armisen and Red Fang, said the 13-song release is "another heaping pile of fuzzy stoner rock from one of the most reliable institutions in their genre," Consequence declared Arrows "their best album since their debut" and Oregon Public Broadcasting described the collection as "a grimy, crunch ball of anger that showcases the best the band has to offer." Arrows can be streamed, or purchased on a variety of physical formats, here: https://orcd.co/redfangarrows.

Red Fang is slated to perform at Graspop and Hellfest in 2022.
Photo credit: James Rexroad
Red Fang is Aaron Beam (bass/vocals/guitar/keyboards), Bryan Giles (guitar/vocals), John Sherman (drums) and David Sullivan (guitars). Over the course of their 16-year career the Portland, Oregon-based band has released five studio albums: Red Fang (2009), Murder the Mountains (2011), Whales and Leeches (2013), Only Ghosts (2016), and Arrows (2021). Over the course of their career, the band has been joined Fred Armisen in an epic battle against invading zombie hordes, accompanied by Paul Shaffer during a standout performance on The Late Show with David Letterman, and have created the best music videos in recent history.

# # #