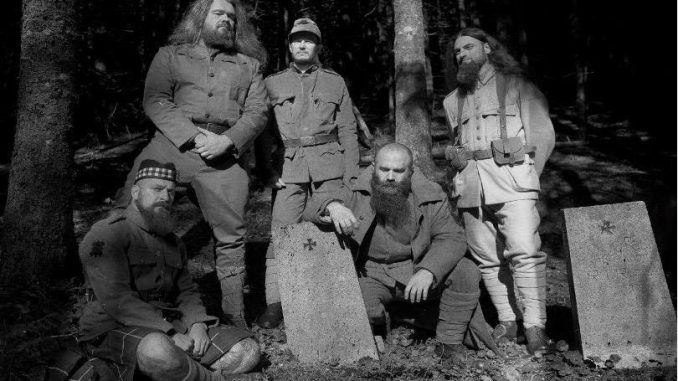 Pre-Order Your Copy NOW
New Merch Designs Available!
"We are not singing the songs, we are telling the stories!"
(1914)
Ukrainian blackened death/doom entity 1914 have unleashed a re-issue of their 2015 full-length, Eschatology of War, this Friday, August 4, 2023! Fans of the band have long-awaited this physical re-release of 1914's debut album inspired by the horrific stories of World War I, and finally it is here in several thrilling formats. Concurrently, 1914 have revealed a completely new "Eschatology of War" T-shirt design, that is already available to pre-order.
Re-watch the shocking music video for "Caught In The Crossfire" below! A haunting intro sets the scene before rapid drum patterns melt into the soundscapes of warfare.
Re-Watch the Video for "Caught In The Crossfire" HERE
Inspired by the madness of war, 'Eschatology of War' faces various events from the past, such as the Battles of Gallipoli and Verdun, the gas attack at Ypres, the Brusilovsky breakthrough, the Christmas truce and the bombing of London, just to name a few.

'Eschatology of War' starts with the genuine intro "War In", delivering tunes of an old military march, which was played for men going to war. "Frozen in Trenches (Christmas Truce)" presents a harmonious idyll to the melody of popular Christmas carol "Silent Night", as the blaze of gunfire breaks in shortly after, while harsh vocals attack to transport nothing but death and decay. The album's longest song, "Ottoman Rise", stirs up the atmosphere even more with heavy guitar lines, thunderous black metal drumming and deep screams of despair. 1914's uncompromising achievement of combining old school death and black metal, spiced with the approach of sludge and doom, can't be pigeonholed.
'Eschatology of War' Track List:
1. War In
2. Gasmask
3. Frozen in Trenches (Christmas Truce)
4. Verdun
6. Zeppelin Raids
7. Ottoman Rise
8. Arditi
9. Battlefield
10. War Out
11. Gasmask (Eastern Front Remix By Solar Owl) / Bonus Track
12. Zeppelin Raids (Western front RMX by ✞ λ₴MѺÐ∆I ✞) / Bonus Track
'Eschatology of War' will be available in the following formats:
=> 2LP Gatefold MARBLED CRYSTAL CLEAR SILVER & BLACK
=> 2LP Gatefold SPLATTER GOLD & BLACK
=> Album Cover Shirt & Digisleeve Bundle
=> 6 PageDigisleeve CD Edition
=> 2LP Gatefold in BLACK
In addition, 1914 has released a new Ukraine support "Onto Victory" shirt as well as charity tapes of 'The Blind Leading The Blind' and 'Eschatology of War'. The profits of the exclusive T-shirt and tapes will go to the band.

1914 state:

"You can help us to win this war. Every sold t-shirt will be converted into a donation. Every donation will be converted into vehicles, helmets, armored plates, medicine and drones for our defenders. Let's win this horrible war against dictatorship, fascism, tyranny and the cult of personality together!"
1914 are:

9. Westpreußisches Infanterie-Regiment Nr. 176, Hptm. Ditmar Kumarberg – vocals

The 51st Highland Division, 1/9th Bn. 2Lt. Liam Fessen – guitar

307th Infantry Regiment, Capt. Walter Wyhovsky – guitar

Le 151e Regiment d'Infanterie, Cne. Armin d'Harcourt – bass

K.K. Landwehr-Infanterieregiment Lemberg Nr.19, Obltn. Rostislaw Potoplacht – drums