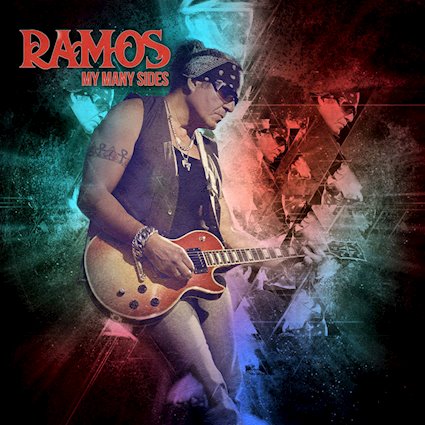 Painting is a blind man's profession. He paints not what he sees, but what he feels, what he tells himself about what he has seen.
Pablo Picasso (Brainy Quote)
If you're a fan of melodic rock and the beauty of a six-string….
"Today's The Day"
That's not an observation, it's the opening track of Ramos' solo album, My Many Sides and it sets the stage for what will be an exposition of hard and melodic rock with a side of bluesy ballad.  Josh Ramos of Hardline, The Storm and Two Fires is the artist, the guitar is his palette and oh…what a picture he paints.
The album features guest vocalists Joe Retta, Tony Harnell, Danny Vaughn, John Bisaha, Harry Hess, Eric Martin, Terry Illous, the late Tony Mills. They add detail and depth to the tracks while allowing Ramos to shine through. Fabrizio Grossi and Tony Morra round out the sound in a strong rhythm section as do Michael T. Ross and Eric Ragno on pianos and keyboards, and Alex Alessandroni Jr on Hammond.
Today's The Day
My Many Sides celebrates a lifetime of emotion from the reminiscence of youth and loss of innocence in "Immortal" to the preparation for moving on to whatever comes next in "Forefather".
There's definitely a few nods to love in all forms. "Unbroken" questions and doubts love's existence. "I've Been Waiting" patiently hopes. "Too Good To Be True" provides a rather humorous depiction of love's craziness. My personal favorite is "Moving On" with a strong back beat and stronger reaction to love betrayed. No words are needed for Ramos to bring a host of emotions to instrumental "Ceremony" before winding down with "All Over Now" and "I'm Only Human".
Fans of Hardline and The Storm already know Ramos' talent as part of a bigger picture.  This album reveals just how far that talent can go.  If you don't know his work, get My Many Sides and introduce yourself to Josh Ramos.  It's a lifetime of emotion painted in all the colors of a six-string.
My Many Sides – Line Up:
Guitars: Josh Ramos
Vocals: Joe Retta, Tony Harnell, Danny Vaughn, John Bisaha, Harry Hess, Eric Martin, Terry Illous, Tony Mills
Drums: Tony Morra
Bass, orchestration: Fabrizio Grossi
Pianos, Keyboards: Michael T Ross
Keyboards: Eric Ragno
Alex Alessandroni Jr : Hammond
My Many Sides – Track List
Today's The Day (Joe Retta on vocals)
Unbroken (Terry Illous on vocals)
Blameless Blue (Danny Vaughn on vocals)
Immortal (Tony Harnell on vocals)
Same Ol' Fears (Joe Retta on vocals)
I've Been Waiting (Harry Hess on vocals)
Moving On (John Bisaha on vocals)
Forefather (Eric Martin on vocals)
Too Good To Be True (Joe Retta on vocals)
Ceremony (Instrumental)
All Over Now (Joe Retta on vocals)
I'm Only Human (Tony Mills on vocals)