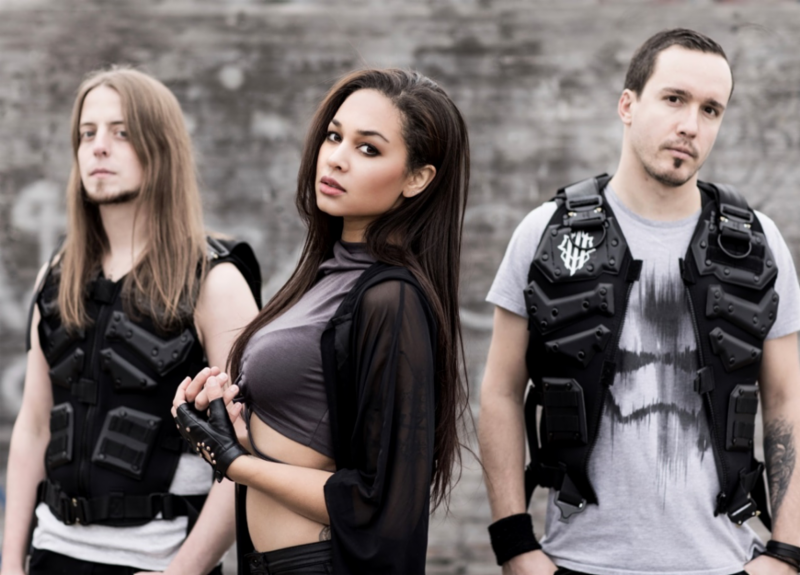 It's time to meld melodic death metal and trance together! RAGE OF LIGHT, the rising stars from Switzerland around charismatic lead singer Melissa Bonny prove that these styles can build a very strong symbiosis. The result is a musical monster!
Today, RAGE OF LIGHTunleashes the official lyric video for their second single "Away With You", taken from the new album "Imploder!" It's a mix of sharp riffs, electronic beats, melody and screaming violence. The interplay between Melissa's unique voice and Jonathan's growls show the variety of RAGE OF LIGHT.
Watch the Video for "Away With You" 
HERE
:
RAGE OF LIGHT on the new video:
"The release of our upcoming album 'Imploder' is coming closer and today, we are excited to share with you the second single called 'Away With You'!"
On March 29th, RAGE OF LIGHT will release their debut album Imploder on Napalm Records.
You can Pre-Order the new album 
HERE
!
[Artwork by: Gustavo Sazes]
Tracklist:
1. Light
2. Enraged
3. Fallen
4. I Can, I Will
5. Away With You
6. In The Shadow
7. Battlefront
8. Imploder
9. Mechanicals
10. Nothingness
RAGE OF LIGHT are a Swiss trance metal/melodic death metal band, created by vocalist/keyboardist Jonathan Pellet, known for his past works with Trophallaxy/Dysrider. Jonathan came up with the idea to create a hybrid of trance and melodic death metal elements in 2007, but due to being busy with other projects, it took almost a decade for the idea to fully bear fruit. Finally, in 2015, he recruited vocalist Melissa Bonny and guitarist Noé Schüpbach to complete the band.
Live:
04.05.19 BE – Ittre / Kraken Metal Fest
31.05.19 FR – Saint-hilaire-les-places / RockMetalCamp Fest 8
more tba!
RAGE OF LIGHT are:
Melissa Bonny – Main vocals
Jonathan Pellet – Vocals, keyboards, synth & drums programming
Noé Schüpbach – Guitars, bass
For more info on RAGE OF LIGHT visit: