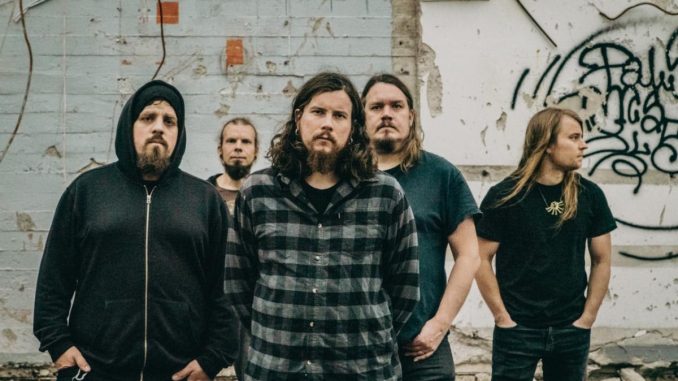 Svart Records announces the upcoming release of 'Unissa palaneet', the sophomore album by Helsinki quintet RADIEN.

Having begun their existence on this earthly plane in 2014, RADIEN has forged their brand of idiosyncratic amplifier worship with a passion that is in full bloom on 'Unissa palaneet'. Their debut album 'SYVYYS' (2018), given a warm welcome by the international doom/sludge crowd, swam in murkier and more monotone waters, whereas this follow-up presents breathtakingly heavy widescreen sludge that paints its oozing black hues in technicolor.
The first single, "Näkijä", will be released on Friday, March 3rd via DSPs and as a music video.
According to the band, 'Unissa palaneet' tells a story of a person who finds a calm spot inside himself or herself amid chaos, and starts to see visions and dreams of the end times of humanity.

"The protagonist's dreams turn lucid, and he/she understands them being prophecies of the future. He/she understands being capable of altering the course of history through his visions, but in the end decides that it is best to let things happen as they are meant to happen and not intervene in anything. In the end the dreams and visions mix with one another and become reality. Nature strikes back at humanity and in the end the human era ends in flames and ash", comments Felipe Hauri from the band.

RADIEN has shared the stage with numerous Finnish bands and international touring artists, such as Dopethrone (CAN), Barren Womb (NO), Full of Hell (US) and Inter Arma (US).
'Unissa Palaneet' will be released on May 19th by Svart Records. The album is mixed by Sanford Parker(YOB, Eyehategod) and mastered by James Plotkin. It also features international guest appearances by Dylan Walker (Full of Hell), Mike Paparo (Inter Arma) and Italian multi-instrumentalist Lili Refrain.
Radien are:
Jyri Kuukasjärvi – vocals
Felipe Hauri – guitar, synth, vocals
Tommi Mutka –bass, vocals
Tuomo Lehtinen – drums
Martti Rasa – guitar