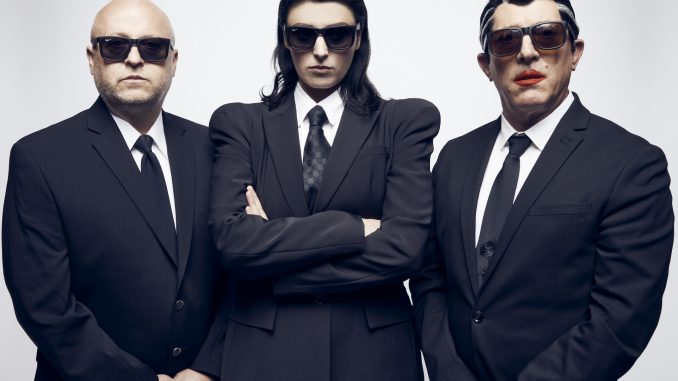 Nov. 12, 2021, Jerome, Ariz. – Puscifer, whose pair of Livestream events: "Existential Reckoning: Live at Arcosanti" (https://puscifer.lnk.to/LiveAtArcosanti) and "Billy D and The Hall of Feathered Serpents Featuring Money $hot" (https://linktr.ee/puscifer), brought the band's unique mixture of concert and theatrical production to audiences worldwide, release both the soundtracks and digital versions of the films today via Puscifer Entertainment and Alchemy Recordings/BMG.

Released in October 2020, "Existential Reckoning: Live at Arcosanti," is a pioneer of the COVID-era Livestream era, breaking viewership records while showcasing the then newly released album amidst the bedazzling backdrop of Arcosanti, a location Architectural Digest described as a "utopian metropolis in the Arizona desert" that "looks like the sublime set of a big-budget sci-fi movie."

"Billy D and The Hall of Feathered Serpents Featuring Money $hot" followed in April, with the prequel tracking Billy D as he trudged through what has been referred to as the Bermuda Triangle of the Southwest, ultimately landing at Los Angeles' historic Mayan Theater. The elaborate cultural landmark, with its jaw-dropping Mayan calendar infused chandelier and a lobby dedicated to the bird-meets-reptilian deity Quetzalcoatl, served as an intoxicating backdrop to the Luchador-infused performance.

Physical versions of both films and soundtracks will be announced soon.
In addition to the digital debuts of the films and accompanying soundtracks, the Arizona-based band launched Puscifer TV this morning. A home for the stable of Puscifer films including the aforementioned "Existential Reckoning: Live at Arcosanti" and "Billy D and The Hall of Feathered Serpents featuring Money $hot by Puscifer," the portal also houses the debuts of "Maynard James Keenan: A Curmudgeon's Guide to Divine Collisions and Pythagorean Oenology," and "What Is… Puscifer."

About Puscifer:
Born somewhere in the Arizona desert, Puscifer is an electro-rock band, multimedia experience, traveling circus, and alien abduction survivors. The group's catalog consists of four full-length studio albums: "V" is for Vagina [2007], Conditions of My Parole [2011], Money Shot [2015], and Existential Reckoning (2020) — in addition to a series of EPs and remixes. Beyond the core trio of Maynard James Keenan [vocals], Mat Mitchell [guitar, production], and Carina Round [vocals, songwriting], the group's ever-evolving ecosystem encompasses Greg Edwards (bass, guitar, keys), Gunnar Olsen (drums), as well as a cast of characters such as Billy D and his wife Hildy Berger, Major Douche, Special Agent Dick Merkin, and many more.

Meanwhile, the moniker's origins can be traced to a 1995 episode of the HBO classic Mr. Show where Keenan first used the name "Puscifer." In addition to tallying tens of millions of streams and views, they've piqued the curiosity of the press. Entertainment Weekly christened them, "Exceptionally groovy," and Revolver fittingly described them as "indescribable." Renowned for an immersive live show, the group's performances blur the lines between concert and theater, traversing the dusty American Southwest with Billy D and Hildy or the sweaty squared circle with Luchadores. They've brought their unique live experience to life everywhere from Coachella to Bonnaroo. On their 2020 debut for Alchemy Recordings/Puscifer Entertainment/BMG entitled Existential Reckoning, Puscifer track Billy D back to the desert and, just maybe, uncovers the truth about aliens once and for all.