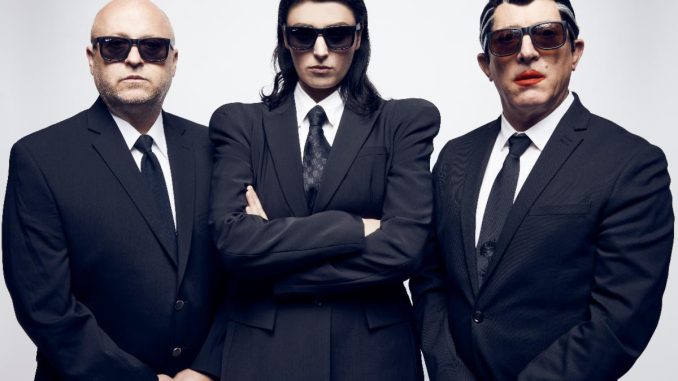 U.S. & European Tour On-Sale Today
PUSCIFER BEGINS ROLLOUT OF ADDITIONAL "A SINGULARITY (RE-IMAGINED BY CARINA ROUND)" VIDEOS WITH TODAY'S RELEASE OF A BILLY HOWERDEL (A PERFECT CIRCLE) CREATED CLIP
EXISTENTIAL RECKONING: RE-WIRED ARRIVES MARCH 31 VIA PUSCIFER ENTERTAINMENT/ALCHEMY RECORDINGS/BMG
PRE-ORDER HERE
PUSCIFER U.S. AND EUROPEAN TOUR DATES ON-SALE TODAY
"A Singularity (Re-Imagined by Carina Round) video by Billy Howerdel
Jan. 20, 2023, Jerome, Ariz. – Puscifer, who recently announced the March 31 release date of Existential Reckoning: Re-Wired (https://puscifer.lnk.to/ReWired), a track-by-track re-imagination of their most recent album, Existential Reckoning, will roll out a series of "A Singularity (Re-imagined by Carina Round)" videos, crafted by friends, and family, beginning today with Billy Howerdel's clip for the moving song (https://youtu.be/o97asEn-PV4).
Maynard James Keenan explains: "Upon hearing Carina's rewire of 'A Singularity,' many of our extended family were moved and wanted to submit their own version of an accompanying video/film. I couldn't decide which to use, so screw it. We'll be releasing them one at a time over the next few weeks. Hope you enjoy them as much as we did."
The official video, a Keenan-created clip (https://youtu.be/ORcrjdXD0Xk), which focused on the song's muse, his beloved dog MiHo, who passed in October 2021, arrived earlier this month. The additional videos include offerings by video director Odin Wadleigh, actor Yul Vásquez, visual artist Alisa Akay and Keenan's daughter, Lei Li.
"In making this music video it was easy to get pulled into the landscape of this track," says Howerdel of the inspiration for his video. "It screams of stillness, beauty and discourse. I barely made it back to earth."
The A Perfect Circle guitarist's "A Singularity (Re-imagined by Carina Round)" video arrives as Puscifer's recently announced slate of U.S. and European tour dates go on-sale, with the trek (listed below) on-sale at 10 am local time in all tour markets. Ticketing links can be found via Puscifer.com.
Existential Reckoning: Re-Wired offers a track-for-track re-imagining of the 12 songs from Existential Reckoning. Puscifer band members Mitchell and Round, along with current touring musicians Greg Edwards (Failure, Autolux) and Gunnar Olsen reinterpret tracks from the prophetic, electro-laced record. The Academy Award-winning team of Trent Reznor and Atticus Ross tackle "Apocalyptical" (Reznor has a co-writing credit with Maynard James Keenan and Mitchell on Puscifer's 2009 song, "Potions"), Phantogram revamp "Postulous," Drummer Sarah Jones and Bring Me The Horizon's Jordan Fish tackle ""Theorem," Queens of The Stone Age (and sometimes A Perfect Circle/Failure) guitar player Troy Van Leeuwen partners with his Gone is Gone bandmate, Tony Hajjar for "Grey Area," while Tool's Justin Chancellor and The Crystal Method's Scott Kirkland join forces for "UPGrade." Additional contributors include Juliette Commagere, who first appeared on Puscifer's 2011 album Conditions of My Parole, keyboard player Alessandro Cortini (Nine Inch Nails), and BBC 1's Daniel P. Carter.
Existential Reckoning: Re-Wired cover by Daniel Martin Diaz
Existential Reckoning: Re-Wired tracklist:
1. Bread and Circus (Re-imagined by Mat Mitchell)
2. Apocalyptical (Re-imagined by Trent Reznor & Atticus Ross)
3. The Underwhelming (Re-imagined by Juliette Commagere)
4. Grey Area (Re-imagined by Troy Van Leeuwen & Tony Hajjar)
5. Theorem (Re-imagined by Sarah Jones & Jordan Fish)
6. UPGrade (Re-imagined by Justin Chancellor & Scott Kirkland)
7. Bullet Train To Iowa (Re-imagined by Alessandro Cortini)
8. Personal Prometheus (Re-imagined by Greg Edwards)
9. A Singularity (Re-imagined by Carina Round)
10. Postulous (Re-imagined by Phantogram)
11. Fake Affront (Re-imagined by Gunnar Olsen)
12. Bedlamite (Re-imagined by Daniel P. Carter)
Puscifer tour dates:
May 18 Daytona Beach, FL Welcome to Rockville
May 19 St. Petersburg, FL Mahaffey Theater
May 23 Asheville, NC Harrah's Cherokee Center – Thomas Wolfe Auditorium
May 27 Columbus, OH Sonic Temple Festival
May 28 Northfield, OH MGM Northfield Park – Center Stage
May 30 Rochester, NY Kodak Center Main Theater
June 1 Baltimore, MD The Lyric Baltimore
June 2 Atlantic City, NJ Hard Rock Casino
June 3 Bethlehem, PA Wind Creek Event Center
June 10 Dublin, Ireland 3Olympia Theatre
June 12 Glasgow, UK O2 Academy Glasgow
June 13 Manchester UK Manchester Academy
June 15 London, UK TBA
June 17 Clisson, France Hellfest
June 20 Copenhagen, Denmark Vega
June 21 Stockholm, Sweden Fryshuset
June 26 Hamburg, Germany Docks
June 27 Berlin, Germany Huxleys
June 28 Berlin, Germany Huxleys
July 1 Tilburg, Netherlands 013 Poppodium Tilburg
July 2 Werchter, Belgium Rock Werchter
July 4 Barcelona, Spain Club Razzmatazz
July 6 Lisbon, Portugal Nos Alive Festival
July 7 Madrid, Spain Mad Cool Festival
Photo credit: Travis Shinn
About Puscifer
Born somewhere in the Arizona desert, Puscifer is an electro-rock band, multimedia experience, traveling circus, and alien abduction survivors. The group's catalog consists of four full-length studio albums: "V" is for V****a [2007], Conditions of My Parole [2011], Money Shot [2015], and Existential Reckoning (2020) — in addition to a series of EPs and remixes. Beyond the core trio of Maynard James Keenan [vocals], Mat Mitchell [guitar, production], and Carina Round [vocals, songwriting], the group's ever-evolving ecosystem encompasses Greg Edwards (bass, guitar, keys), Gunnar Olsen (drums), as well as a cast of characters such as Billy D and his wife Hildy Berger, Major Douche, Special Agent Dick Merkin, and many more. Meanwhile, the moniker's origins can be traced to a 1995 episode of the HBO classic Mr. Show where Keenan first used the name "Puscifer." In addition to tallying tens of millions of streams and views, they've piqued the curiosity of the press. Entertainment Weekly christened them, "Exceptionally groovy," and Revolver fittingly described them as "indescribable." Renowned for an immersive live show, the group's performances blur the lines between concert and theater, traversing the dusty American Southwest with Billy D and Hildy or the sweaty squared circle with Luchadores. They've brought their unique live experience to life everywhere from Coachella to Bonnaroo. On their 2020 debut for Alchemy Recordings/Puscifer Entertainment/BMG entitled Existential Reckoning, Puscifer track Billy D back to the desert and, just maybe, uncover the truth about aliens once and for all.
# # #