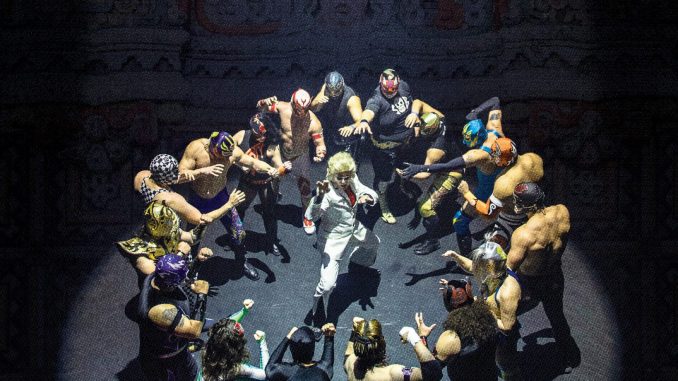 Photo credit: Steve Thrasher

TICKETS & EXCLUSIVE MERCHANDISE AVAILABLE NOW

WATCH THE TRAILER HERE: PUSCIFERLIVE.COM
March 17, 2021, The Hall of Feathered Serpents – Puscifer, whose critically-acclaimed Fall streaming event, "Existential Reckoning: Live At Arcosanti," broke online attendance records, return with the otherworldly streaming performance: "Billy D and The Hall of Feathered Serpents featuring Money $hot by Puscifer."

"In this prequel to his alleged abduction during Existential Reckoning, we find Billy D trudging through what has been referred to as the Bermuda Triangle of the Southwest," explains Maynard James Keenan. "As is common within the Puscifer Vortex, Time and Logic have no home out here. Let that go. Just strap in for another magnificent ride through our collective Grey Matter."
Click the image above or follow this link to view the "Billy D and The Hall of Feathered Serpents featuring Money $hot by Puscifer" trailer: https://youtu.be/0CptC9n-iAE
"Billy D and The Hall of Feathered Serpents featuring Money $hot by Puscifer" debuts on Keenan's April 17 birthday, and reprises the Luchador-infused performances surrounding the band's 2016 album, Money $hot (which will be played in its entirety). The production highlights Puscifer's unique marriage of music-meets-theater, having seen the touring incarnation hailed as "extraordinary" (Kerrang!), "stunning" (Loudwire), and "a modern blend of 'Saturday Night Live' and 'Monty Python's Flying Circus'" (Relix).

Los Angeles' historic Mayan Theater, a 1920s era revivalist theater featuring original artwork by Mexican painter and sculptor Francisco Cornejo, serves as the backdrop to the one-time outing. The elaborate cultural landmark, with its jaw-dropping Mayan calendar infused chandelier and a lobby dedicated to the bird-meets-reptilian deity Quetzalcoatl, gave birth to the performance's title. "While looking both forward and backwards, we stumbled into The Hall of Feathered Serpents," explains Mat Mitchell. "The perfect site to pay homage to the Money $hot album and tour."

"Billy D and The Hall of Feathered Serpents featuring Money $hot by Puscifer" debuts on April 17 at 2:00 pm Pacific/5:00 pm Eastern/10:00 pm UK/11:00 pm EU and remains on-demand for 72 hours. Tickets for the exclusive performance, as well as a selection of limited edition merchandise exclusive to attendees, including an opportunity to stream "Existential Reckoning: Live At Arcosanti," are available now via pusciferlive.com with early bird ticket prices available through April 11.

In 2020 Danny Wimmer Presents entered the digital content curation space, promoting pay-per-view livestreams and creating the popular digital series Offstage with DWP. DWP is known worldwide for their stellar portfolio of music and lifestyle events, which includes Aftershock, Bourbon & Beyond, Epicenter, Hometown Rising, Louder Than Life, Sonic Temple Art + Music Festival, and Welcome To Rockville.
About Puscifer

Born somewhere in the Arizona desert, Puscifer is an electro-rock band, multimedia experience, traveling circus, and alien abduction survivors. The group's catalog consists of three full-length studio albums—"V" is for Vagina [2007], Conditions of My Parole [2011], and Money Shot [2015]—in addition to a series of EPs and remixes. Beyond the core trio of Maynard James Keenan [vocals], Mat Mitchell [guitar, production], and Carina Round [vocals, songwriting], the group's ever-evolving ecosystem encompasses Greg Edwards (bass, guitar, keys), Gunnar Olsen (drums), as well as a cast of characters such as Billy D and his wife Hildy Berger, Major Douche, Special Agent Dick Merkin, and many more. Meanwhile, the moniker's origins can be traced to a 1995 episode of the HBO classic Mr. Show where Keenan first utilized the name "Puscifer." In addition to tallying tens of millions of streams and views, they've piqued the curiosity of press. Entertainment Weekly christened them, "Exceptionally groovy," and Revolver fittingly described them as "indescribable." Renowned for an immersive live show, the group's performances blur the lines between concert and theater, traversing the dusty American Southwest with Billy D and Hildy or the sweaty squared circle with Luchadores. They've brought this to life everywhere from Coachella to Bonnaroo. On their debut for Alchemy Recordings/BMG entitled Existential Reckoning (https://Puscifer.lnk.to/ExistentialReckoning), Puscifer track Billy D back to the desert and, just maybe, uncover the truth about aliens once and for all.

About Danny Wimmer Presents

Since 1993, music industry veteran Danny Wimmer has been producing concerts and festivals, both large and small. In 2011, he formed Danny Wimmer Presents, which now produces several of the largest rock and alternative festivals in the U.S. By combining A-list talent with local cuisine and culture, DWP has become recognized within the industry for delivering the highest-quality entertainment experiences to fans, artists, sponsors, partners and host cities. DWP creates memorable and all-encompassing festival experiences, leaving both consumers and partners with lasting and meaningful impressions. DWP will continue to add new music festivals to its already stellar portfolio, which currently includes Aftershock, Bourbon & Beyond, Epicenter, Hometown Rising, Louder Than Life, Sonic Temple Art + Music Festival, and Welcome To Rockville. Previous DWP festivals include Rock On The Range, Carolina Rebellion, Northern Invasion and more. In 2020, DWP launched the popular digital series Offstage with DWP and Beyond the Barrel, and ventured into the digital content curation space, promoting pay-per-view live streams.

# # #

Facebook.com/Dannywimmerpresents

Instagram.com/Dannywimmerpresents

Puscifer Publicity Contacts:

Monica Seide-Evenson / Speakeasy PR (North America), monica@speakeasypr.com

Anna Maslowicz / AM Publicity (UK), anna@ampublicity.net

Danny Wimmer Presents Publicity Contacts:

Kristine Ashton-Magnuson / Ashton-Magnuson Media, kristine@am-media.net

Selena Fragassi / Ashton-Magnuson Media, selena@fr-pr.net

Danny Wimmer Presents Marketing Contacts:

Chamie McCurry, chamie@dwpresents.com

Holly Doscher, holly@dwpresents.com