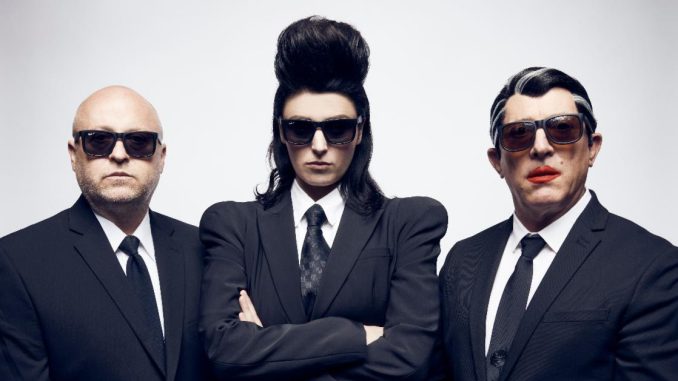 Puscifer, who have released a companion remix collection for each of their studio albums, have assembled the band's most personal collection of remixers to date for Existential Reckoning: Rewired (December 9, Puscifer Entertainment/Alchemy Recordings/BMG).
"Existential Reckoning: Rewired is a dataset of revoiced and reassembled orchestrations by friends and members of the larger Pusciforce family," says Mat Mitchell.
"Sometimes it's just fun to break stuff," offers Maynard James Keenan. "Then you latch on to one familiar piece and build something entirely new."
The 12-song album offers a track-for-track re-imaging of the songs from the 2020 album, Existential Reckoning. Puscifer band members Mitchell and Carina Round, along with current touring musicians Greg Edwards (Failure) and Gunnar Olsen reinterpret tracks from the prophetic, electro-laced record. The Academy Award-winning team of Trent Reznor and Atticus Ross tackle "Apocalyptical" (Reznor has a co-writing credit with Maynard James Keenan and Mitchell on Puscifer's 2009 song, "Potions"), Phantogram revamp "Postulous," Queens of The Stone Age (and sometimes A Perfect Circle/Failure) guitar player Troy Van Leeuwen partners with his Gone is Gone bandmate, Tony Hajjar for "Grey Area," while Tool's Justin Chancellor and The Crystal Method's Scott Kirkland join forces for "UPGrade." Additional contributors include Juliette Commagere, who first appeared on Puscifer's 2011 album Conditions of My Parole, Existential Reckoning studio drummer Sarah Jones, keyboard player Alessandro Cortini (Nine Inch Nails), and BBC 1's Daniel P. Carter.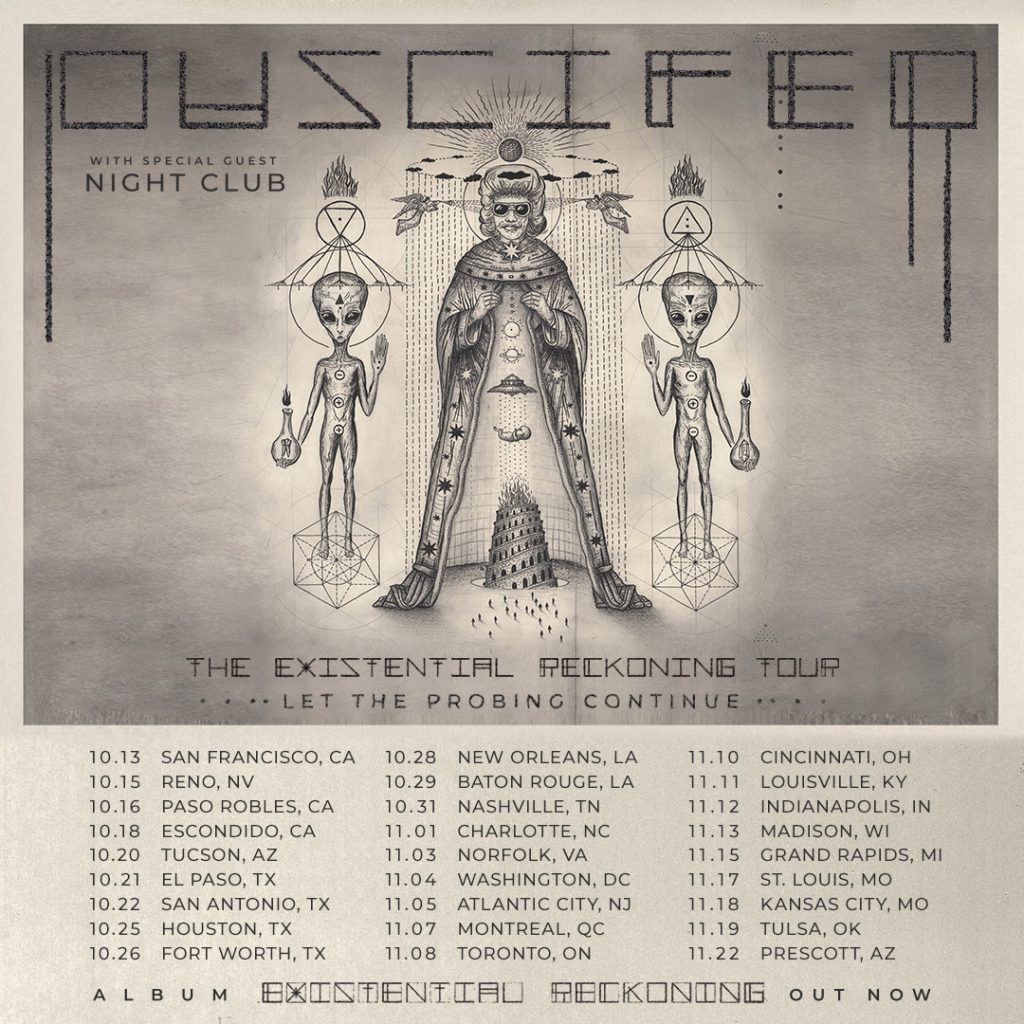 Existential Reckoning tour dates:
October 13 San Francisco, CA The Warfield
October 15 Reno, NV Grand Theatre at the Grand Sierra Resort
October 16 Paso Robles, CA Vina Robles Amphitheatre
October 18 Escondido, CA California Center for Arts Escondido – Concert Hall
October 20 Tucson, AZ The Linda Ronstadt Music Hall (formerly Tucson Music Hall)
October 21 El Paso, TX Abraham Chavez Theatre
October 22 San Antonio, TX Tech Port Center & Arena
October 25 Houston, TX 713 Music Hall
October 26 Ft. Worth, TX Will Rogers Memorial Auditorium
October 28 New Orleans, LA Mahalia Jackson Theater
October 29 Baton Rouge, LA River Center Theatre
October 31 Nashville, TN Ryman Auditorium
November 1 Charlotte, NC Ovens Auditorium
November 3 Norfolk, VA Chrysler Hall
November 4 Washington, DC Warner Theatre
November 5 Atlantic City, NJ Sound Waves at Hard Rock Hotel & Casino
November 7 Montreal, QC L'Olympia
November 8 Toronto, ON Queen Elizabeth Theatre
November 10 Cincinnati, OH The Andrew J. Brady Music Center
November 11 Louisville, KY Louisville Palace
November 12 Indianapolis, IN Murat Theatre at Old National Centre
November 13 Madison, WI The Orpheum Theater
November 15 Grand Rapids, MI DeVos Performance Hall
November 17 St. Louis, MO The Factory
November 18 Kansas City, MO The Midland Theatre
November 19 Tulsa, OK Tulsa Theater
November 22 Prescott, AZ Yavapai College Performing Arts Center
Tickets are available now via Puscifer.com.