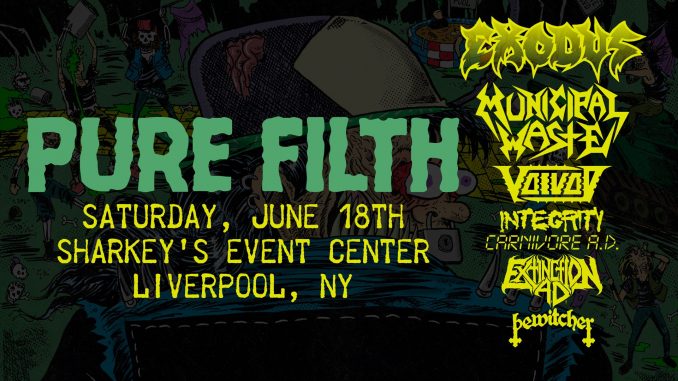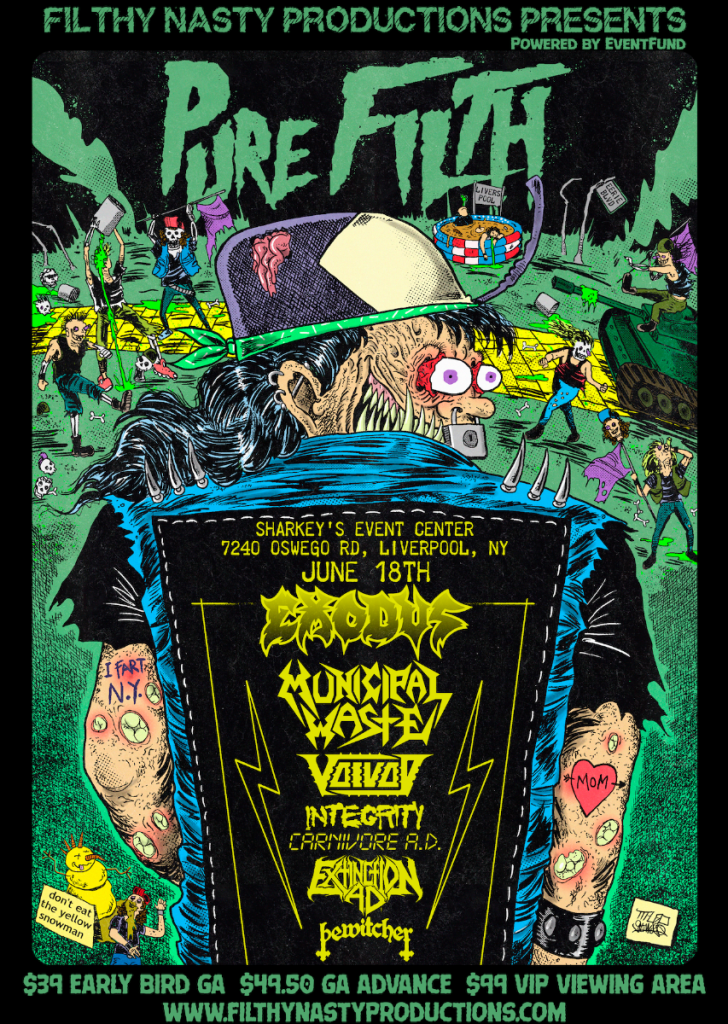 ANNOUNCING PURE FILTH

THE ALL-DAY METAL EVENT TAKES PLACE SATURDAY, JUNE 18 AT SHARKEY'S IN LIVERPOOL, NEW YORK

THE LINEUP INCLUDES ICONIC THRASH AND HARDCORE ACTS SUCH AS EXODUS, MUNICIPAL WASTE, VOIVOD, INTEGRITY, + MORE
Central New York metal fans can rejoice! Pure Filth, an all-day metal event, is set to take place Saturday, June 18 at Sharkey's Event Center in Liverpool, New York. The event is presented by Filthy Nasty Productions.
The lineup boasts the best in thrash and hardcore. The full-on lineup is below.
Get tickets here when they go on sale on Friday, April 1 at 10 am ET.
"For the public at large, 2020 and 2021 were incredibly stressful and isolating, due to the pandemic," says promoter Jay Tavernese. "In understanding this, I realized that after a long two years, it was finally time for everyone to safely come out for an all-day, outdoor, special event like Pure Filth. Having grown up in Syracuse, I have a great nostalgia for the days of Hellfest (not the French one) from the late '90s…so in that vein, I knew it was time to establish a proper Central New York metal event again. And by combining some of the most legendary acts in the thrash and hardcore genres with the new blood of today, Pure Filth will be exactly that."
He finishes, "I don't know if we'll jam hard enough to top a golf cart pit at Full Terror Assault, but we'll certainly try!"
PURE FILTH LINEUP:
Exodus
Municipal Waste
Voivod
Integrity
Carnivore A.D.
Extinction AD
Bewitcher
ABOUT FILTHY NASTY PRODUCTIONS:
Founded in 2014, Filthy Nasty Productions is an independent concert production company based in Georgia and Florida. In 2022, the company looks to soar to new heights, bringing live music to multiple markets within 10+ states throughout the USA. With a collective 30+ years in the music industry, FNP works hand-in-hand with all major and boutique agencies as well as many notable independent venues to bring its live shows to life every night. FNP has produced 300+ concerts over the past eight years with some of the top names in many different genres. The company prides itself on its boutique operation and hands-on reputation. Filthy Nasty Productions is a proud member of the National Independent Venue Association (NIVA).