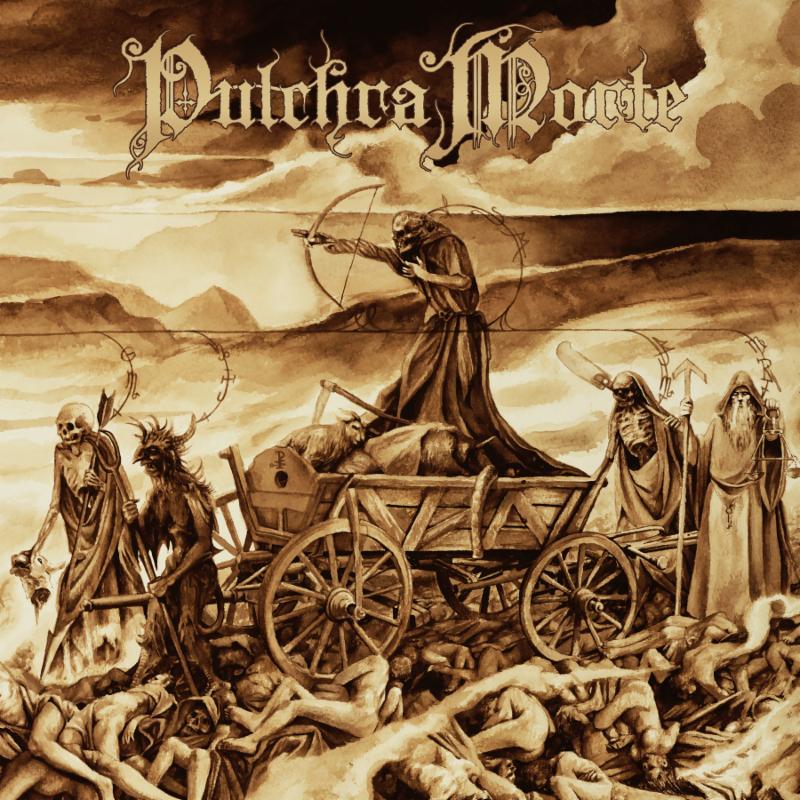 This Friday, PULCHRA MORTE — featuring within its ranks current and former members of Wolvhammer, Eulogy, Harkonin, Withered, and more — will unleash their Divina Autem Et Aniles debut upon the masses.
Captured by PULCHRA MORTE guitarist/renowned producer/engineer Jarrett Pritchard (1349, Goatwhore, Wolvhammer, Gruesome, Exhumed, Brutality, etc.) at his own New Constellation Studios in Orlando, Florida and mastered by Chris Common (Tribulation, Primordial, Exhumed, Gruesome), the record features the vocal talents of former Eulogy co-conspirator Heather Dykstra and cellist Naarah Strokosch as well as additional backing vocals by Tor Stavenes, AKA Seidemann of 1349 and Svart Lotus. It all comes swathed in the arresting cover art of Jordan Barlow (Goatwhore, Haarp, Psychon
Vex). Wrote Decibel Magazine in an early investigation of the record, "Breaking from expectation's mold, the quintet eschews fast and furious death metal for the sort of elegant doom/death first oozed out by the Peaceville three…"
As a precursor to its release, BrooklynVegan is offering an exclusive premiere of the record in its forlorn entirety at THIS LOCATION.
View the band's previously released videos for "Thrown To The Wolves" and "Soulstench" at THIS LOCATION.
Divina Autem Et Aniles will be released on February 1st on CD and digitally via Ceremonial Records. For physical preorders visit the official PULCHRA MORTE bandcamp page at THIS LOCATION. Additionally, PULCHRA MORTE's limited-edition seven-inch single featuring "Soulstench" on Side A and a rendition of Paradise Lost's "The Painless" on Side B is still available in three color variants HERE.
PULCHRA MORTE will play a special show in Chicago this March with Bear Mace and Withering Soul with additional performances to be announced in the weeks to come.
PULCHRA MORTE:
3/23/2019 Livewire – Chicago, IL w/ Bear Mace, Withering Soul
Forged by drummer/backing vocalist Clayton Gore and vocalist Jason Barron, formerly of St. Louis staple Harkonin, with guitarist Jeffrey Breden in 2017, PULCHRA MORTE began writing songs as a trio with the intention of recapturing the purpose of greats from the late-'80s through early-'90s doom-laden death metal scene, a point where feeling superseded technicality. During this process, Gore contacted long-time friend and cocreator, producer/engineer Jarrett Pritchard, the two of them enjoying a thirty-year friendship and collaboration from the days of the seminal Tampa, Florida-based death metal band Eulogy.
The band completed the recording of their debut album Divina Autem Et Aniles with Pritchard taking on bass and auxiliary guitar duties as well as producing and engineering the album. Full rehearsals took place in Chicago over the summer of 2018, with Dylan Kilgore of Withered being recruited to play bass while Pritchard moved to full-time guitar. Band intact, the rehearsals yielded excellent results, and from these sessions a proper video for first single "Soulstench" was generated. In its wake, PULCHRA MORTE unleashed a limited edition seven-inch of "Soulstench" with a beautiful tribute to Paradise Lost – a cover of Gothic classic "The Painless" – occupying its B-side as an exclusive.
"With Pritchard behind the knobs… the record's in capable hands to conjure the somber serenades of early Anathema. But with PULCHRA MORTE, Pritchard takes melodic death-doom oddities like Visceral Evisceration's Incessant Desire For Palatable Flesh or Pyogenesis' Ignis Creato and polishes their rough casket wood." – Decibel
"'Shadows From The Cross' is granite-heavy and gruesome, physically arresting and yet atmospheric – drenched in the sensations of pestilence and fleshly rot." – No Clean Singing on "Shadows From The Cross"
"PULCHRA MORTE are on the cusp of releasing one of the greats of 2019…" – Between The Lines Media
"…a solid piece of musical gloom that should bring hundreds of fans to PULCHRA MORTE. The band writes music that hearkens back to the best death/doom metal from the late '80s/early '90s but does so with a sound that will quickly set this band apart from others." — Sea Of Tranquility