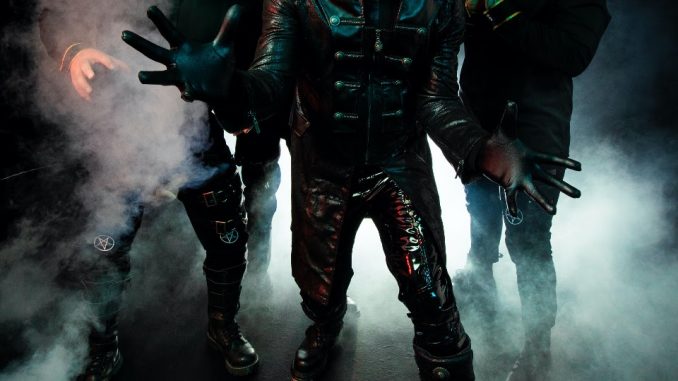 BAND INVITES FANS TO SUBMIT FOOTAGE FOR FUTURE VIDEOS

BAND ALSO HOLDS UNOFFICIAL WORLD RECORD BY RELEASING 9 (!!!) ALBUMS IN A SINGLE DAY
PSYCHO SYNNER have shared their brand new single "Rebels of the Underground." Watch the video here.
The song follows the band's three prior No. 1 singles at radio: "Devil From Hell," "Unholy," and "Love on the Grave."
"'Rebels' is a song about how nobody is rebellious anymore because they're scared," says frontman Grym Synner. "It's also who we are as a band. This is a grassroots, go-against-the-grain-type of project. You may hate it or you may dig it, but it's definitely rebelling against the way things have become."
The band has also launched a contest where they have invited fans to upload footage they'd like to be considered for inclusion in future music videos for nine songs from the band's nine albums, all of which were released in one day on November 5, 2021. It is an unofficial record and something that no other band has accomplished. Grym Synner will pick nine submissions and the winners will receive a pair of tickets for life to any Psych Synner shows of their choosing. Fans can stream songs and upload their content here.
All nine Psycho Synner albums (details below) are available on CD and vinyl here.
PSYCHO SYNNER 2021 DISCOGRAPHY:
Unholy Hymns For The Children (Their debut)
Bite the Snake (The slimy, electric rock record)
As The Demon Dances Under the Blood Red Sky (The psychedelic record)
Fuck the Fire (The straight ahead face-smasher)
Killing You Softly (The acoustic record)
666 BC Volume 1: The Burning Years (First of a double album)
666 AD Volume 2: The Scorched Years (Second of a double album)
Dying to See You (The straight up metal record)
The Devil Made You Do It (The Satanic rock 'n' roll record.)