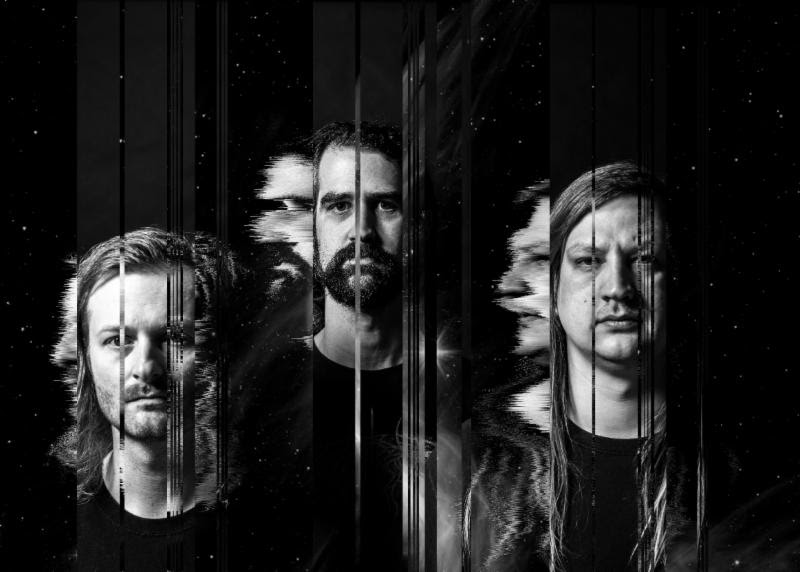 New Album, Monument, out April 19, 2019
Monument Album Art by Mark Facey
Des Moines, Iowa-based psychedelic/stoner metal trio 
DRUIDS
 recently announced that their new album, 
Monument
, is scheduled for release on April 19, 2019 via The Company KC. The album is available to pre-order now via 
Bandcamp
, with exclusive multi-colored vinyl also available via The Company KC here: 
https://thecompanykc.bigcartel.com/
Guitarist/vocalist Luke Rauch tells Kerrang about the video: "I came up with the idea for the video while listening to an early mix of the song on a walk. It came to me as an over the top, gory, sketch-comedy bit and evolved into what is now with the help of Bo at Transpiritus. I feel like the video captures the goofy side of our band while sticking with the adventurous/psychedelic vibe of the song."
He adds about the track, "New Breath is about keeping balance when everything is speeding past you. The three of us keep very busy at home with our home life, jobs and other projects. Finding a balance can be tricky but it's essential."
Monument
 will prove to be the band's most confident and explorative effort to date! To experience the more experimental side of 
DRUIDS
, check out another new track, entitled "Mirrors of Trigon", 
here
 and a playthrough of the band's track "The Whip" 
here
.
Though Monument is an absolute classic metal-inspired riffscapade on its surface, there's much more lying beneath its sonic exterior. Amid the ebb and flow of atmosphere and groove-heavy passages, the album tells a story – inviting the listener on a journey through the afterlife. Each song on Monument depicts the experiences of mystical worlds that the story's protagonist encounters after death, and ultimately grows from. Some lessons are beautiful, and some brutal. Although they have departed from their world, they are still learning and growing as a spirit.
Luke Rauch adds, "There are personal experiences in the lyrics, as even now, I feel the band and myself growing in the way the character does."
Monument track listing:
1) New Breath
2) Iron Healer
3) Mirrors of Trigon
4) The Whip
5) Shivast
Monument was produced by Brandon Darner, engineered and mixed by Micah Natera, and mastered by Doug Van Sloan.
DRUIDS will hit the road in April! See below for all confirmed tour dates:
Remaining DRUIDS Tour Dates:
4/19 Kansas City, MO @ Union Library
4/20 Des Moines, IA @ Wooly's
4/27 Lawrence, KS @ Replay Lounge
DRUIDS first laid their destructive groundwork over two releases – Pray for Water and The Sound of Meditation (released in 2009 and 2013, respectively) – continually looking to push their own personal boundaries, physically and sonically. With the release of 2016's Cycles of Mobeum, the boys embarked on a full year of heavy touring all over the United States, giving audiences in unsuspecting cities a heavy, cathartic live show, awash with wailing guitar solos, rhythmic drumming and chunky, grooving bass-lines. They took to the studio in early 2017 to record their follow up, Spirit Compass, with producer Brandon Darner (David Keuning, Radio Moscow) to shape what would be a smoldering follow-up.

DRUIDS is:
Luke Rauch: Vocals/Guitar
Keith Rich: Drums
Drew Rauch: Vocals/Bass
DRUIDS online:
IG: @druidsiowa
Press praise for 2017's Spirit Compass:
"…massive tracks of psychedelic sludge that are comprised of mammoth riffs, transcendental soundscapes and expressive melodies." – Svbterranean
"…an onslaught of pummeling riffs which burst into moments of psychedelia…"­ – Riff Relevant
"…One may be able to draw parallels to greats such as Motörhead, Black Sabbath, and even Mastodon and many more. All the while, DRUIDS still throw in their own kind of groove on the way to their own greatness." – The Circle Pit