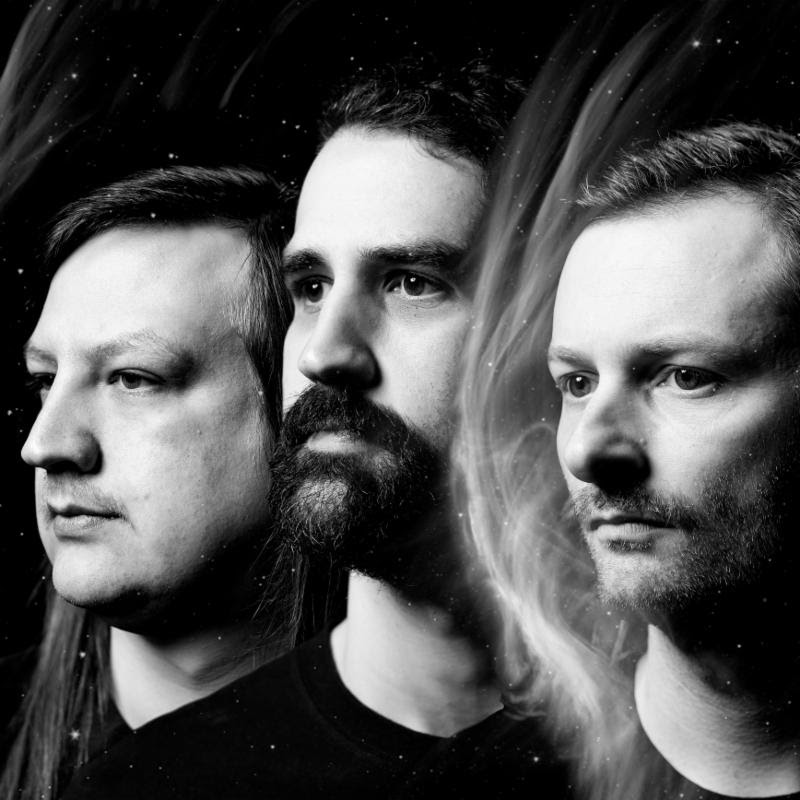 New Album, Monument, Out Now
DRUIDS Press Photo by Suzanne Corum-Rich
Des Moines, Iowa-based psychedelic/stoner metal trio
DRUIDS
recently released their new album,
Monument
, via The Company KC. The album is available now via
Bandcamp
, with exclusive multi-colored vinyl also available via The Company KC here:
https://thecompanykc.bigcartel.com/
DRUIDS vocalist/bassist Drew Rauch says about the track: "This is the climax of our story on Monument – facing your fears head on and confronting your issues."
Vocalist/guitarist Luke Rauch adds, "'Shivast' is about a journey through the afterlife. In this story and in the video, a young woman is processing emotions and experiences she is missing due to her untimely death. She encounters guides and oracles on her path to enlightenment."
While online, check out the retro, sci-fi inspired video for the track "New Breath" – directed by Bo Becker of Transpiritus Video- here:
https://youtu.be/7ebq_9NgFr4
DRUIDS
have also posted a guitar playthrough for their first single, "The Whip"
here
, as well as a drum playthrough for the track "New Breath"
here
.
Though Monument is an absolute classic metal-inspired riffscapade on its surface, there's much more lying beneath its sonic exterior. Amid the ebb and flow of atmosphere and groove-heavy passages, the album tells a story – inviting the listener on a journey through the afterlife. Each song on Monument depicts the experiences of mystical worlds that the story's protagonist encounters after death, and ultimately grows from. Some lessons are beautiful, and some brutal. Although they have departed from their world, they are still learning and growing as a spirit.
Monument was produced by Brandon Darner, engineered and mixed by Micah Natera, and mastered by Doug Van Sloan.
DRUIDS will hit the road in June for some dates with Modern Life is War and Krimewatch, as well as more solo dates. See below for all confirmed tour dates:
Remaining DRUIDS Tour Dates:
6/1 La Crosse, WI @ The Dive Bar
6/2 Bloomington, IL @ Nightshop
6/3 Detroit, MI @ PJ's
6/4 Buffalo, NY @ Mohawk Place
6/5 Pittsburgh, PA @ Howler's
6/6 Brooklyn, NY @ Brooklyn Bazaar (with Modern Life is War and Krimewatch)
6/7 Asbury Park, NJ @ House of Independents (with Modern Life is War and Krimewatch)
6/9 Allston, MA @ Great Scott (with Modern Life is War and Krimewatch)
6/10 New London, CT @ 33 Golden Street
6/11 Philadelphia, PA @ Century Bar
6/12 Cleveland, OH @ Now That's Class
6/13 Louisville, KY @ Mag Bar
6/14 St. Louis, MO @ the Sinkhole
7/13 Des Moines, IA @ 80/35 Festival
DRUIDS first laid their destructive groundwork over two releases – Pray for Water and The Sound of Meditation (released in 2009 and 2013, respectively) – continually looking to push their own personal boundaries, physically and sonically. With the release of 2016's Cycles of Mobeum, the boys embarked on a full year of heavy touring all over the United States, giving audiences in unsuspecting cities a heavy, cathartic live show, awash with wailing guitar solos, rhythmic drumming and chunky, grooving bass-lines. They took to the studio in early 2017 to record their follow up, Spirit Compass, with producer Brandon Darner (David Keuning, Radio Moscow) to shape what would be a smoldering follow-up.
Press praise for DRUIDS and Monument:
"…DRUIDS are proving themselves among the scene's notable and worthy acts." – Revolver
"…an uproarious band that will please the shit out of fans tired of modern doom's artsier side."– Kerrang!
"…these guys are onto something special… Get stoked on DRUIDS. They're damn good…" – Metal Injection
"'Monument' is definitely a winner in the psychedelic/prog department…" – Metal Observer
"…brilliant… [Monument] is a work chock full of riffs, raspy vocals, and enough feedback to set your ears to ringing for weeks to come."­ – Heavy Blog is Heavy
"Taking their cue from bands such as Mastodon, High on Fire, Torch and Red Fang, DRUIDSexpands and explores more of their psychedelic sludgy-blues influences with their melodic, '70s prog-rock side." – Des Moines Register
"DRUIDS are a meaningful yet entertaining proposition, mixing downright headbanging noise with delightfully leaden twists…" – Ghost Cult

DRUIDS is:
Luke Rauch: Vocals/Guitar
Keith Rich: Drums
Drew Rauch: Vocals/Bass
DRUIDS online:
IG: @druidsiowa
Monument Album Art by Mark Facey