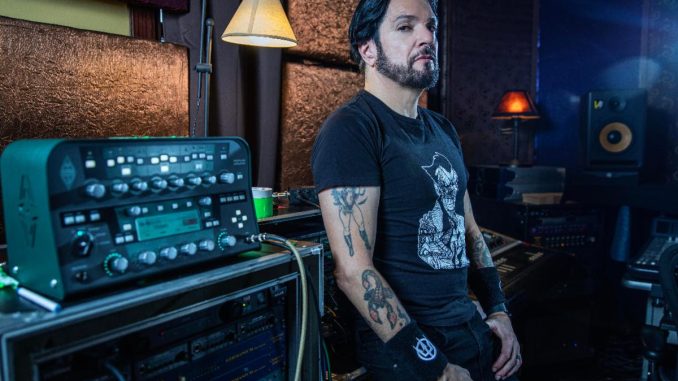 Out October 6, 2023 — Pre-Order HERE
Watch the New Lyric Video for "Non-Existence" HERE
It's been four years since heavy metal stalwarts PRONG released their acclaimed 'Age of Defiance' EP, and this fall, they make their eagerly anticipated return with the release of their 13th studio album, 'State of Emergency', out October 6, 2023 via Steamhammer / SPV.

The earned experience of having sat at the forefront of the heavy metal scene in the US and around the world for many decades now has given Tommy and the band the foresight to know what's ahead, and to and to keep churning out that impeccable recipe of punk, metal, post-punk noise, doom, blues and thrash that makes up PRONG's sound.

'State of Emergency' is a furious tableau of East Coast aggression, enveloped in that classic PRONG sound that never goes out of style. The album's first official single, "Non-Existence", is a perfect picture of its overall sound.

About the track, PRONG founder Tommy Victor comments, "'Non-Existence', with its techno-style noise guitar that's omnipresent on this album, is a bit like my retrospective glance at 'Rude Awakening'."

Watch the New Lyric Video for "Non-Existence" HERE
Victor outlines the stylistic direction of the eleven songs that make up 'State of Emergency', "It's a very 'PRONG' record. I think it's totally genre-transcending and definitely ignores what's going on out there these days,"

Commenting on his artistic approach, he says: "I like all kinds of music. This record totally reflects that because it covers lots of different angles. At the same time,'State Of Emergency' is very guitar-oriented and a typical example of my style.'

Produced by the skillful hands of legendary producer Steve Evetts (Sepultura, The Dillinger Escape Plan), 'State of Emergency' surprises on the post-punk track "Disconnected" and then grooves on the title track. Originally released as a standalone single in early 2023, "Breaking Point" takes no prisoners with honest lyrics and cutting attitude, while hard hitting "The Descent" is a lightning quick, classic ripper. "Back (NYC)" has Victor saying: "To me it's as if Jimmy Page wrote a song playing through Dimebag's amplifier, with Henry Rollins singing. Kind of a weird experiment for sure!"

The album closes with a cover of "Working Man", by the legendary RUSH: "RUSH was the first power trio I ever saw live and I was blown away by them. 'Working Man' is so simple and it's so heavy. I also love the lyric. I thought it would be great tuned down a bit and slowed down, and I think we nailed it."

'State of Emergency' arrives perfectly in time for PRONG's upcoming headline tour and subsequent November dates with Life of Agony in Europe.

See tour dates below.
'State of Emergency' Track List:
1 The Descent
2 State of Emergency
5 Light Turns Black
6 Who Told Me
7 Obeisance
8 Disconnected
9 Compliant
10 Back (NYC)
11 Working Man (RUSH Cover)
'State Of Emergency' will be available on Steamhammer / SPV
on CD, LP and for digital download.
PRONG Tour Dates 2023
August 4th US-East Rutherford – MetLife Stadium (Parking Lot @ Metallica concert)
11.08. BE-Kortrijk – Alcatraz Open Air
12.08. DE-Weinheim – Cafe Central
13.08. DE-Cologne – Gebäude 9 (Rockpalast Recording)
15.08. DE-Magdeburg – Factory
16.08. DE-Hanover – Musikzentrum
17.08. DE-Lingen – Alter Schlachthof
18.08. DE-Essen – Turock
19.08. NL-Eindhoven – Dynamo Metal Fest
w/ Life Of Agony:
01.11. DE-Cologne – Carlswerk Victoria
03.11. DK-Copenhagen – Pumpehuset
04.11. SE-Gothenburg – Brewhouse
06.11. NO-Oslo – John Dee
07.11. SE-Stockholm – Slagt Kyrkan
09.11. DE-Leipzig – Täubchenthal
10.11. CZ-Brno – Freda
11.11. SK-Kosice – Collosseum
13.11. AT-Linz – Posthof
14.11. AT-Graz – PPC
15.11. AT-Innsbruck – Olympia World
17.11. BE-Ghent – Vooruit
18.11. NL-Klokgebouw – Helldorado Festival