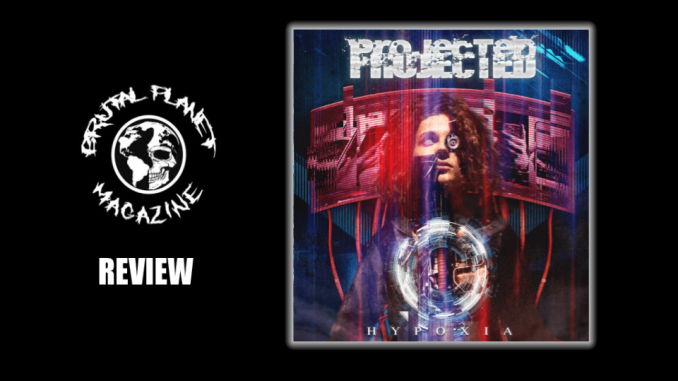 I've been a fan of Projected for the last decade.  For those who are unaware, Projected is labeled as a "supergroup" because it consists of John Connolly (Sevendust), Eric Friedman (Tremonti), Vinnie Hornsby (Sevendust), and Scott Phillips (Alter Bridge).  The band released their debut album, "Human," in 2012, and their sophomore release, "Ignite My Insanity" in 2017.  In keeping with their track record of releasing an album every five years, the band has announced their third full-length, "Hypoxia," which will be released on June 24th through Rat Pak Records.
The album starts out with an instrumental intro called "Consequences."  The song features low piano notes and a wailing guitar tone.  This carries on for a couple of minutes until it transitions into the second track, "Dead Weight," where the rhythm really picks up, the riffs come in heavy, and the vocals are gritty.  Musically, this album is what you might expect from musicians who belong to bands like Sevendust, Tremonti, and Alter Bridge- hard rock with melodic vocals and occasional screams. "The Thing That's Real" is a solid song that is easy to sing along with.  Once again, I am embarrassed by how little credit I give John Connolly's vocal abilities.  When it comes to Sevendust, Lajon gets most of the attention, and the other members all do backing vocals, but with Projected, John is front and center, and the range of his talent is easily recognized. He is an incredible musician AND vocalist.

"Stain" starts out a bit softer but soon brings in a huge sound that carries throughout the rest of the song and "Take Aim" is a solid song with great lead guitar parts. The title track, "Hypoxia," was released as the band's first single on April 15th. This is might be my favorite track overall. It features really catchy riffs and aggressive vocals. Although the band can deliver some real rippers, they also know how to tone things down as well. "Without You," "Dark," and "Death Is Mostly Permanent" showcase the softer side of this quartet. Don't get me wrong- they are still heavy songs, but they definitely give a different feel. "Death Is Mostly Permanent" really picks up toward the end and delivers a killer guitar solo.

Typically, I'm drawn to music, not lyrics.  I've listened to some songs for years before the lyrics finally hit me. However, that wasn't the case with "Scars." This is a passionately written song about peeling back scars and looking at past hurts. "Test," a heavy, driving song, features some different drumming samples and is sure to be a fan favorite. The album closes with a banger called "At Your Window." The verses feel sludgy and then pick up with a fast-paced riff and screams. The bridge showcases a gritty guitar solo, an off-beat drum pattern, and wailing vocals. It's one of my favorite tracks and is a perfect way to close the album. "Hypoxia" is another stellar release by Connolly and company. I highly recommend heading to Rat Pak Records and pre-ordering your copy today!