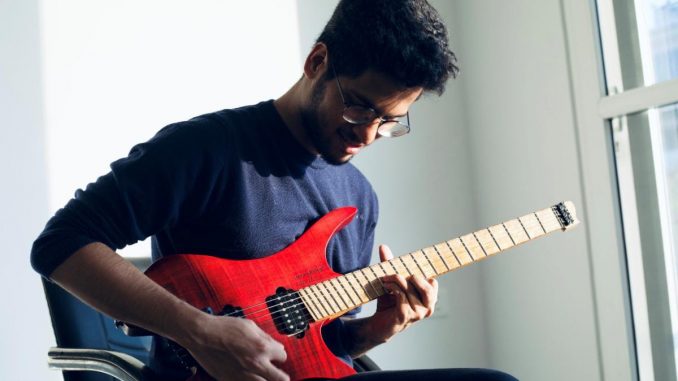 All Turns to Dust Debut Slated for Release on June 11
FLYING CUPID has debuted a stunning video for "Oasis," the third single from the forthcoming All Turns to Dust album and the band's most notable collaboration yet, featuring Lukas Magyar (Veil of Maya), Nathan Bulla (Intervals) and Ro Han (I Built the Sky).
Shot in four different countries, the video comes together cohesively with desolate mountains serving as a backdrop while the trio performs. Interspersed throughout are scenes that illustrate the song's message.
"'Oasis' is about escaping the expectations society has placed on you and fulfilling your own expectations," says guitarist Abhiruk Patowary. "In the storyline of the music video, the main actor is surrounded by two other individuals who are essentially dressing him up to be what they expect. At the end he sheds their views of him and become who he desires."
The solo project of guitarist and composer Patowary, FLYING CUPID blends sounds such as Killswitch Engage with modern "djent" bands like Periphery to create a modern sound. A native of Dehli, India, 19-year-old Patowary is a multi-instrumentalist whose musical journey began 11 years ago with piano, followed by drums five years later and guitar the year after. He began studying at the esteemed Berklee School of Music, but due to the pandemic was forced to return to his native India where he continued work on FLYING CUPID debut album.
A prolific writer, Patowary also spends his time playing bass and guitar in the bands Acid Pit and Gaia and working on other diverse musical endeavors outside of the metal realm, including pop, hip hop, a long orchestral piece and a jazz quintet.
FLYING CUPID online: