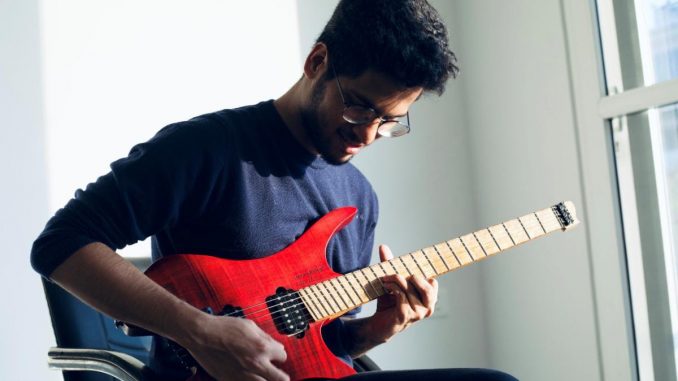 Progressive metalcore act FLYING CUPID has revealed a new animated video for "All Turns to Dust," the title track from the long-awaited debut album of the same name.
The solo project of guitarist and composer Patowary, FLYING CUPID blends sounds such as Killswitch Engage with modern "djent" bands like Periphery to create a modern sound. A native of Dehli, India, 19-year-old Patowary is a multi-instrumentalist whose musical journey began 11 years ago with piano, followed by drums five years later and guitar the year after. He began studying at the esteemed Berklee School of Music, but due to the pandemic was forced to return to his native India where he continued work on FLYING CUPID debut album.
To complete his vision, Patowary enlisted the help of notable musicians, including members of Veil of Maya, Intervals, I Built the Sky and Itayil. "The writing process of the album included writing 77 demos in the span of a year and then narrowing it down to 12 songs," he says. "It was also tracked across four different continents."
All Turns to Dust track listing:
1 – Oasis
2 – Hell Beneath Paradise
3 – Paralyse
4 – Timelines
5 – Through the Stars
6 – Into the Light
7 – United
8 – Storm
9 – Purges Our Lam
10 – Conspiracy of Madness
11 – Changes
12 – All Turns to Dust
A prolific writer, Patowary also spends his time playing bass and guitar in the bands Acid Pit and Gaia and working on other diverse musical endeavors outside of the metal realm, including pop, hip hop, a long orchestral piece and a jazz quintet.
FLYING CUPID online: