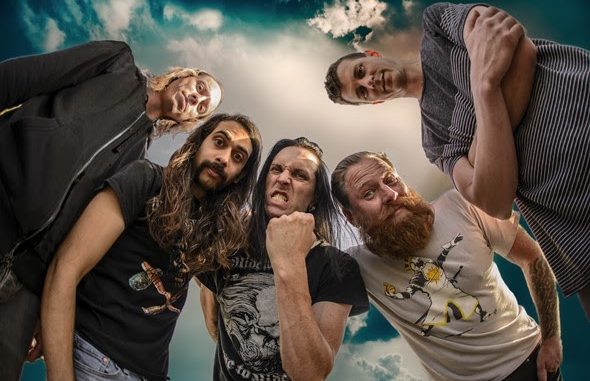 Southern California progressive metal quintet SORIZON has revealed a new video for the gut-punching title track from their upcoming third full-length album, Thanatos Rising.
"'Thanatos Rising' is about fixation with death, it overtaking your thoughts and not being able to escape the worry and fear of the unknown," says vocalist Keith McIntosh.
Adds guitarist and video director Dr. Danny Mann, "There is tension and pain in the sound, so my working titles were 'Torture' and 'Third Circle of Hell'. I wanted the chugs to be extra powerful, taking some inspiration from Opeth and Gojira."
Though SORIZON's music has a definite progressive metal bent, the band aims to break down subgenres to bring metalheads together. SORIZON's previous releases have garnered overwhelmingly positive reviews, including proclamations that they "rival the better work of Symphony X" and "the guitarists complement each other like not many bands have done; Maiden and Priest come to mind."
About SORIZON:
Keith McIntosh (vocals), Dr. Danny Mann (guitar) and Sean Elston (drums) began making metal in the band Joust in 2006. After a short but successful run, they decided to get heavier and more progressive, thus spawning SORIZON in 2008. After a few lineup changes, SORIZON now rocks an undeniable chemistry with Tim Hall on guitar (since 2011) and Kevin Vickers on bass (since 2012).
At the close of 2009, SORIZON released their debut full-length album Behind the Emerald Starscape. The album was mastered in Finland at the famous Finnvox Studios by Mika Jussila. (Children of Bodom, Dragonforce, Nightwish). The fall 2013 release of the second album, Somnus, marked an enormous leap forward for the SORIZON sound. The combination of musical maturity and extensive collaboration within the lineup led to this classic album. Somnus is a themed album based on sleep and dreams, and song inspirations ranged from personal dreams, insomnia, the Greek gods of sleep and more. The cover art by Dennis Hamilton is a graphic depiction of a post-apocalyptic dream Mann had, which also inspired the music for the song "Illusions." The album was professionally mastered by Tony Lindgren at Fascination St. studios in Sweden (Opeth, Amon Amarth, Kreator, Symphony X).
In 2016, SORIZON unveiled their third independent release titled End of Entrapment. The title not only relates to the lyrical theme of the EP, but it also represents breaking any musical chains that had bound the band to any specific sound. This six-song, high-energy, rock 'n' roll release was a departure from what most SORIZON fans were used to but also featured their fastest song ever, "Lay to Waste," as well as their shortest song, "Minutemen" and even an acoustic version of the fan-favorite "Cosmic Eden" from the first album.
SORIZON online: