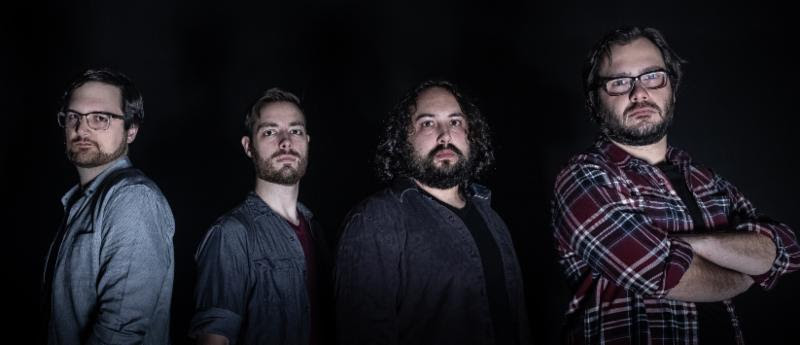 New Album, Cognitive Dissidents, out Tomorrow, April 12, 2019
Guitarist Geoffrey Schaefer says: "This album has been more than a year in the making, so we are incredibly excited that everyone will finally get to hear it in its entirety. We consider Cognitive Dissidents to be our magnum opus and are so happy to be able to stream this early for everyone."
Expertly fusing genres like metal, rock, jam, classical, jazz, and more, VALENCE'svaried yet cohesive influences offer every listener a passport to a new state of mind that is cerebral and emotive, while not sacrificing accessibility.
Check out other videos featuring tracks from Cognitive Dissidents here:
Cognitive Dissidents, the ambitious follow up to their Independent Music Award-winning 2014 EP, Laser Baron, was recorded and produced at Westfall Studios in Long Island, NY.
Cognitive Dissidents track listing:
1. Damnit, Lana!
2. Prelude: Parlance of Our Time
3. I. If You're Not into the Whole Brevity Thing
4. II. Calmer Than You Are
5. III. Preferred Nomenclature
6. Walrus
7. Red Sky at Morning
VALENCE have performed across the eastern United States and Canada with artists like Scale The Summit, Sarah Longfield, Consider The Source, Felix Martin and more, and will soon expand their national footprint later in 2019. In the meantime, VALENCE has several U.S. performances booked this winter and spring. See below for all confirmed tour dates:
VALENCE Tour Dates:
4/11 – New Haven, CT @ Stella Blues
4/13 – Poughkeepsie, NY @ Darkside Records – Record Store Day
4/26 – Holbrook, NY @ Rams American Pub
4/28 – Philadelphia, PA @ Milkboy
4/29 – Orange, VA @ 3 B's Bar & Grille
5/1 – Raleigh, NC @ Slims
5/2 – Atlanta, GA @ Smith's Olde Bar
5/3 – Asheville, NC @ Static Age
5/4 – Washington, DC @ Atlas Brew Works
5/24 – Brooklyn, NY @ Saint Vitus w/ Black Crown Initiate // Album Release Show
VALENCE online:
VALENCE is:
Michael Buonanno – Guitar, Violin, Viola
Geoffrey Schaefer – Guitar
Wilhelmus Sapanaro – Bass, Upright Bass, Cello
Chris Romano – Drums
"…VALENCE is a style unto themselves, and listening to them is more about a direct connection to the moment than a study of any genre."
– William Berger, Author, Wagner Without Fear et al.;
Producer and Commentator, the Metropolitan Opera
"Ever watch a band enjoy themselves so much while playing live, that their mood becomes Infectious? It's literally impossible not to smile while these dudes are having the best time on stage. It also helps that they can all super shred on their instruments too."
– Metal Injection
"If you love some of the acrobatic, complex, and heavy material of current acts like Scale the Summit, Between the Buried and Me and Animals as Leaders, this is a band you need to check out."
— Sea of Tranquility
"When we hear prog, we actually expect the music to suck hard like a mouthful of coarse-grade sandpaper, because we know it's a clever ruse. It's a way for many failed musicians to pretend they have relevance. VALENCE, however, have given us more to expect out of this "prog" thing…"
– Deaf Sparrow