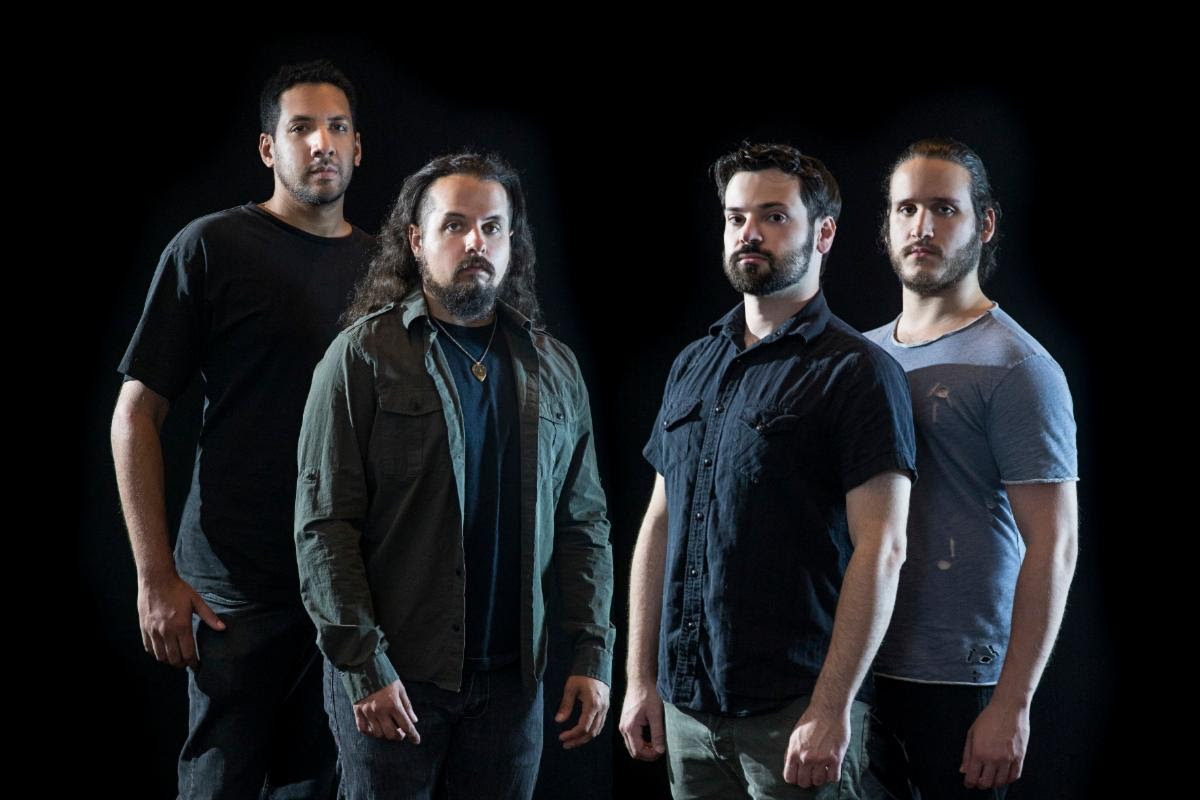 Chaos. Order. Renewal., the first full-length album from New Jersey-based progressive metal quartet ETHERIUS, is available today.
"'Chaos. Order. Renewal.' seems to be an appropriate title for the album given the unprecedented circumstances going on in the world right now," says guitarist Jay Tarantino. "Although the music is at times dark and aggressive, we hope it can provide a glimmer of hope and give people a distraction from the never-ending news cycle of doom and gloom."
Like many musical artists, ETHERIUS is making the best of the unfortunate timing of releasing new music amidst a global pandemic. With a postponed tour with Allegaeon, Fallujah and Entheos and a video on hold due to governmental social distancing restrictions, ETHERIUS still remains positive about the future and what is to come from Chaos. Order. Renewal.
"We spent months planning this album release around our spring tour, with plans to do even more touring throughout the year," Tarantino says. "With all of that now postponed, we've spent the last few weeks working hard to try and salvage what we could and get creative with how we can reach the fans. We hope you enjoy the music and the content we'll be releasing in the coming weeks and months."
Known for their prowess and chops, ETHERIUS never ventures so far into over-the-top technicality that the melody or power of the music is lost. Rather than trying to cram as many riffs and musical ideas into a song as they can, ETHERIUS composes music with definitive sections – intros, verses, choruses – and always a catchy hook. This is technical music made for music fans, not to impress fellow musicians.
During the writing of Chaos. Order. Renewal., the members of ETHERIUS found the music was taking on a heavier, darker, Middle Eastern vibe, as evidenced on the album's first single, "The Rivers of Sand and Blood." While the band's first album, Thread of Life, musically told a story of the "three sisters of fate" in ancient Greece, Chaos. Order. Renewal. simply borrows from the imagery of that time period, such as ancient Egyptian gods.
Chaos. Order. Renewal. track listing:
1. Rise of Sirius
2. The Rivers of Sand and Blood
3. The Omnipotent
4. Pyramid of Mirrors
5. Unity in Darkness (feat. Angel Vivaldi)
6. The Eye of Ra
7. Bringer of Light
Chaos. Order. Renewal. was produced and engineered by Jay Tarantino and Zaki Ali with Angel Vivaldi acting as co-producer at Redshift Recording in Closter, NJ, with additional tracking done at Vivaldi's home studio. The album was mixed and mastered by Chris Clancy of Mutiny Within at Audioworks Productions. Vivaldi also supplies a guest solo on the track "Unity in Darkness."
The formation of ETHERIUS by guitarist Jay Tarantino, a veteran of the New Jersey metal scene, in 2017 was inspired by the extensive recording and touring experience he gained from his work with instrumental virtuoso Angel Vivaldi, with whom he has played rhythm guitar since 2009. Looking to step out from the "sideman" role and lead his own project, Tarantino sought to create a band that combined his love of old school metal bands such as Megadeth, Testament, and Iced Earth with neoclassical shred and progressive metal. After enlisting the services of his old friend and drummer/producer Zaki Ali, Tarantino finalized ETHERIUS' lineup a few months later with the addition of bassist Chris Targia and second guitarist Jon Perkins. Their debut EP, Thread of Life was released in August of 2018, and ETHERIUS quickly gained recognition as a force in the instrumental guitar genre.
Members of ETHERIUS are currently endorsed by Kiesel Guitars and Guitarmory Pickups.
ETHERIUS is:
Jay Tarantino – Guitars
Jon Perkins – Guitars / Keyboards
Zaki Ali – Drums / Keyboards
Chris Targia – Bass
ETHERIUS online: