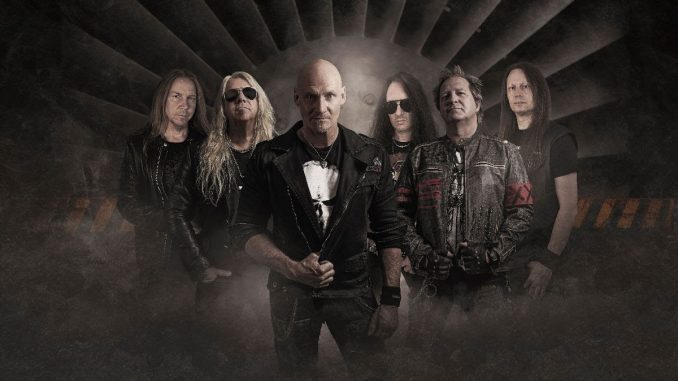 PRIMAL FEAR Unleashes "Running In The Dust" Lyric Video; Deluxe Edition Of Self-Titled Debut To See Release Next Month Via Atomic Fire
PRIMAL FEAR 1998 photo by Rainer Ill
German metal commandos PRIMAL FEAR celebrate their twenty-fifth band anniversary this year. To mark the occasion, the group will release a deluxe edition of their iconic self-titled 1998 debut album on July 15th Atomic Fire. The record has been remastered by Jacob Hansen at Hansen Studios, Denmark and features three bonus tracks.
In advance of the record's release, today the band unveils a brand new lyric video for "Running In The Dust" created by Gabriel Management.
Primal Fear (Deluxe Edition; Remastered) Track Listing:
1. Primal Fear
2. Chainbreaker
3. Silver & Gold
4. Promised Land
5. Formula One
6. Dollars
7. Nine Lives
8. Tears Of Rage
9. Speedking
10. Battalions Of Hate
11. Running In The Dust
12. Thunderdome
Bonus Tracks:
13. Breaker (Accept Cover)
14. Chainbreaker (live)
15. Running In The Dust (live)
The album, which contains guest appearances by Kai Hansen (guitars; Helloween, Gamma Ray etc.) and Frank Rössler (additional keyboards), was originally recorded at House Of Music Studios, produced by founding member Mat Sinner, supported by Tom Naumann and Ralf Scheepers, and engineered by Achim Köhler. The iconic artwork was designed by Stephan Lohrmann who also cooperated with PRIMAL FEAR for their latest studio album and other parts of their back catalog.
PRIMAL FEAR:
Ralf Scheepers – vocals
Mat Sinner – bass, vocals
Tom Naumann – guitars
Alexander Beyrodt – guitars
Magnus Karlsson – guitars
Michael Ehré – drums
PRIMAL FEAR [current] photo by Heilemania