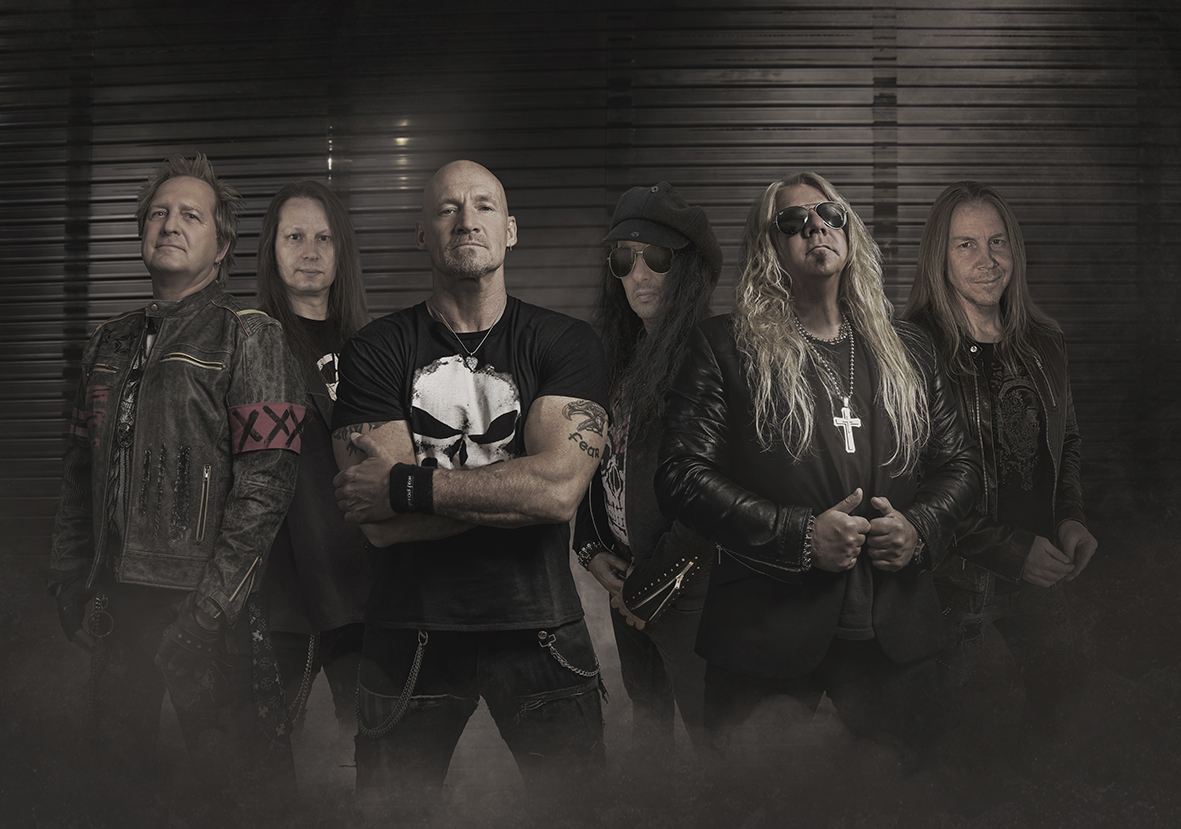 PRIMAL FEAR
recently released their highly anticipated 13th studio album,
Metal Commando,
which has entered the charts worldwide, achieving them their highest entries ever and six top ten positions; including #7 in Germany, #6 in Switzerland and #4 in the UK Rock charts! Today, the band releases a new video for the new single "
The Lost & The Forgotten"
.
Watch the video here: https://youtu.be/dLPcX9X82js
Mat Sinner comments: "'The Lost & The Forgotten' follows the PRIMAL FEAR tradition, for example, our songs 'The End Is Near' or 'Hounds Of Justice' of the last albums and shows the more brutal, modern side of the band, which will be a very strong contender for the forthcoming live shows. Thanks to the team for their fantastic hard work to realize our vision of the song, especially Markus Staiger, Bodo Hayen and Ubikmedia!"
—
Recently, PRIMAL FEAR also announced new dates for their Metal Commando Over Europe tour, that had to be re-scheduled and was supposed to take place in September and October 2020.
The new dates read as follows:
Metal Commando Over Europe 2021
PRIMAL FEAR
+ FREEDOM CALL & SCARLET AURA

18.02. E Pamplona – Totem
19.02. E Madrid – Shoko
20.02. E Murcia – Gamma
21.02. E Barcelona – Razzmatazz
22.02. F Lyon – CCO
23.02. F Paris – La Machine
25.02. D Saarbrücken – Garage
26.02. D Leipzig – Hellraiser
27.02. TBA
28.02. D Berlin – Hole 44
02.03. D Hamburg – Markthalle
03.03. D Köln – Essigfabrik
04.03. D Bochum – Zeche
05.03. NL Amstelveen – P60
06.03. D Memmingen – Kaminwerk
07.03. B Vosselaar – Biebob
10.03. BG Sofia – Music Jam Club
11.03. HU Budapest – Barba Negra
12.03. SK Bratislava – Majestic Music Club
13.03. CZ Zlin – Masters Of Rock Cafe
14.03. SK Zvolen – DK ZSR/Culture House
16.03. D Aschaffenburg – Colossaal
18.03. D Nürnberg – Hirsch
19.03. D Stuttgart – LKA
20.03. CZ Prague – Meet Factory
21.03. D Regensburg – Eventhalle Airport
23.03. D München – Backstage
25.03. D Fulda – Kreutz
26.03. I Bergamo – Druso
27.03. CH Sion – Le Port Franc
28.03. CH Pratteln – Z 7
—-
Order the new album Metal Commando physically here: http://nblast.de/PF-MetalCommando
The tracklist reads as follows:
CD, 2-LP, Digital:
01. I Am Alive
02. Along Came The Devil
03. Halo
04. Hear Me Calling
05. The Lost & The Forgotten
06. My Name Is Fear
07. I Will Be Gone
08. Raise Your Fists
09. Howl Of The Banshee
10. Afterlife
11. Infinity

Bonus CD (Ltd. Edition 2-CD Digipak)
12. Rising Fear
13. Leave Me Alone
14. Second To None
15. Crucify Me
Also check out the new Spotify profile of the band: http://nblast.de/PrimalFSpotifyComplete
"Hear Me Calling": https://youtu.be/99wZJjZWYho
"Along Came The Devil": https://youtu.be/ReyDqJIxx5g
"I Am Alive": https://youtu.be/7171SvM-Ouk
"Crucify Me": https://www.youtube.com/watch?v=LOJow7Gn3nI
Trailer #1: https://youtu.be/QJlKal1u7G4
Trailer #1: https://youtu.be/QJlKal1u7G4
Trailer #2: https://youtu.be/ZM9Orxnb33Y
Trailer #3: https://youtu.be/lLGNd81T5aw
Metal Commando was produced by Mat Sinner and mixed by Jacob Hansen – an experienced dream-team.
"I don't want to throw around superlatives, but each of us went to their utmost limits and we are all very happy with the sound and song material. It's pretty safe to say that this is a top album and maybe even our strongest record to date", comments bassist and producer Mat Sinner. "It's the perfect mix between our origins and our current style, a perfect balance and all band members did an awesome job playing and recording it. For me, 'Metal Commando' is the right album at the right time!".
—–
Order various PRIMAL FEAR vinyl via the links below!
Black Sun: https://www.nuclearblast.de/290894
Devil's Ground: https://www.nuclearblast.de/290895
Seven Seals: https://www.nuclearblast.de/290896
Nuclear Fire: https://www.nuclearblast.de/279810
Crucify Me 7″: http://nblast.de/PrimalFearCrucifyMe
Pre-order New Religion, 16.6 (Before The Devil Knows You're Dead), Live In The USA and Unbreakable (out on August 21st) here: http://nblast.de/PrimalFear-ReReleases
—
PRIMAL FEAR is:
Ralf Scheepers | vocals
Mat Sinner | bass, vocals
Alex Beyrodt | guitars
Tom Naumann | guitars
Magnus Karlsson | guitars
Michael Ehré | drums