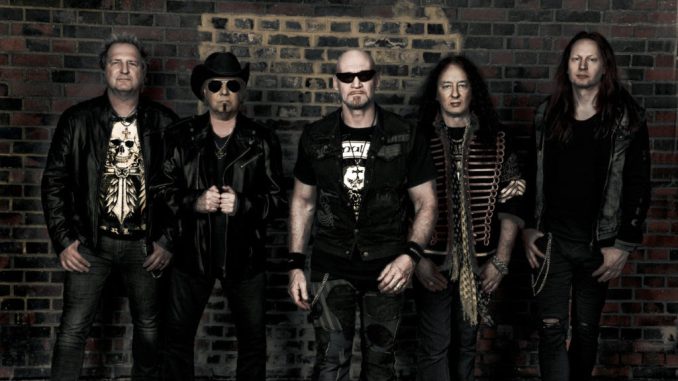 Code Red Full-Length To Be Released September 1st Via Atomic Fire + Preorders Available
German metal commandos PRIMAL FEAR are back! Following the release of their chart-topping album Metal Commando in 2020, the band returns with their eleven-track magnum opus titled Code Red, set for release on September 1st through Atomic Fire.
PRIMAL FEAR today offers up the first single and accompanying video from the record with opening song "Another Hero." The track appropriately sets the tone for Code Red by delivering, "heavy metal in its purest form while breathing the spirit of current times," as Rock It! (DE) Magazine's Jürgen Will stated after an advance listen to the record.
Vocalist Ralf Scheepers elaborates on the song's lyrical topic, "Sometimes I wish there would be 'Another Hero' who shows mankind how to get along with each other in peace and harmony."
Code Red will be available as a digipak CD, 2xLP in multiple color variants, and digitally.
Recorded in Germany at Sebastian "Basi" Roeder's Backyard Studios, with the helping hands of vocalist Ralf Scheepers as well as Mitch Kunz, Code Red was produced by bassist Mat Sinner and co-produced by Scheepers and guitarist Tom Naumann. Long-time PRIMAL FEAR companion Jacob Hansen took care of mixing and mastering at his own Hansen Studios in Denmark once again. Additionally, Stan W. Decker, who created previous works for the band including 2017's Angels Of Mercy – Live In Germany, 2018's Apocalypse, and 2021's I Will Be Gone), provided the record's magnificent artwork.
Code Red Track Listing:
1. Another Hero
2. Bring That Noise
3. Deep In The Night
4. Cancel Culture
5. Play A Song
6. The World Is On Fire
7. Their Gods Have Failed
8. Steelmelter
9. Raged By Pain
10. Forever
11. Fearless
PRIMAL FEAR Live:
6/24/2023 Koba Live – Abadiño, ES
w/ The Unity – Code Red European Tour – Part 1:
9/01/2023 Im Wizemann (Halle) – Stuttgart, DE
9/02/2023 Kaminwerk – Memmingen, DE
9/03/2023 Frankenhalle – Naila , DE
9/05/2023 Backstage (Werk) – Munich, DE
9/06/2023 Zeche – Bochum, DE
9/07/2023 Batschkapp – Frankfurt, DE
9/09/2023 Le Port Franc – Sion, CH
9/10/2023 Z7 – Pratteln, CH
PRIMAL FEAR:
Ralf Scheepers – vocals
Mat Sinner – bass, vocals
Tom Naumann – guitars
Alexander Beyrodt – guitars
Magnus Karlsson – guitars
Michael Ehré – drums
Cover artwork by Stan W. Decker