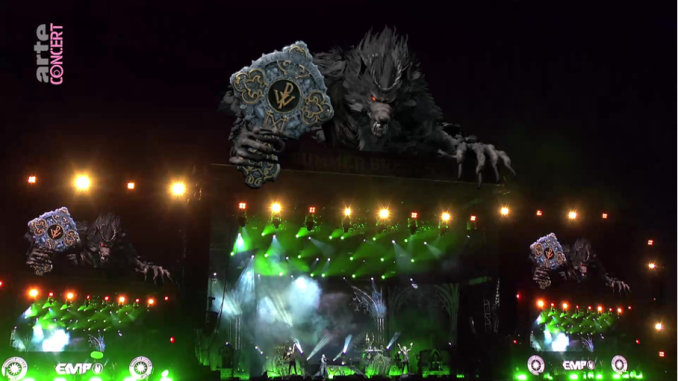 Headline Show at Summer Breeze
Featured One of the Biggest Productions Ever
Watch the Full Show HERE
POWERWOLF set another milestone in their career, and live music as a whole, when they made history with the use of augmented reality at a live music festival in Europe during their headline set at Summer Breeze Festival in Germany! It was one of the biggest productions ever, during which POWERWOLF performed in front of tens of thousands of fans.

Together with ARTE Concert and the 0221 Mediaagentur, using technology used in video games, they created a monstrous wolf above the stage in real time during the set, visible by both fans on site, as well as devotees watching the livestream from all over the world. The wolf was visible four times during the set, during their hits "Incense & Iron", "Amen & Attack", "Beast Of Gévaudan" and "Resurrection By Erection".

The show at Summer Breeze was yet another demonstration of power by POWERWOLF, who currently reign as Germany's most actively successful artist right now. With the biggest pyro show of the festival, a mass of actors on stage, a huge fireworks display and a band in top form in front of the biggest crowd of the entire festival, the high priests of heavy metal have impressively underlined their status as the leading force in the genre!

Watch POWERWOLF's Stunning Full Headline Show HERE
Here are more impressions from the exceptional show:
POWERWOLF are undoubtedly one of the most celebrated and successful heavy metal bands of the last decade. Multiple #1 album chart entries, gold and platinum records, huge sold out arena shows, as well as headline slots at the biggest festivals have paved their way. In less than 20 years of band history, POWERWOLF have made it to the very highest league of heavy metal.
POWERWOLF Live:
08.09.23 CZ – Havirov / Havirovske Slavnosti
31.10.23 DE – Dusseldorf / Mitsubishi Electric Hall
02.11.23 DE – Ravensburg / Oberschwabenhalle
03.11.23 DE – Bamberg / Brose Arena
04.11.23 NL – Den Bosch / The Rock Circus
05.11.23 DE – Leipzig / Quarterback Immobilien Arena
About POWERWOLF:

The story of POWERWOLF, beginning in 2004, reads like a true fairytale, but is the result of the efforts of one of the most innovative and entertaining live bands on the heavy metal planet. POWERWOLF have secured a remarkable collection of gold and platinum awards, starting in 2015, when they reached Gold status for the first time in the Czech Republic with their album, 'Blessed & Possessed'. Additionally, both 'Preachers Of The Night' (2013) and the subsequent masterpiece 'The Sacrament Of Sin' (2018), as well as the groundbreaking streaming event The Monumental Mass: A Cinematic Metal Event (2022), entered the German album and DVD charts at #1 (a massive achievement for an audio-visual release). The thrilling DVD, 'The Metal Mass', (2016) also secured the #1 spot on the German DVD charts. Most recently, the new studio album, 'Call Of The Wild', entered the album charts at #2 (and staying for 16 weeks in the charts) while the hit single "Dancing With The Dead" went gold and platinum. The Best Of album, 'Best Of The Blessed', released in 2020, also successfully entered the German charts at #2, while the in-between album 'Interludium' climbed on #3.

POWERWOLF achieved massive success as they headlined large venues with their phenomenal stage performances on the almost completely sold out Wolfsnächte headline tours (2019 & 2022), as well as numerous summer festival shows in which crowds were thrilled and completely captivated by the wolves and their unique, (un)holy metal mass. Beyond many others, they've also headlined Wacken, Masters Of Rock, Summer Breeze – all massive live successes. After the huge success of the recent Summer Breeze headline show, the whole world is completely under the sign of the wolfpack once again!
POWERWOLF are:

Attila Dorn – vocals

Falk Maria Schlegel – organ

Charles Greywolf – guitar

Matthew Greywolf – guitar

Roel van Helden – drums

FOLLOW POWERWOLF: