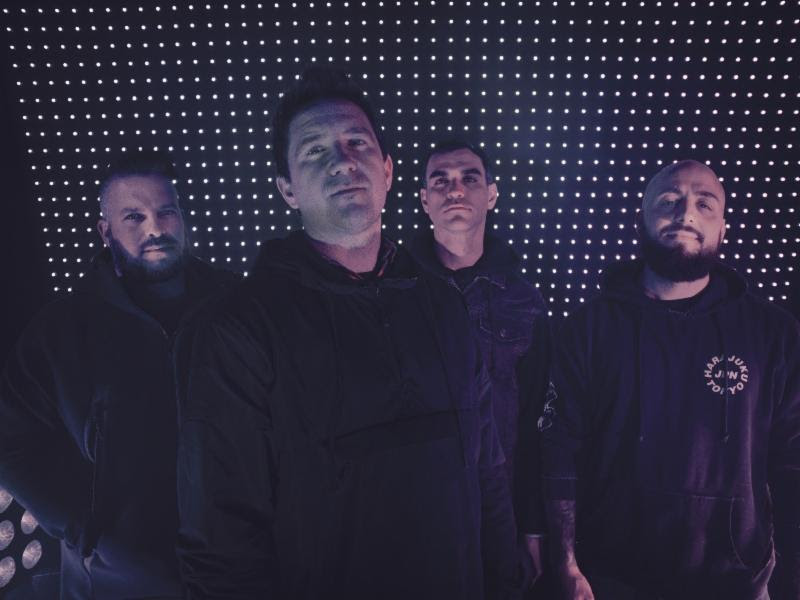 European Reissue of Full-Length Debut, Ancient Geometry, out June 21 with Bonus Cover Tracks
VEXES Photo by Kurt Fowles of Sirius Cinema
Fast-rising US post-rock/metal quartet
 VEXES
 have announced the re-release of their debut album, 
Ancient Geometry
, in Europe via Silent Cult on June 21. In anticipation of the release, the band have unveiled their dreamy, alluring heavy rock cover of the 
Tears For Fears 
classic, "Head Over Heels", as well as a new music video. Check out the video for "Head Over Heels", directed by Kurt Fowles of Sirius Cinema, here: 
https://youtu.be/LNoZHi4q0NQ
The track can be streamed/downloaded now alongside two other covers – "Shattered Dreams" by 
Johnny Hates Jazz
 and "Voices Carry" by 
'Til Tuesday
. Grab them via these digital retailers now: 
Amazon
 | 
iTunes
 | 
Spotify
These three songs will also be available as bonus tracks on the European re-release of 
Ancient Geometry
, which can be ordered here: 
https://orcd.co/ageurope
VEXES comments, "We are thrilled to be working with Silent Cult and to have the opportunity to have our music be heard by an expanded audience around the globe through the reissue of our debut album Ancient Geometry. We've been writing for the better part of nine months or so now for the follow up to AG, and as a "break" from that process and as basically a thank you to anyone that has listened to us thus far, we wanted to put our spin on a few of our favorite songs from the 1980's. All of the songs that we chose were very influential to us in various ways, both from the standpoint of our personal lives and in the general vibe of our music. There is a lushness and delicate quality to the sound of the original tracks, and such a great pop sensibility, and this is something that we try to incorporate in our sound, while trying to blend this with a bit of ferocity and vulnerability as well. We hope that everyone enjoys our take on these classic tracks."
From start to finish, Ancient Geometry takes listeners on a journey – starting with the bombastic 'Hellion', the first song VEXES wrote together. The track flips between thrash beats and surging, choppy riffs layered with atmospheric guitars. After battering the listener with songs like 'Lift' and 'Decisions are Death Here' – each of which veer from tuneful and textural to brash and furious, VEXES tone down and emphasize vulnerability over anger. The distorted guitars and unsettling tempos don't disappear, nor does the juxtaposition of crooning and roaring vocals, but on songs like 'Plasticine' and 'Lush' the vocals become more consistently tuneful and the backing instrumentation less pugnacious. At the midpoint of the album there's 'No Color', a multifaceted song that flows like a daydream turned into a nightmare and features a guest rap by Islander member Mikey Carvajal.
VEXES came together after John Klagholz and Charlie Berezansky's previous band, Vessl, called it quits. The two were interested in starting a heavier project to filter some different ideas into. After finally completing their demos, they sent them to a few respected musician contacts of theirs, and within a few weeks, heard back from former A Life Once Lostdrummer Justin Graves. Graves was impressed with the tracks and hinted at wanting to join the band.
Ancient Geometry was engineered and mixed by front-man Charlie Berezansky at Skywire Sound Studios in West Creek, NJ, and mastered by Mike Kalajian (The Dear Hunter, Saosin, Emmure) at Rogue Planet Mastering.
The original version of the album is available in North America via 
iTunes
, 
Amazon
, 
Google Play
, and 
Bandcamp
, and in physical format via Big Cartel with other merch options 
here
.
VEXES are:
Charlie Berezansky – Vocals, Guitar, Keyboard
John Klagholz – Guitar, Keyboard
Bobby Carpenter – Bass
Justin Graves – Drums
VEXES online: