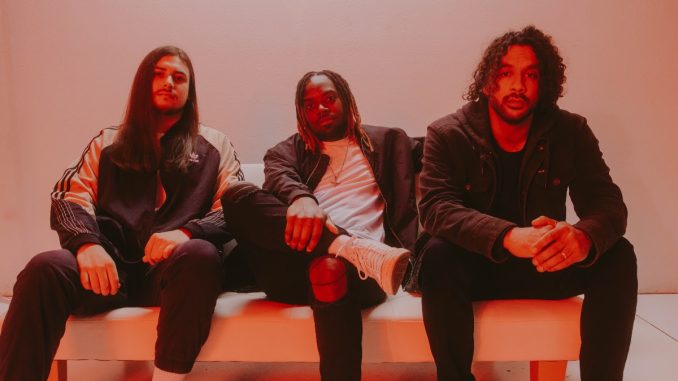 BAND IS NEWLY SIGNED TO SHARPTONE RECORDS

TOURING WITH NOTHING MORE THIS MONTH
Newly signed
SHARPTONE RECORDS
band
POST PROFIT
have shared the video for the new single "
Cancer Culture
." Watch it
here
.
The video features the Longview, Texas trio — Matt Jackson [vocals, guitar], Nick Hawner [guitar +vocals], and Zach Hicks [drums + vocals] — doing their best TV news broadcast impersonation while having free reign for a day at the Texas Museum of Broadcasting and Communications in nearby Kilgore, Texas.
The dynamic track highlights Post Profit's undeniably unique musical blend, encompassing all of their influences and proudly displaying where they are as a band sonically. It also touches upon an oft-controversial topic that remains close to their hearts.

"It's all about cancel culture," Matt reveals. "People watch you and wait for you to make the wrong step so they can cross you out. This song was born from our frustration with the feeling of being overlooked and pushed aside, and us trying to overcome that and stay determined in our path."

As for inking a deal with SharpTone Records, the band had the following to say: "We're beyond excited to announce that we have joined the SharpTone family! Their roster is stacked full of bands that we have looked up to for years such as Loathe, Holding Absence, Don Broco, and Boston Manor, just to name a few. We feel right at home with these amazing bands and the welcome we've received has felt more like a homecoming. We're looking forward to working closely with SharpTone on our upcoming releases, and ushering in a new era of rock music alongside the label's very talented and accomplished roster."
Post Profit will be hitting the road, opening for fellow Texans NOTHING MORE this September, with the first show this Friday, September 8 in Nashville. All dates are listed below. Tickets can be purchased here.

ABOUT POST PROFIT
Some would say Post Profit have been waiting for this moment since the cradle, with each member being introduced to musical instruments between the ages of 2 to 6.
Zach and Matt forged a friendship as toddlers ever since their moms became best friends from church in Longview, TX. Nick would later learn of Matt's vocal prowess through the high school intercom. "Matt's father was the high school principal," explains Nick. "And he'd have Matt on there in the mornings singing about refraining from drugs and alcohol and striving for good school attendance."
Over the next few years, the trio would really get to know each other from attending and performing at local shows. Nick and Zach especially hit it off and quickly became inseparable, spending much of their time listening to music, eager to put their own band together. Meanwhile, Matt was sinking his teeth into a Dallas based metalcore band called Far From Earth.

During early 2017, Matt started hosting open jams every Sunday at a smoky East Texas dive bar and one night asked Zach to join on drums. Zach dragged his new friend Nick along on guitar and the trio quickly formed a strong musical bond. They would soon start slipping originals into their covers sets and after months of unrelenting practices and bar jams they booked their first show at a Halloween party in Tyler, TX.

With the experience of countless gigs across the South, Post Profit soon gained a reputation for their commanding and impactful live performance, including powerful 2021 and 2022 performances at Welcome To Rockville in Daytona, FL. Rallying around influences such as Deftones, Incubus, Failure, and Quicksand, the band refined their original songs and sound into what would become their 2022 debut self-produced album When You Think It's Right It's Always Wrong. The release garnered over a million cumulative streams independently, and the success of their single "Smother" grabbed the attention of SharpTone Records, eventually landing them a deal.

POST PROFIT ON TOUR:
WITH NOTHING MORE + DEAD POET SOCIETY:
9/8 — Nashville, TN — Marathon Music Works
9/9 — Little Rock, AR — The Hall
9/11 — Oklahoma City, OK — Diamond Ballroom
9/12 — Wichita, KS — The Cotillion Ballroom
9/14 — Dallas, TX — The Factory In Deep Ellum
9/15 — Houston, TX — House of Blues
9/16 — San Antonio, TX — Aztec Theatre
9/18 — Mobile, AL — Soul Kitchen Music Hall
9/19 — Huntsville, AL — Mars Music Hall
9/20 — Knoxville, TN — The Mill & Mine
9/22 — Fort Lauderdale, FL — Revolution Live
9/23 — Lake Buena Vista, FL — House of Blues
9/25 — Charlotte, NC — The Fillmore Charlotte