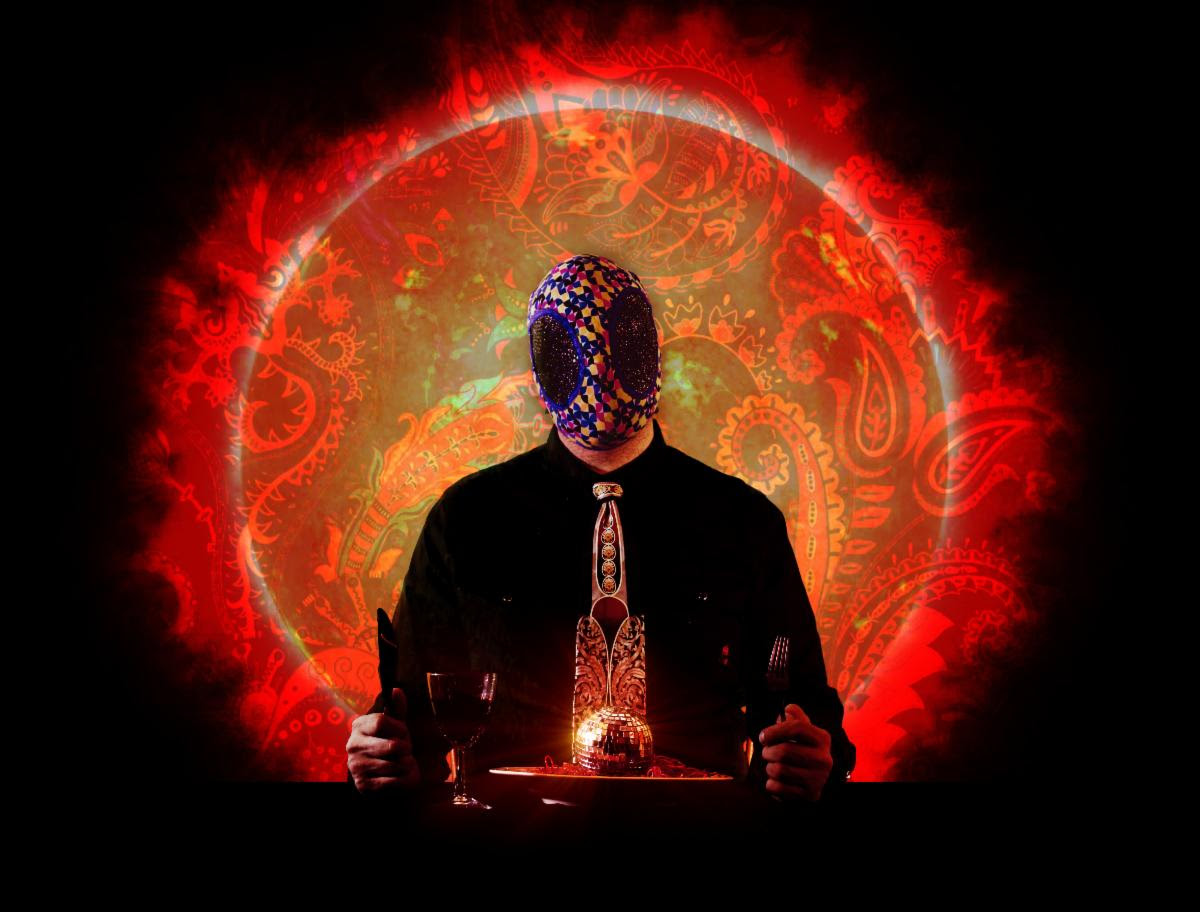 See PORNOHELMUT's "Night Rider" video HERE.
Texas-based audiovisual solo outfit PORNOHELMUT – aka percussionist/creator Neil Barrett – released its writhing Bang Lord debut through Atypeek Music and his own Show & Tell Media last week. While the album continues to baffle and haunt all who endure its peculiar madness, a lascivious new video for the hook-laden "Night Rider" jam has been premiered at Everything Is Noise.
Bang Lord marks PORNOHELMUT's first studio full-length; a multifaceted crystallization of industrial noise, punk rock, metal, experimental electronics, and violently enigmatic percussion that tests the boundaries and proclivities of underground music at large. The album was engineered by creator Neil Barrett at Hell's Kitchen, mastered by James Plotkin, and features artwork by Josh Paul. Fans of Fantômas, Lightning Bolt, Death Grips, Boredoms, Igorrr, Ruins, and other noncompliant musical explosiveness, this is not to be missed.
Everything Is Noise writes with their premiere, "The video for 'Night Rider' is similarly conflicting in its presentation to match the track, the order of everything clashing with its eclectic pace and presentation. Nude bodies writhe about, jumping and stretching as if mocking your own mind as it does the same. We speed down a highway with no end, the painted street lines whipping beneath us before twisting into an illusion that erodes consciousness itself. Make no mistake, this is definitely your brain drugs, and that drug is named PORNOHELMUT."
See PORNOHELMUT's steamy "Night Rider" video via Everything Is Noise at THIS LOCATION.
Bang Lord
is now available digitally through French avant label Atypeek Music, and on limited gold audio cassette via
PORNOHELMÜT
's new Show & Tell Media imprint. Secure yours
HERE
or
HERE
, and see the previously released "Astroglide" video
HERE
.
Watch for additional videos from the album and more to post in the weeks ahead. PORNOHELMUT is also immersed in the creation of a fully audiovisual album with Gridfailure, and more.
PORNOHELMUT has also booked new tour dates in support of Bang Lord, announcing a run of dates through Texas in April and May including several shows with Octopoulpe. See the currently confirmed dates below and watch for more to be announced shortly.
PORNOHELMUT Live:
4/01/2020 Demon's Den – Lubbock, TX
4/02/2020 TBA – Denton, TX
4/03/2020 Tradewinds Social Club – Dallas, TX w/ Octopoulpe
4/04/2020 Neon Rose – El Paso, TX w/ Octopoulpe
5/10/2020 Nosuoh – Houston, TX w/ Octopoulpe, Cop Warmth, Spoil
The extreme, experimental unit PORNOHELMUT is the work of one Neil Barrett, formerly of BLK OPS, The Dead See, and others, and responsible for video work with Today Is The Day, Primitive Man, Cave Bastard, and others. With this outfit, Barrett fires point-blank on all cylinders blasting a debilitating alloy of explosive drums/percussion, synths, vocals, and more at the listener. In a live setting, the visuals take on a commanding aspect of the performance, controlled rhythmically by the drumming and shifting haphazardly between gnarled found footage, spastic animations and originally filmed content, often with segues of glitched out video mixing and eerie, garbled audio samples.