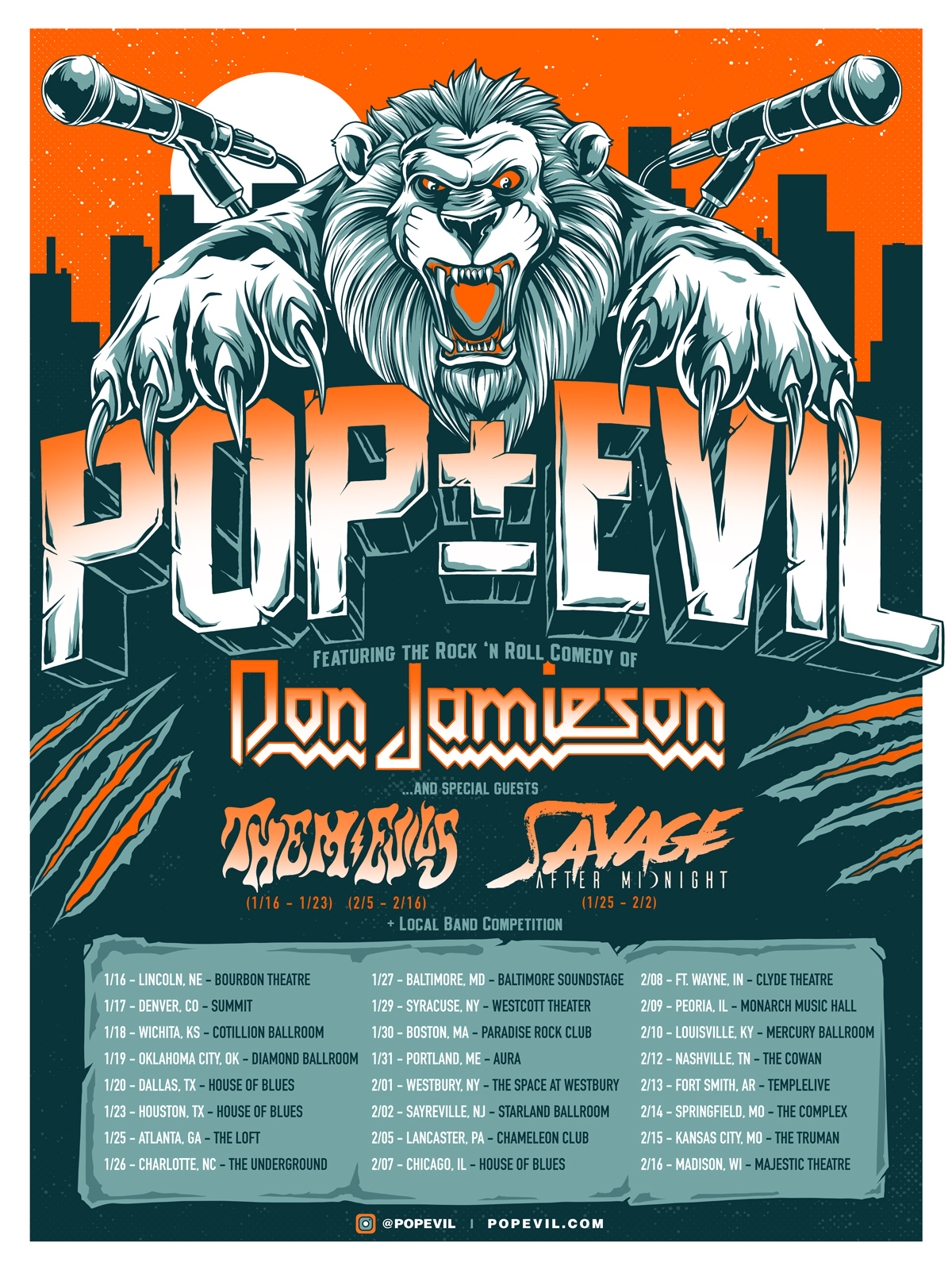 POP EVIL RELEASE "BE LEGENDARY" MUSIC VIDEO
EUROPEAN TOUR ON SALE NOW
BAND TO TOUR AUSTRALIA FOR THE FIRST TIME
TICKETS ON SALE NOW
S/T OUT NOW
February 14, 2019 — Pop Evil has released a new music video for their track "Be Legendary" today as the band continues to wow fans across the U.S. on their current headline tour. "Be Legendary" marks the fourth music video the band has released from their most current self-titled album that came out last year.
Pop Evil once again teamed up with American film director
Columbia Tatone
. The group previously collaborated with her on the past three music videos for
"A Crime To Remember," ""Colors Bleed,"
and
"Waking Lions."
"Be Legendary"
currently sits at #11 on the Active Rock Chart.
"When we were first writing this song, it started with this addictive yet hypnotic guitar riff," says frontman Leigh Kakaty. "Suddenly I could see our fans coming together as one. I just felt like this was going to be a great opportunity to write an anthemic type of lyrical song that could positively motivate people. Now we see all our fans posting on social media how this song motivates them in their daily lives. Plus, to see how passionate they are whenever they hear us perform it live. Time will tell just how big this song can become."
Director Columbia Tatone weighs in, "This story is for the underdogs. It's about friendship and togetherness. A reminder that although life doesn't always 'play fair,' know that our trials are a gift as you build sustaining character, discovering what you're indeed made of and made for as you earn the victory on the climb back up."
Pop Evil also teamed up with SWAGTRON, the No. 1 brand of light electric vehicles including ebikes and electric scooters. SWAGTRON supplied all of the bikes seen in the video, as well as Swagcycle ebikes as prizes for Pop Evil giveaways through radio stations nationwide coinciding with the band's current tour.
Pop Evil is in the middle of a headline tour in the U.S. with veteran comedian and former VH1 That Metal Show host Don Jamieson in direct support. Tickets including VIP packages are on sale now via the band's website.
Pop Evil continues to live up to their road dog status. While the current U.S. run is wrapping up, the band will head right back out on the road to Europe for ten days.
The band will then head to Australia for the first time performing for their fans in Adelaide, Melbourne, Sydney, and Brisbane for a four-day back to back trek. They'll then return home to the U.S. for eight additional shows including 98Rockfest in Charleston, SC on April 12 and WJRR's Earthday Birthday in Orlando, FL the following day.
Thu, Feb 14, SPRINGFIELD, MO THE COMPLEX
Fri, Feb 15, KANSAS CITY, MO THE TRUMAN
Sat, Feb 16, MADISON, WI MAJESTIC THEATER
Tue, Feb 19, FRANKFURT, DE ZOOM
Wed, Feb 20, PARIS, FR LE TRABENDO
Thu, Feb 21, MUNICH, DE BACKSTAGE HALLE
Fri, Feb 22, BERLIN, DE FRANNZ-CLUB
Sat, Feb 23, HAMBURG, DE HEADCRASH
Sun, Feb 24, COLOGNE, DE LUXOR
Wed, Feb 27, MANCHESTER, UK REBELLION
Thu, Feb 28, BIRMINGHAM, UK O2 ACADEMY3
Fri, Mar 01, ISLINGTON, UK O2 ACADEMY ISLINGTON
Sat, Mar 02, AMSTERDAM, NL MELKWEG
Thu, Apr 04, ADELAIDE, AU THE GOV
Fri, Apr 05, MELBOURNE, AU THE PRINCE
Sat, Apr 06, SYDNEY, AU METRO
Sun, Apr 07, BRISBANE, AU WOOLLY MAMMOTH
Wed, Apr 10, CINCINNATI, OH BOGARTS
Thu, Apr 11, GREENSBORO, NC DENIM
Fri, Apr 12, CHARLESTON, SC WYBB SHOW
Sat, Apr 13, ORLANDO, FL EARTHDAY BIRTHDAY
Tue, Apr 16, DESTIN FL CLUB LA
Thu, Apr 18, PITTSBURGH, PA JERGELS
Fri, Apr 19, AKRON, OH GOODYEAR THEATER
Sat, Apr 20, DETROIT, MI THE FILLMORE
In March of last year POP EVIL's single "Waking Lions" landed at #1 this on the Mediabase Active Rock airplay chart in the U.S. "Waking Lions" reached #1 after 20 weeks on the chart and is in the position of being one of the most spun songs at Rock Radio in 2018. "Waking Lions" was the band's fifth #1 single with the previous four being "Footsteps," (2015) "Torn to Pieces," (2014) "Deal With the Devil," (2013) and "Trenches," (2013).
Pop Evil released their fifth LP, a self-titled album, on February 16, 2018, via Entertainment One (eOne). Produced by Kato Khandwala, 
POP EVIL
 captures Kakaty and his bandmates at their most inspiring.
Every song on the album offers a different spin on the concept behind the band's name and in an era when many rock bands create a few strong singles, and six or seven less memorable songs and call it an album. POP EVIL is all killer, no filler – the best 11 songs culled from 30 demos.
It's a surging, contemporary sounding release that incorporates metal, alternative, hard rock and even some electronic music. In the wake of the band's peppy, upbeat 2015 album UP, which debuted #1 on the Independent Artist Billboard Album Chart, it went on to produce their biggest single to date, "Footsteps." It's a wake-up call, a musical rebirth that inspired the band to self-title the release, partially since they'd never done so.
1. Waking Lions
2. Colors Bleed
3. Ex Machina
4. Art of War
5. Be Legendary
6.  Nothing But Thieves
7. A Crime To Remember
8. God's Dam
9. When We Were Young
10. Birds of Prey
11. Rewind