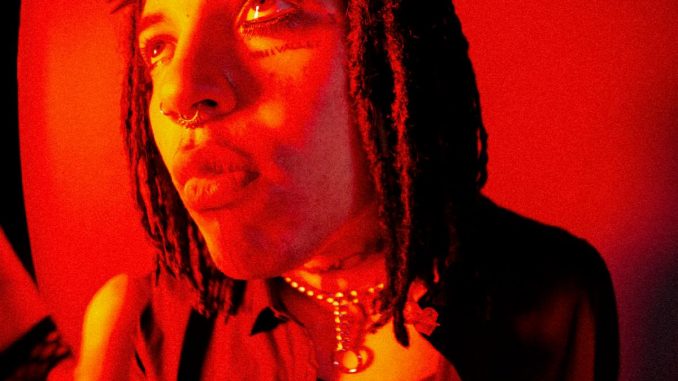 Friday, August 13, 2021 – Friday the 13th is about to get much spookier with hip hop-and-rock visionary POORSTACY releasing his latest single, "Party At The Cemetery" (via 10K Projects). Speaking on themes of angst and coming of age, the track delivers emotional rawness by vacillating between punk-heavy guitar and crushing vocals peppered with moments of eerie staccato keys. "Party At The Cemetery" is the title track from his forthcoming album of the same name and is a further exploration of POORSTACY's roots in heavy music, featuring guests such as Oli Sykes (Bring Me The Horizon) and Travis Barker (Blink 182, Transplants). Speaking on today's release, POORSTACY shares:
"Party At The Cemetery is the introduction record to the PATC album; it's pretty much recognition of mortality. I speak on the fact the day is coming for us all but in a celebratory manner."
2021 Tour Dates:

October 20 – Atlanta, GA – Vinyl

October 22 – Philadelphia, PA – The Lounge at World Cafe Live

October 23 – Brooklyn, NY – Elsewhere – Zone One

October 24 – Washington, DC – DC9

October 26 – Boston, MA – Brighton Music Hall

October 27 – Montreal, QC – Le Ministere

October 29 – Toronto, ON – Hard Luck Bar

October 30 – Detroit, MI – The Sanctuary

October 31 – Chicago, IL – Cobra Lounge

November 2 – Denver, CO – Larimer Lounge

November 3 – Salt Lake City, UT – Kilby Court Gallery

November 5 – Vancouver, BC – Wise Hall

November 6 – Portland, OR – Holocene

November 7 – Seattle, WA – Chop Suey

November 9 – San Francisco, CA – Bottom of the Hill

November 10 – Los Angeles, CA – The Moroccan Lounge

November 11 – Phoenix, AZ – Rebel Lounge

November 13 – Austin, TX – Antone's

November 14 – Dallas, TX – Three Links

November 15 – Houston, TX – Warehouse Live – Green Room

November 17 – Gainesville, FL – High Dive

November 18 – Tampa, FL – Crowbar

November 20 – Miami, FL – Gramps
South Florida native POORSTACY first gained traction on SoundCloud in 2019 with his emo-rap hit "make up" (produced by Nick Mira) which helped usher the subgenre into mainstream success. After dropping his crossover album 'The Breakfast Club' and releasing collaborations with artists like Whethan, Travis Barker, and more in 2020, POORSTACY has been proclaimed as the "rockstar for the SoundCloud generation" by The Noise. POORSTACY has most recently released
"Children Of The Dark"
off his forthcoming album 'Party At The Cemetery'. To date, he has already clocked up a staggering 177 million streams across DSPs, nearly 1.3 million monthly listeners on Spotify, and over 13 million views on YouTube. Be sure to stay tuned for more POORSTACY news coming soon.