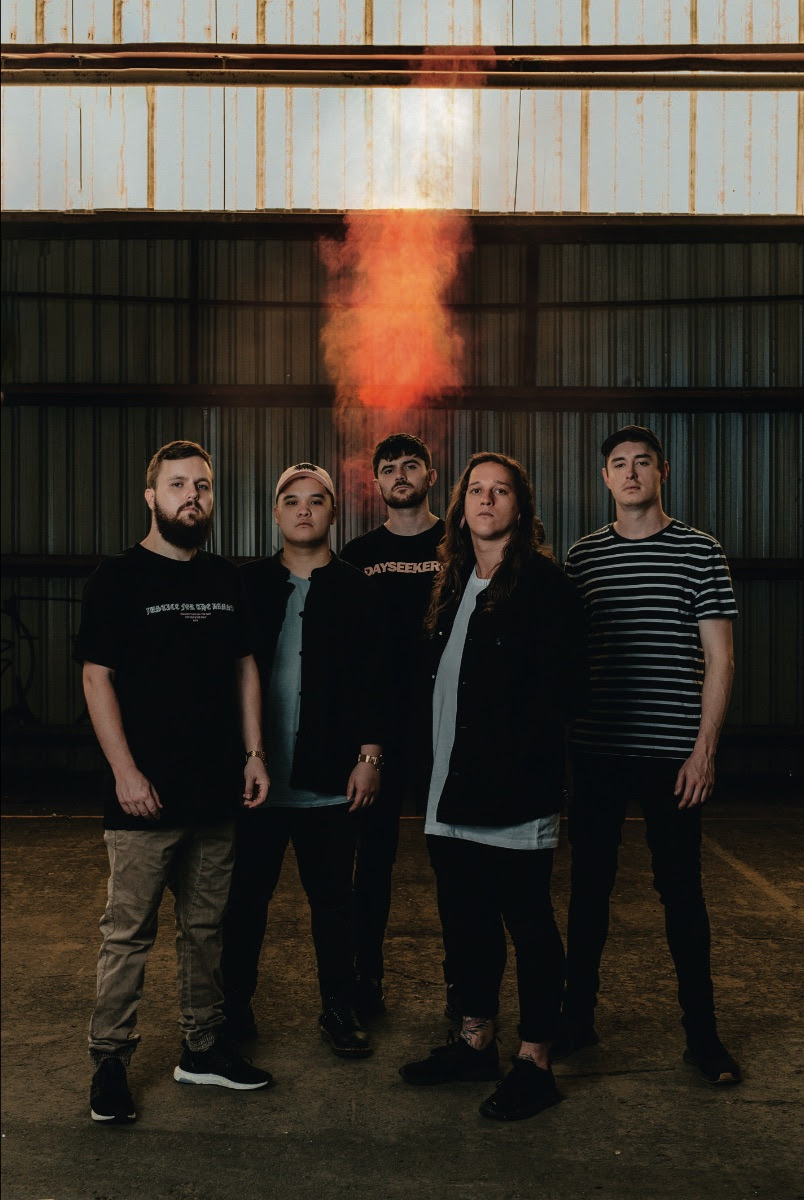 THE TRACK IS TAKEN FROM THE NEW ALBUM THE DEATH OF ME, OUT FEBRUARY 21 VIA SHARPTONE RECORDS

POLARIS
have released the video for the new song "
Hypermania
," taken from their second studio album,
The Death of Me
, out on February 21 via
SharpTone Records
in the U.S.
Watch the video here.
"'Hypermania' is a song about losing your grip on reality, questioning your sanity, and feeling like you're on the verge of an explosion all the time. Paranoia, mood swings, white-knuckling your way through the day just barely holding it together. The whole lyrical direction was inspired very directly by the music itself. Rick [Schneider, guitar] has this knack for writing these kind of Southern-hardcore-meets-nu-metal riffs that no one else in the band could write, stuff that's really noisy, abrasive and discordant, but also tight and bouncy, and that's where this song began," explains drummer Daniel Furnari.
He adds, "We sort of deliberately leaned into the chaos of the song in order to try and break away from some of our own writing conventions. Songs that are 100% screamed vocals all the way through are pretty rare for us, but when we were writing this track, it was pretty clear to us that clean melodic vocals wouldn't fit the vibe and energy we were hearing instrumentally, so we really focused on what we could do with both Jamie [Hails, vocals] and Jake [Steinhauser, clean vocals, bass] to get the right character across for the song with just screams."
He furthers, "Jake has always done a few screamed parts here and there in our live set, but this was the first time that it's really felt right to incorporate that on record so it was really cool for us to be able to add that to the palate of sounds on this album and contrast him with Jamie in a new way. We definitely pushed the hell out of both of them in this track and spent a lot of time trying to capture that feeling of anxiety and paranoia we wanted to convey, and I feel like that really paid off in the performances you hear in the end product."
"We started adding this song to our live set towards the end of last year and the energy from the crowd has been batshit crazy every time we've played it. The internet has been starting to demand pretty firmly that we release it, and we've been itching to get it out for everyone to finally hear it properly, so here it is!"
"Hypermania" was introduced to the band's live set at the end of last year and Polaris are stoked to officially release it ahead of their appearance at Unify Festival this weekend. "The Death of Me" Australian Tour, supported by Wage War, Crystal Lake, and Alpha Wolf, kicks off next month with Melbourne, Brisbane, and the first Adelaide show all sold out. The remaining shows are selling fast and tickets won't last long.
ABOUT POLARIS:
It's been two years since Polaris released their ARIA-nominated, Top 10 debut, The Mortal Coil, which introduced the group to legions of fans around the country and, thanks to an extensive international touring schedule, the world. When it came time to making their new album, The Death of Me, the Sydney outfit knew they had a tall order on their hands.

Polaris returned to the house in the small South Coast town of Mollymook where they made The Mortal Coil, converting it into a temporary studio. The familiar surrounds acted as something of a refuge after the high-pressure claustrophobia of touring.

Accompanying the band was their front of house sound engineer, Lance Prenc, and long-time friend Scott Simpson (of Melbourne band Alpha Wolf), both of which co-produced the album with the band.
In the two years since The Mortal Coil, Polaris embarked on three sold-out headlining tours of Australia, as well as supporting Architects and Parkway Drive around the country; five runs throughout Europe (including a series of arena shows supporting Architects and a slew of high-profile summer festival spots); three separate US tours; not to mention performing at the Download Festival and Unify Gathering in Australia. Somewhere in there, the quintet found time to write The Death of Me.