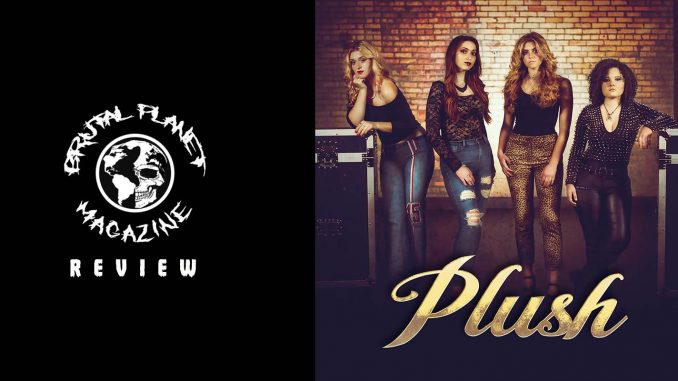 Remember in 2020 when everyone was locked down and passing around videos of that incredible female singer who was covering some fantastic songs and knocking them out of the park? Yeah, you remember, there was Steelheart, Dio, and Heart, just to name a few. Her name was Moriah Formica, and she is the front-woman of an all-female band called Plush. I ran across this album, gave it a spin, and I am still listening to it non-stop. I am also really looking forward to seeing them on tour with Evanescence and Halestorm. Their self-titled debut album will be out on October 29, 2021. I can tell you now if you liked what Moriah did with those covers, you will love this album.
Plush starts with "Athena." The song and the whole album have a bit of an Alice in Chains sound to them. The song grabs you from the first riff and holds you till the last note. "Champion" is up next, and the song's energy shines through as Moriah vocal's sound amazingly similar to Ann Wilson of Heart. One of the true gems of the album is "Hate." The song is an angry denunciation of something we have all been through. The time we hung on to something that we knew we shouldn't but did anyway. The lyrics are vitally raw and something we can all relate to:
"I hate that you hurt me
I'll take what you've done
I hate that you're happy
I thought you were the one
I hate that I still want you
And miss your smile
I hate everything about you
I hate myself for hanging on"
"Found a Way" provides a roadmap to recovering from "Hate." The song has an uplifting beat and some great guitar from both Moriah and guitarist Bella Perron. "I Don't Care" is a strong song that teaches self-strength with a durable chorus. The album then lands on "Sober." It has a very Alanis Morrisette feel during the verse, then goes straight up hard rock during the chorus. "Better Off Alone" continues the angry subject matter and showcases the rhythm skills of Plush. Bassist Ashley Suppa and Brooke Colucci (Drums) keep the beat true and strong throughout the album, but "Better Off Alone" is one of the more strong assists.
"Sorry" also provides moments that are reminiscent of Jagged Little Pill Alanis Morrisette. Lyrics like "Sorry doesn't make it ok" offer us a look into the mind of someone who has been through some shit. The same line of thinking is also prevalent in "Why Do I Even Try."."
The album continues with "Don't Bring Me Down" and crashes on "Don't Say That." A powerful ballad that is not for the weak of heart. "Will Not Win" is one of the heavier songs and has a similar sound to "Hate."

As things come to a close, we are left with "Walk Away." It is one of the most beat-driven songs, but they saved it till the end.
After listening to Plush, one must conclude that these young ladies have been through many hurdles in life. We all deal with those situations in our own ways, and obviously, putting into the form of a song is their way of expressing that emotion.
Plush is not a light and poppy album by any means, but it does provide a roadmap to self-healing for those in need of iPlush is not a light and poppy album by any means, but it does provide a roadmap to self-healing for those in need of it. For those who are not, it provides a solid rock album with some amazing musicianship from a group of ladies who may struggle in their future together but have a solid foundation for a strong future together. You can pick up Plush's self-titled album on October 29, 2021, via Pavement Entertainment.
PLUSH is currently touring with Seether and Nonpoint. Future dates include Mammoth WVH, Evanescence, and Halestorm.

9/30 – Myrtle Beach, SC – HOB w/ Seether and Nonpoint

10/1 – Atlanta, GA – Tabernacle w/ Seether and Nonpoint
10/2 – Louisville, KY – LRS Fest w/ Kip Winger and John Corabi
10/15 – Wichita, KS – Cotillion w/ Mammoth WVH
10/16 – Lincoln, NE ¬– Bourbon Theater w/ Mammoth WVH
10/17 – Oklahoma City, OK – Zoo Amphitheatre
10/19 – Destin, FL – Club LA w/ Mammoth WVH
10/20 – Huntsville, AL – Mars Music Hall w/ Mammoth WVH
10/21 – Knoxville, TN – The Mill & Mine w/ Mammoth WVH

11/5 – Portland, OR – Rise Quarter w/ Evanescence and Halestorm
11/7 – Seattle, WA – Climate Pledge Arena w/ Evanescence and Halestorm
11/9 – San Jose, CA – Sap Center w/ Evanescence and Halestorm
11/10 – Inglewood, CA – SoFi Center w/ Evanescence and Halestorm
11/12 – Las Vegas, NV – The Cosmopolitan w/ Evanescence and Halestorm
11/13 – San Diego, CA – San Diego University w/ Evanescence and Halestorm
11/15 – Phoenix, AZ – Arizona Federal Theater w/ Evanescence and Halestorm
11/17 – Salt Lake City, UT – The Union w/ Evanescence and Halestorm
11/20 – Fort Worth, TX – Dickies Arena w/ Evanescence and Halestorm
11/21 – Houston, TX – 713 Music Hall w/ Evanescence and Halestorm

LINKS

Official Site: plushrocks.net
Facebook: https://www.facebook.com/PLUSHOFFICIAL/
Instagram: https://www.instagram.com/plushrocks/
Twitter: https://twitter.com/PLUSHROCKS