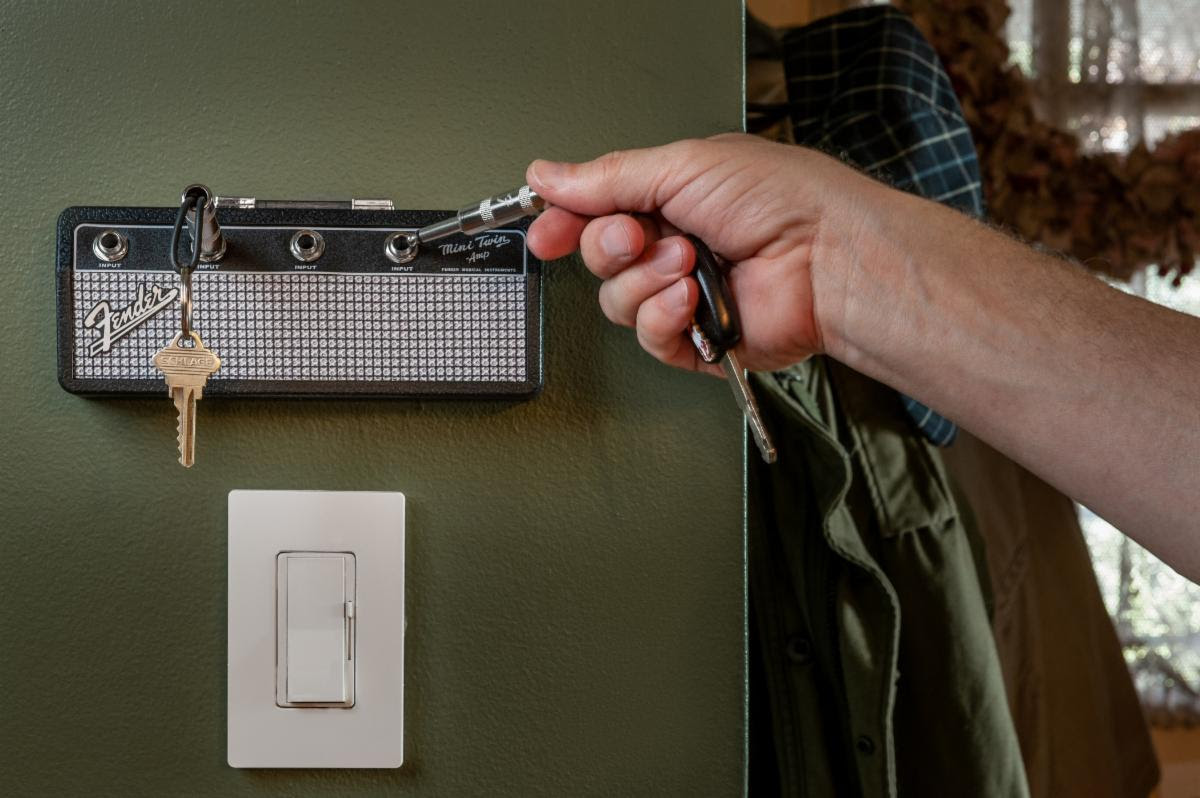 Fender Jack Rack Available Now Worldwide Via Amazon, Fender.com and Guitar Center
ANAHEIM, Calif. (September 23, 2019)
–
PLUGINZ
today announced their newest partnership with Fender Musical Instruments Corporation (FMIC) for the release of the all-new licensed
Fender Jack Rack.
The Jack Rack is a wall-mountable key holder that comes with a sleek finish comprising of real Fender Amplifier materials. It includes four guitar-inspired plug keychains with the engraved Fender "F" logo and comes equipped with all mounting hardware needed to "
Hang Your Keys Like a Rockstar!"
Fender Jack Rack product details include:
Realistic amp texture
Actual amp grill cloth
Authentic brushed metal Fender logo
Built in amp handle
Uses real amplifier inputs
Specs:
Width: 8″
Height: 3″
Depth: 1.5″
Shipping Weight: 0.8 lbs
"It's an honor to be collaborating with Fender on our newest version of the Pluginz Jack Rack," says Pluginz CEO Mike Stricklin. "We've made sure to use the highest quality amplifier parts, as well as authentic Fender components such as the grill cloth and the iconic brushed metal Fender logo. This will be another great way for musicians and music fans alike to hang their keys for years to come!"
The
Fender Jack Rack
currently retails for $34.99 and is available for purchase on
Fender.com
, in Guitar Center stores nationwide, as well as at
www.thejackrack.com
and Amazon marketplaces worldwide in the following countries:
# # #
ABOUT PLUGINZ:
PLUGINZ
was founded in 2015 by Mike Stricklin after a successful Kickstarter campaign helped launch the company and instantly got the Jack Rack going viral online. Soon after, Mike partnered with co-owners of
Rockworld Merchandise
, Dan Jacobs of the band
Atreyu
and his brother Joe Jacobs, and together have quickly grown
PLUGINZ
to a worldwide brand, exceeding $1 million in annual sales. For questions, concerns, and epic hi-fives, please email us at:
contact@pluginzkeychains.com
. If you would like to become an official Pluginz retailer, please email us at:
sales@pluginzkeychains.com
PLUGINZ online:
ABOUT FENDER MUSICAL INSTRUMENTS CORPORATION:
Since 1946, Fender has revolutionized music and culture as one of the world's leading musical instrument manufacturers, marketers and distributors. Fender Musical Instruments Corporation (FMIC)-whose portfolio of brands includes Fender®, Squier®, Gretsch® guitars, Jackson®, EVH® and Charvel®-follows a player-centric approach to crafting the highest-quality instruments and digital experiences across genres. Since 2015, Fender's digital arm has introduced a new ecosystem of products and interactive experiences to accompany players at every stage of their musical journey. This includes innovative apps and learning platforms designed to complement Fender guitars, amplifiers, effects pedals, accessories and pro-audio gear, and inspire players through an immersive musical experience. FMIC is dedicated to unlocking the power of musical expression for all players, from beginners to history-making legends.