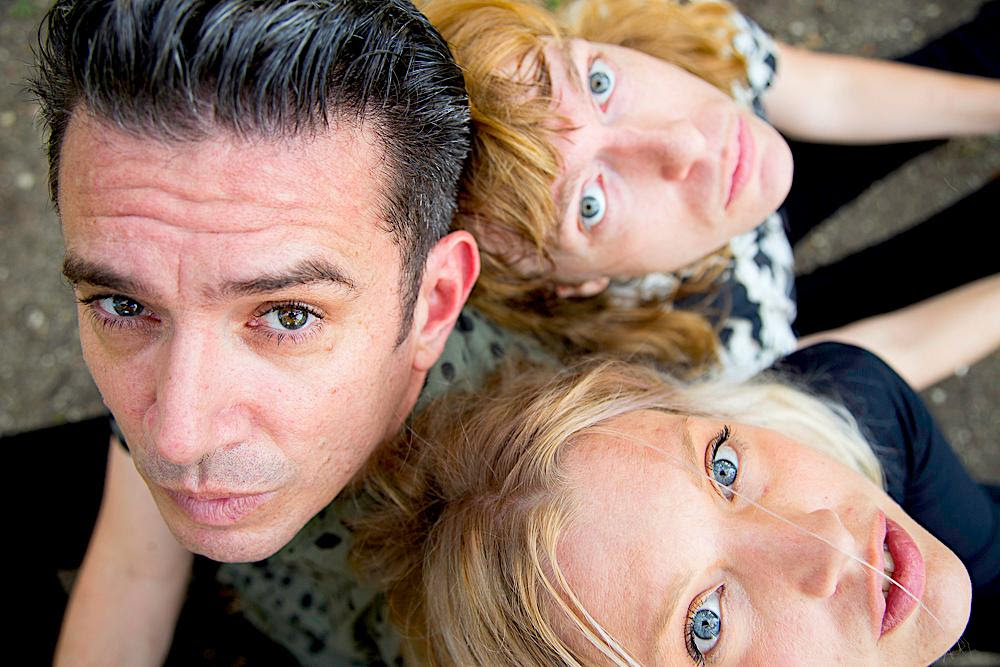 A crackle of electricity. A surge of adrenaline. A whole lot of noise and ass-shaking. In these fake and fractious times, the unerring power of rock 'n' roll has never seemed more vital or necessary. But just in case the world needs a reminder, New Orleans' Planchettes are here to reacquaint us all with the greatest invention of the 20th century. A fiery but finessed power trio with hearts full of swamp blues, rockabilly, '60s psych and primitive post-punk, Planchettes are both a twanging, horror-tinged throwback to a pre-digital age and a jolting shot in the arm for today's thrill-hungry rock scene.
Set be released October 25 through Rise Above Records, Planchettes' debut album pulls off the shrewd trick of saluting rock 'n'roll's formative years while also sounding fully equipped for the 21st century and heroically cool as fuck. This is righteous, rebellious and rampaging rock 'n' roll.
"The type of music we play is just an extension of the unbridled raw emotion that lies right beneath the surface of our skin," says bassist Tralita. "Whether it feels elated or distorted or sloppy or scared or harmonious or angry or sexy or manic or like a revelation from the divine, we are all these things. The music is the vibrations of our energy. A primal scream. The blood that feeds. I personally have always been attracted music that leaves no doubt in my mind that humans have a soul. Songs that show teeth."
Recorded over an unexpectedly arduous six-month period, the album is an album born of struggle but blessed with fizzing momentum and seductive charisma. From the rollicking soul-rock of opener Snow Pig to the fidgeting space rock stomp of Everyone Else, Kevan, Tralita and drummer Andres Orozko are versatile but ferociously focused, with an abundance of killer riffs, gleaming hooks and an irresistible sense of controlled chaos emanating from every short, sharp burst of voodoo punk euphoria. These are simply great songs, played with priapic vigour and rendered in deliciously primitive sonic shades.
With shades of everything from The Cramps and The Birthday Party to the Small Faces and the Groundhogs, Planchettes' first full-length makes no apologies for its debt to the past. But there is an urgency and grittiness to Planchettes songs like snotty Mod-stomp La Fin Du Monde and the thuggish psych 'n' blues of Mourning Sun: these are songs designed to wake the world up and drag them to the Devil's dancefloor. Having found their natural home at Rise Above Records, New Orleans' sharpest and coolest new band are ready to plug the rest of us in to their voodoo rock mainframe too.
"Most songs I write are thoughts and emotion that I've processed as a sort of therapy and put onto paper," the frontman explains. "But on a simpler level, I write what I think will get people moving. The spirit of rock 'n' roll has always been an uncontrollable force in a person's soul, and I love watching people twitch and gyrate to a song that I've written."
"We're very much excited about the future of Planchettes!" Tralita concludes. "We hope to for the band to become our vehicle to tour and experience the world at large. We want to take our gospel and spiritual meltdown on the road and shake up the skies!"
"The Truth" Tracklisting:
1. Snow Pig
2. Mourning Sun
3. Let's Last Forever
4. Wet Graves
5. The Truth
6. She's So Violent
7. Death in Bloom
8. Empress of Fools
9. Everyone Else
10. La Fin Du Monde
11. An Angel's Wing
For More Info Visit: