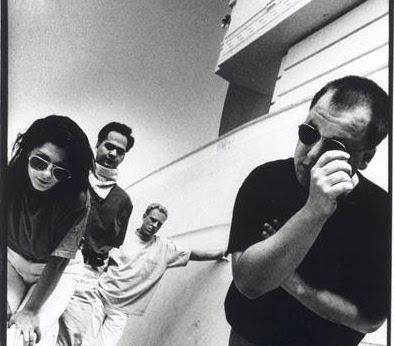 LOS ANGELES, CA – Thursday, June 18, 2020 – 2020 marks the 30th anniversary of "Bossanova," the third studio album by Pixies, originally released on August 13, 1990. To celebrate "Bossanova" hitting its third decade, 4AD will release a limited red vinyl edition on August 7, complete with the original 16-page booklet that was previously available only with the initial UK LP pressing. Pre-orders can be placed now; go
HERE
for purchasing details.
Produced by Gil Norton, with whom the band – Black Francis (guitar, vocals), Joey Santiago
(guitar), Kim Deal (bass, vocals), David Lovering
(drums) – collaborated on their Platinum-selling second album "Doolittle," "Bossanova" was recorded in Los Angeles as opposed to Pixies' Boston base (with the exception of the track "Blown Away" that was recorded at the Hansa Tonstudio in Berlin during a European tour in 1989). The album features the singles "Allison" (a tribute to jazz and blues pianist Mose Allison), "Dig For Fire," and "Velouria" (#4 on Billboard's Alternative chart), plus the first cover to be included on a Pixies' album, "Cecilia Ann" (originally by The Surftones). "Bossanova" showed a less primal side to the band, with surf and space rock rising to the fore. Lyrically, Black Francis is even more cryptic with a recurring sci-fi theme running throughout, which in turn influenced Vaughan Oliver's classic planet design for the cover.
As one journalist put it, "'Bossanova' is a powerful time machine. Listening to the album, one gets flashbacks of what the '90s sounded, looked and felt like. Even though the decade was far from perfect, it was filled with a feeling of curiosity and optimism – especially regarding the future and its technology. Listening to 'Bossanova,' one is reminded that the world is a more vital place when people are allowed to dream big, fantasize, and be a little bit crazy."
Pixies 1990

L-R: Kim Deal, Joey Santiago,
David Lovering, Black Francis
Photo credit: Kevin Westenberg