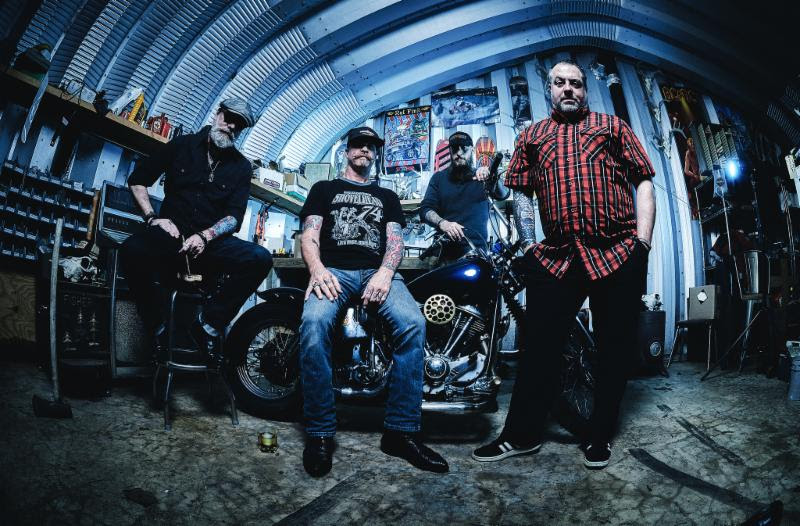 In September; Teaser And More Posted
See PIMMIT HILLS' Heathens & Prophets EP teaser
HERE
.
"PIMMIT HILLS is a cross between the Stooges and '70s ZZ Top." – J. Robbins
PIMMIT HILLS, the Washington, DC-based quartet which spawned from the revered doom rock act King Giant, has completed their debut recording, now ready to see release as the Heathens & Prophets EP in September. A brief teaser and more on the record have been issued.
With four new songs bursting with the same Appalachian/rural mid-Atlantic rock and doom influences King Giant was inspired by, PIMMIT HILLS conjures even more of an organic sense of melody and vibrance, bringing the tracks to an even more emotive territory than the majority of the members' former act.
Recorded and mixed by J. Robbins (Jawbox, Government Issue) at Magpie Cage Studio in Baltimore, Maryland, Heathens & Prophets was mastered by Dan Coutant at Sun Room Audio, and completed with photography by John Plashal and design by Jess Zadlo. Robbins also supplies keyboards to three of the EP's four tracks.
In February of 2020, PIMMIT HILLS was in Baltimore with J. Robbins at the board and smack in the middle of recording what they thought would be their debut full-length album. But soon after, the ongoing global pandemic was declared, and the band was left with no choice but to halt work on the project and regroup.
"We were really excited about those February sessions. In addition to being behind the console, J was lending his keyboard skills to three of the songs and it sounded amazing." said guitarist Todd Ingram. "I suggested adding some Fender Rhodes like keys on Lost River and J came up with a sound that not only captured that vibe but took it to the next level. He really understood what we were going for and did it so tastefully. But then the virus hit, and everyone's focus shifted to staying home, taking care of family, and staying healthy."
As the lockdowns changed from weeks to months the band decided to shift focus. With the full-length album stalled, we concentrated on the recordings that were most complete," said drummer Keith Books. "We discussed doing the mixing remotely which is something we wouldn't normally do. But it allowed us to keep the momentum going and we figured it was a good way to help support J during such tough economic times."
Ingram adds, "J would do a first pass mix, upload the file for us to review. We could provide feedback about this or that until we got the mix where we wanted it. I even added a harmony line on 'Baby Blue Eyes' remotely. While most musicians I know are quite proficient with home studios, I was not. But I had an idea for a harmony line that I really wanted on that track. So, I put together a very basic home studio, tracked the parts, and emailed J the files. He dropped them in, mixed them, and just like that we were done with the mixing phase and ready for mastering."
J. Robbins states, "PIMMIT HILLS is a cross between the Stooges and '70s ZZ Top."
Check out the first brief foretaste of
PIMMIT HILLS' Heathens & Prophets debut
RIGHT HERE
.
PIMMIT HILLS will independently release Heathens & Prophets on all digital platforms on September 18th. Watch for preorders, audio premieres, an official video, and more to follow in the days ahead.
Heathens & Prophets Track Listing:
1. Baby Blue Eyes
2. Ginger
3. Lost River
4. Beautiful Sadness
PIMMIT HILLS will also issue additional updates on future recordings and releases over the months ahead as they complete more songs in their growing arsenal of new music. "We still have a number of songs with the core instrumentation completed," says Ingram. "Those songs just need vocals and some solos. And since live performances aren't happening, it makes sense to keep our focus on writing and recording. The writing during the lockdowns has apparently paid off as the band says they have enough material for a double LP."
PIMMIT HILLS:
David Hammerly – vocals
Keith Brooks – drums
Todd Ingram – guitar
Floyd Lee Walters III – bass
Review copies of
Heathens & Prophets
are now available. For all coverage of
PIMMIT HILLS
worldwide contact
dave@earsplitcompound.com
.