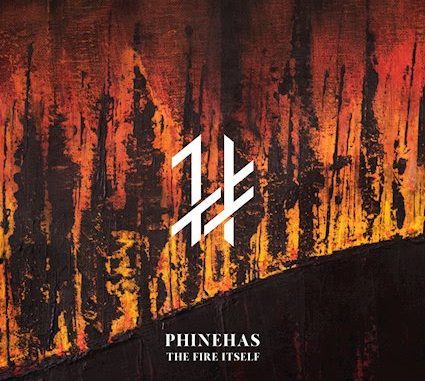 Could you make a list of bands that have a few "out-of-this-world" tracks that you love with the rest just don't really "grab" you?  For me, one of the bands on that list would be Phinehas (Sean McCulloch-vocals, Daniel Gailey-guitars, Bryce Kelley-bass, Isaiah Perez-drums.)  I have been listening to this band for years.  Songs like "Fleshkiller," "Coup de Grace," and "Dark Flag," have been favorites of mine and get regular spins, but much of their catalog I just haven't paid much attention to.  As I said, it simply never "grabbed me."  That is, until now.  This Los Angeles-based band is releasing their fifth album, "The Fire Itself," on August 27 through Solid State Records, and this album is going to be making my top ten list of 2021. As I was listening to it for the first time, I was blown away by each song and was almost laughing at what a fool I've been to not give this band more attention.  
The opening track, "Eternally Apart" has one of the best intros that I've heard in a very long time. It is a long, anthemic intro, but it fits and builds on itself in a way that makes you lust for more. It starts out acoustically but quickly switches to some of the best riffs the band has done in their twenty-year career. As the song progresses, it gets heavier and heavier, and each member shows off (possible?) perfection in the way they master this song. The song was released as a single on July 29 and has shocked listeners and those who create reaction videos on YouTube.
The band's other single, "In the Night," was actually the first to be released. The song is equally brutal and will feed your ears catchy riffs and ferocious vocals. Some bands will write songs that swap screaming and singing in a way that seems too separated and unnatural. Phinehas has found the secret to blend both vocal styles in a way that is quite pleasing. In a recent interview, vocalist Sean McCulloch says of the song, "'In the Night' is about pushing forward in the face of the unknown and the fear that holds us captive or stagnant. We can't delay or deny who we truly are to ourselves without giving up pieces of our soul or body over time. We have a purpose — if we would step forward and take it. After all, what is scarier? Dealing with something difficult right now? Or letting that difficult thing fester into a monster in your mind over years of procrastination?"


As I mentioned earlier, the whole album is incredible. This is the best music I have heard Phinehas write and is, as a whole, one of the best metalcore albums I have heard in the last several years. Each of the songs is unique, while simultaneously keeping the familiar tones and tempos we all love in this genre. "Dream Thief" starts out slow at first, but that's only the calm before the storm, it intensifies quickly and never lets up. "Thorns," also starts slower, but will bring you to breakdowns that interweave throughout the song's bridge. The title track, "The Fire Itself," features an unbelievable solo and one of the sickest breakdowns to end a track. It also amassed over 11,000 views on Youtube within 24 hours! "Holy Coward" should be titled "Holy Riffs & Holy Solos" and once you hear it you will know what I am talking about. I've gotten chills every time I've listened to it. It is definitely going to be a fan favorite.

Lastly, I want to write a specific paragraph praising the band's newest member, Isaiah Perez. After supporting the band on their 2017 tour he officially joined Phinehas as their permanent drummer the following year. If this album is a reflection of any musical input from this native Texan, the band was wise in hiring him. As I listened to this record, Isaiah's drumming stood out in every song. I was completely floored by the thunder that he creates. He plays with precision & intensity and you can feel it.
This may sound very cliche, but "The Fire Itself" is by far the band's best work. This album is heavy, yet melodic; catchy, yet unpredictable, and has some of the best riffs and solos in the modern era of metal. Phinehas has ignited a ferocity that won't be snuffed out.