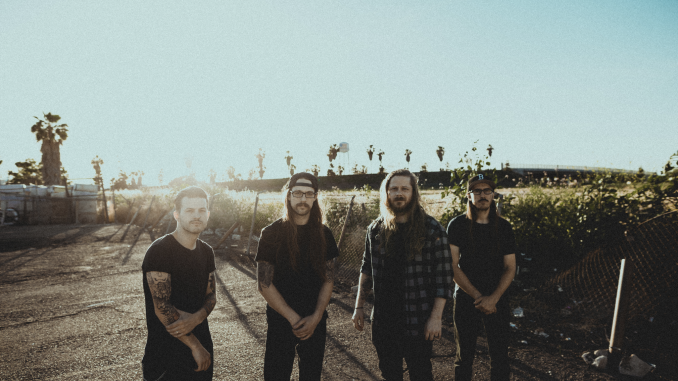 NEW ALBUM OUT AUGUST 27 ON SOLID STATE RECORDS

BAND SHARES NEW SINGLE "IN THE NIGHT" — LISTEN
Southern California metal quartet
PHINEHAS
have announced their fifth album
The Fire
Itself
. The album is due out August 27 via
Solid State Records
. Pre-order it
here
.
Today, the band has shared the single "In the Night." Listen here.
"'In the Night' is about pushing forward in the face of the unknown and the fear that holds us captive or stagnant," says singer Sean McCulloch. "We can't delay or deny who we truly are to ourselves without giving up pieces of our soul or body over time. We have a purpose — if we would step forward and take it. After all, what is scarier? Dealing with something difficult right now? Or letting that difficult thing fester into a monster in your mind over years of procrastination?"
"In the Night" actually closes out the record and it does so with a bang — galloping guitars, battering ram percussion, and a vocal attack that sounds as though it clawed itself up from the bowels of the earth's core.
After releasing Dark Flag in 2017, tours, family obligations, and other engagements kept Phinehas together…but without time to create.
When the global COVID-19 pandemic forced a shutdown, the group simmered in a state of reflection. Phinehas took the necessary time to process the last few years. For McCulloch specifically, he was able to acknowledge and face some of the darker parts of life he had ignored. "Stillness amplified some struggles I knew I had but hadn't processed," he shares. "For the first time, I had to deal head-on with fear and anxiety."
Through therapy and self-realization, Phinehas — also comprised of Bryce Kelley, Daniel Gailey, and Isaiah Perez — embarked on their first record solely about themselves. "It's easy to write about things other people are going through," explains McCulloch. "But it's nearly impossible for me to write about myself."
The result of their efforts became The Fire Itself, a transparent outpouring of McCulloch's internal thoughts. Intentional, painful, and wholly authentic, the album presses into what it feels like to be a broken human being from his perspective. Instrumentally, the album is just as thoughtful but with a sharper edge than records past. Focusing less on individual parts and more on how the songs operate as a whole, Phinehas created a record that cuts straight to the core of who they are.
THE FIRE ITSELF TRACK LISTING:
"Eternally Apart"
"The Fire Itself"
"Thorns"
"War You Know"
"Defining Moments"
"Holy Coward"
"Dream Thief"
"The Storm In Me"
"Severed By Self Betrayal"
"In The Night"