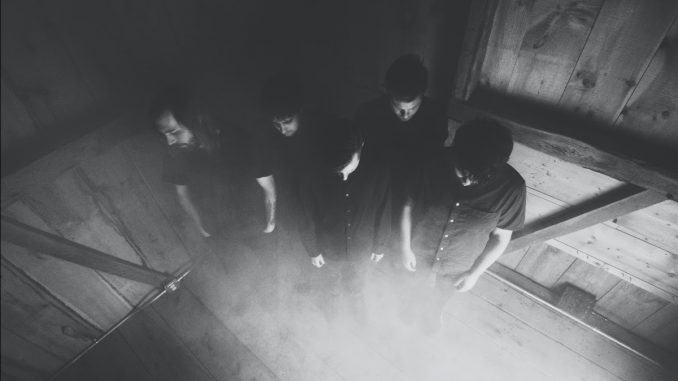 NEW ALBUM PALE HOME OUT MARCH 26 VIA SOLID STATE RECORDS
FOR FANS OF DEAFHEAVEN, OATHBREAKER, + CONVERGE
Philadelphia's blackgaze band THE DROWNED GOD — Cody Golob, Brandon Baun, Lucas Dunn, Dan Scanlon, and Josh Mitchell — have returned with a brand new album, Pale Home, out March 26 via Solid State Records. Pre-order it here.The band has released the new song "Gnashing of Teeth" over at Decibel. Listen here.
"'Gnashing of Teeth' was recorded during the lockdown in 2020," the band shares. "It is the embodiment of the chaos and uncertainty that we all felt last year. We really wanted to capture something gritty, dark, punishing, and vast. The ideas contributed by our producer, Seth Manchester (Machines With Magnets), really pushed this song into new territory for us. Cormac McCarthy's 'The Road' was a huge lyrical and tonal inspiration, as well."
Since their inception in 2015, The Drowned God have been known for creating sonic stories wrapped in chaos. In their first two projects, Moonbearer and I'll Always Be The Same, the band introduces and then continues to examine a character swimming through seas of love, loss, and depression. The Drowned God dive deep into a lyrical well of emotion while hovering somewhere between black metal and hardcore. Their complex blend of heavy yet ethereal instrumentation prevents them from being limited by genre buzzwords.
Their newest release, Pale Home, is a 10-track opus that finds its character swallowed up by paranoia in a purgatory afterlife. The record pummels, harnessing the more traditional style of The Drowned God's earlier catalog.
With low tones and shrieking melodies, Pale Home encapsulates everything The Drowned God are known for — while sinking even deeper into a pain that can only be understood through its cathartic instrumentation. The vocals drip with desperation and grit, showcasing a band capable of harnessing and channeling deep, creative expression. Listen close within the walls of the chaos and hear subtle nods to their history, paying homage to the previous records and their influences.
PALE HOME TRACK LISTING:
"I Met You"
"Buried in the Room"
"Awake in the Mourning"
"Without Ceremony"
"Near Spanish Lake"
"And It Was Weeping"
"All Haunted"
"Gnashing of Teeth"
"Bleeding Nature"
"You Remained Silent"