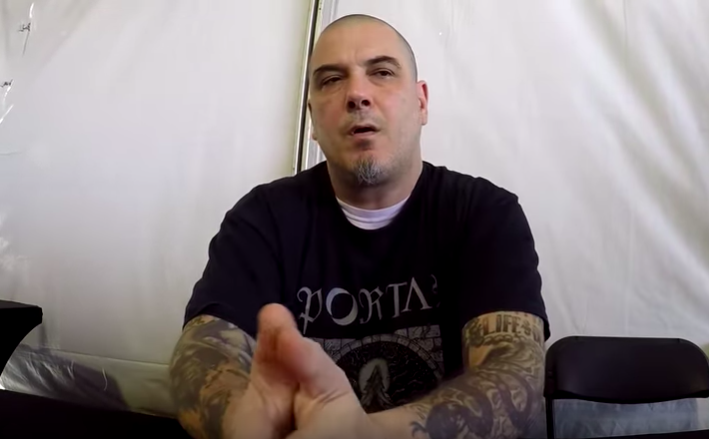 Phil Anselmo, former lead vocalist of Pantera recently sat down with Metal Nexus for an interview. They did a great job with the questions and Phil touched on a lot of things related to Pantera, and also the state of his supergroup Down.
Phil's new band the Illegals has been playing a set of Pantera songs during live shows. In the interview Phil compared it to Ozzy doing Sabbath songs when he went solo. Phil being the man of integrity that he is followed that statement with:
"I'm not saying I could even hold Ozzy's jockstrap – I could not – he is a god."

Phil Anselmo
Fans of metal want to hear Pantera's music so not only is this a great tribute to the memory of Dimebag and Vinnie Paul it's also something the fans – and just fans of metal in general, want.
Phil said that he would not be able to play Pantera stuff with Down or Superjoint Ritual but it has worked well with his latest band The Illegals.
"It was when Vince passed that I got the cavalcade of requests that… man, do the Pantera songs, do a tribute… it's worth it… for many people. I said let's take this week and learn as many Pantera songs as we can."
Phil also commented on his stint filling in on vocals for the band EYEHATEGOD saying it was "an honor."
On the current status of Down – Anselmo mentioned that the 20th anniversary of the band's first album "Nola" is coming up. "I know that we've been offered some shows – Pepper's still on tour, Crowbar's always on tour and Eyehategod is on tour." He said. When pressed, he also admitted that there are 2 more Down EP's recorded and slated to be released.
You can watch the whole interview courtesy of Metal Nexus here:
source: http://metalnexus.net/phil-anselmo-talks-possible-down-anniversary-tour-hints-at-return-of-kirk-windstein-to-down-video/