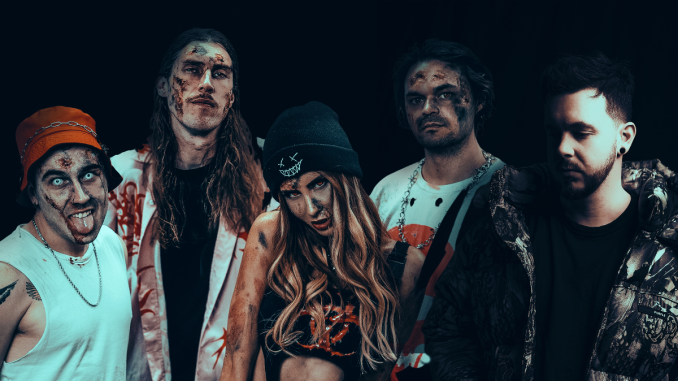 PhaseOne
has been turning heads over the past year with a series of EDM and metal scene collabs, paring with forward-thinking heavy bands
ERRA
,
Polaris
, and
Void of Vision
to explosive effect.
Today, the EDM artist is taking an artistic left turn as he concludes his PhaseOne x UNFD mixtape project with "Gangrene." A gnarly, urgent audio rocket created in collaboration with fellow Australian act RedHook, "Gangrene" sets a frantic, breakneck DnB beat in contrasting lockstep with cutting guitars, shimmering synths andEmmy Mack's unique and beguiling vocals and sweat-inducing percussion. It's heavy in a different way.
Listen here. "This was a fun one to work on," PhaseOne states. "RedHook sent me the original demo idea and I immediately started getting inspiration how to add some electronic elements to it and knew instantly it called for a DNB drop. I began working on an idea just using the original WAV file demo they sent me and I'm pretty sure I turned an idea in for them to hear that same day and they loved the vision."
He continues, "We then pretty quickly wrapped up the final recording stems, collaborating with a little back and forth before I wrapped up the mix and master. It was nice to write something more punk-poppy, as I've usually gone more of a metal route but I love the way it still seamlessly flows and intertwines the rock and electronic elements."
RedHook is equally as excited about the collab, sharing, "'Gangrene' is a song about severing ties with a toxic partner. Even though they might feel like they've become a part of you, sometimes cutting them off completely is the only way to save yourself."
She continues, "Craig and I have been huge PhaseOne fans for years, so it was hard not to fangirl our little brains out when Graeme hit us up to collab. He was so effortless and fun to work with, the song was like a ball we kept bouncing back and forth and it just kept getting bigger and badder every time."
PhaseOne is no stranger to collaborations in the rock and metal world, with the acclaimed bass music artist having previously teamed up with the likes of Northlane, Silverstein, Crystal Lake, Thy Art Is Murder, and countless others, with his distinct brand of hard hitting guitars welded to heavy-duty bass endearing him globally, racking up 75 million streams and a formidable live reputation in the process. And while his sensational emergence onto the scene back in 2013 saw him whip ears and crowds into a frenzy via his unique take on bass music production, his latest endeavor — a mixtape of collaborations with some of the hottest names in heavy music curated by UNFD — is seeing him reach new audiences and fresh creative heights.
MORE PHASEONE COLLABS:
"World Unknown" (With ERRA)
"Icarus" (With Polaris)
"Eyes Wide Shut" (With Void of Vision)