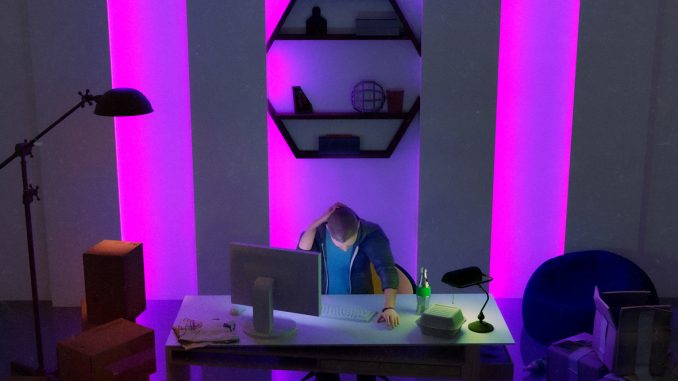 Jacksonville, FL Alternative Rock project PHARMACOSE has released the third single, "If I Were Better," and second literary part, from their ongoing musical and literary project, Ascension's Constraint. Infused with an eclectic combination of electronic pop ala Depeche Mode and Duran Duran as well as soaring, near falsetto vocals and energetic, pop-punk and classic rock instrumentation, this newest imagining from the multi-talented, experimental, and perfectionist front-man, WESLEY JONES, defies neat categorization, evoking a wholly new auditory experience for music fans across genres. Not only does the newest track reject aural expectations, it adds a deeper layer of intrigue with a nuanced story, reminiscent of such music storytellers as Tom Petty and Bruce Springsteen, underpinned by poignant lyrics and a relatable experience that holds listeners' attention as they lose themselves in the composition.
Says WES JONES in discussing the new single and written section:
"'If I Were Better' is the next track off Ascension's Constraint, to be paired with part 2 of the novel of the same name. In a nutshell, it's about seeing how things are and feeling powerless to change them. In a way, it's a lamentation. At this point in the novel, Alex, our protagonist, sees that he is being reeled into a plot, whether he wants to be in it or not. He's not yet accepted his role. He's still figuring things out, and he may even be in denial.
I didn't mean it to be entirely defeatist. I think it represents how we sort of envision things playing out when we feel hopeless. It's like we just want it to be over, even if the outcome is bad. A lot of times things don't play out nearly as bad as we envision them, especially if we trust ourselves and not look to our "leaders" to help us out. I think the biggest thing we can do in such situations is accept the situation for what it is. Denial never really helps.
As far as production goes, this is a song I produced, recorded, and mixed on my own. I'll be doing that more and more. I'm not perfect yet, and I never will be, but I think by the end of this record I'll be a lot closer to where I want to be as an artist and producer. Things are starting to move out of the big studios, and while some purists lament this, I embrace it. The music industry has been gatekeeping long enough. Why should a bunch of suits get to decide if I'm given a chance to be heard? I think music is moving into an entirely new era, and some people just don't want to accept it, and instead of trying to evolve they are actively trying to prevent things from going in that direction. It's sort of a microcosm of the times we're living in.
I love the idea of being able to do songs in my project studio. Doing a song from start to finish on my own time has been difficult but also one of the most fun things I've ever done. It allows me to keep my vision intact. Don't get me wrong, collaboration with other people is great. I love working with Lu and am excited to keep doing so. But, over the years, I've learned that the more people you add in, the more your vision can get watered down. It's awesome when something comes together from a jam, but a lot of times that doesn't happen. So, by the end of this project, hopefully I'll be able to push the envelope of what someone can do on their own, so long as they work hard and never settle."
Click to Purchase / Stream "If I Were Better" OnlineClick to Purchase and Read 'Ascension's Constraint' Part 1 & 2 Online!
Pharmacose is a collaborative alternative rock project hailing from Jacksonville, FL, that combines steadfast analog sounds with cutting edge flair. The project– a portmanteau of "pharmaceutical" and "comatose" –began as a collaborative effort between Jones and producer and bassist Lucio Rubino. Frequent collaborators include drummer Albert Cruz and guitarist Kevin Horne, who also round out their live act. They have previously released material under the name Digital Array.
Jones, a Memphis native, formed Pharmacose in 2017 with producer Lu Rubino shortly after moving to Jacksonville to pursue new career opportunities. Rubino, a veteran producer and bassist, has worked with Paramore, Storyside B, and The Showdown, among many others. Their creative process was chiefly inspired by Jones, a medical doctor, and his past struggles with mental illness.
Drawing on such themes as reintegration to life in the wake of acute mental health episodes and the side effects of psychiatric medication, Pharmacose wields their brand of rock to let those suffering from mental illness to know that they are not alone. The result is a powerful, explosive lyrical journey into the depths of existence that would appeal to fans of Queens of the Stone Age, Porcupine Tree, Starset, Chevelle, The Mars Volta, and beyond.
By confronting anger, shame, and ultimately galvanizing hope, Pharmacose advocates for the awareness of mental health. Through vibrant soundscapes suffused with riveting synth. The group hopes to empower people to seek help, push through, and move from isolation toward connection.
Pharmacose released Prescription Fiction, Part 1, in 2020. Prior to the COVID-19 pandemic, they were gearing up to play live shows in anticipation of the release of part 2. With the subsequent lockdowns canceling those shows, Jones decided to begin working on new material and used the time to explore new sounds and assume a greater role in production. The result is several new songs, which ultimately completed Prescription Fiction as an entire album, rather than a separate chapter.