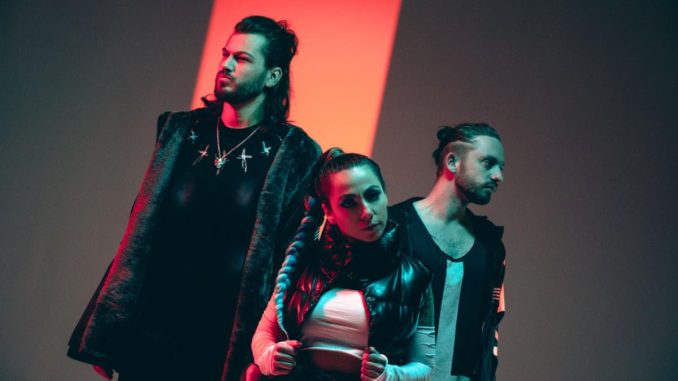 Today, Phantom Elite share another fantastic single from their upcoming album 'Blue Blood' out March 17th.

"Black Sunrise" is accompanied by a fiery animated video – watch it HERE
Phantom Elite is an international metal band fronted by Marina La Torraca (Exit Eden, live vocalist for Avantasia) with guitarist Max van Esch, drummer Joeri Warmerdam, and featuring executive production by former After Forever guitarist and founder Sander Gommans.

The band traffics in modern metal, combining elements of symphonic, progressive, and metalcore into their own unique concoction.

After their independently released debut album, 'Wasteland' (2018), Phantom Elite trimmed themselves down to a power trio and released their sophomore album, 'Titanium' (2021) via Frontiers Music Srl. This album, with its powerful punch, complex rhythms, and stunning vocals, marks Phantom Elite as a band on the rise.

With 'Blue Blood', and an upcoming European tour already scheduled (details forthcoming), the trio is ready to further expand their fanbase and continue to establish themselves as a force to be reckoned with.
'Blue Blood' Track List:
2. Inner Beast
3. This Sick World
4. Birdcage
5. Apex
6. Fragments
7. Laid With Vines
8. Daydark
9. Blue Blood
10. Black Sunrise
PHANTOM ELITE are:

Marina La Torraca – Vocals

Max van Esch – Guitars, Bass, Synths/Electronic Arrangements

Joeri Warmerdam – Drums